Taiwan: 2013 Falun Dafa Summer Camp for Students (Photos)
August 04, 2013
|
By a practitioner in Taiwan
(Minghui.org) The tenth annual Taiwanese Falun Dafa Summer Camp for Students concluded on July 29, 2013. Through a variety of rich and stimulating activities, the four-day event helped high school and college students learn about Falun Gong and its many benefits.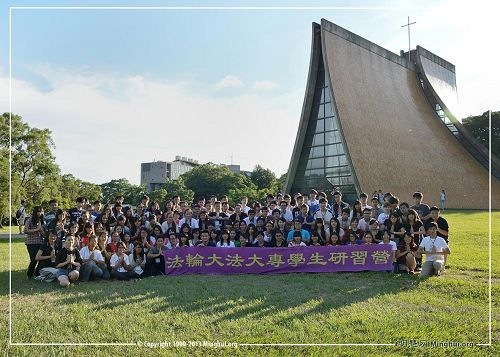 Group photo of camp participants and staff at Tunghai University
Outdoor concert of the Falun Dafa Summer Camp
Falun Dafa, also known as Falun Gong, is a high level Buddha School cultivation practice made public in 1992 by Mr. Li Hongzhi. Several Falun Gong practitioners who are studying in colleges and universities in Taiwan organized the camp to introduce the practice to more young people. Much of the focus of the four days was on cultivating kindness and morality.
Ms. Yun-chen Hsu, the organizer of this year's camp, will be a senior in the Fall. She said, "I started practicing Falun Dafa when I was very young. I have benefited a lot physically and mentally. So I hope that more people can learn about the grace of Falun Dafa."
Over the course of the four-day event, a variety of activities included games, performances, an outdoor concert, movies, a seminar, and handcrafts, all of which were designed to have the camp participants learn about the grace of Falun Dafa and become inspired to live by Dafa's principles of Truthfulness-Compassion-Forbearance.
The game of "Overcoming Barriers" allowed everyone to get involved and try to follow Truthfulness-Compassion-Forbearance while having fun. Some participants shared after the game that one needs to cooperate with others, and when following Truthfulness-Compassion-Forbearance, one can think for others and not blame others. One needs to trust their fellow players and have patience when overcoming certain barriers. The players understood that the key to pass the barrier was to have tolerance, without any impatience.
The camp staff prepared four performances within a few days. The performance "Coming For You – The Great Changes in a Young Woman" was based on a true story. Ning-juan Chang, who is about to start her senior year in high school, said after watching the performance, "I do not treat my parents well in daily life. I was really impressed with the performance and will remember Truthfulness-Compassion-Forbearance from now on." Another participant said that Dafa is great, as it can allow one to change from their inner heart. Another performance, "Everyone's Got Shortcomings" led the participants to find out things about themselves that don't conform to Truthfulness-Compassion-Forbearance in a fun and upbeat way. Many of the participants said that they were inspired to follow those principles in daily life.
A number of students who had not heard of Falun Dafa before expressed their opinion that Falun Dafa is a wonderful practice. Yu-hsuan Liu, who is entering his second year in high school, said that he had gained new views on life values from this event and said that it was a turning point in his life. Another high school student, Yi-hsuan Chang, said that the best part of the camp was the Falun Gong exercise practice. Though it was his first time practicing Falun Gong, he felt terrific after doing the exercises. Yan-lin Chen, who is going to be an undergraduate student, said that Falun Dafa has significant meaning and was moved after watching the movie Free China .
This was the tenth anniversary for the camp. Documentary film director Mr. Yong-de Wu and his team took video footage of the activities over the four days. They wished to record the events of this unconventional college camp, to document this special group of young people sharing the goodness of Dafa.
On the afternoon of July 29, the 140 participants and camp staff had a group photo taken in front of the well-known landmark, Luce Memorial Chapel.