(Minghui.org) On August 11, the Japan Falun Dafa Cultivation Experience Sharing Conference was held in Nishinomiya, Hyogo Prefecture. Sixteen practitioners presented experience-sharing papers at the conference.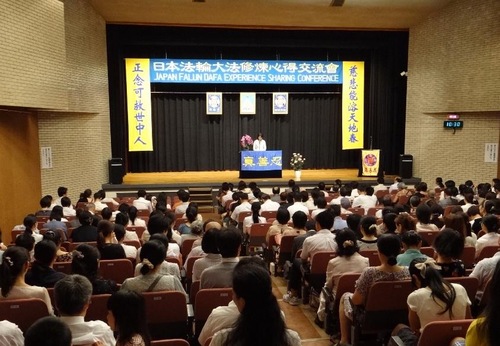 The conference hall
Ms. Ota talked about how she coordinated the promotion of Shen Yun shows, and let go of attachments to self in the process. She had harbored negative feelings towards a senior practitioner for a long time. After she let go of the attachment to self, she sincerely apologized to this practitioner, and eliminated the barriers between them.
Ms. Ida shared her experiences of clarifying the truth at tourist spots. Her stories of convincing Chinese people to quit the communist party were quite remarkable, with surprises that drew laughter from the audience and her compassion moved many to tears.
Ms. Mu sells advertising for practitioners' media. She said that once the team forms a whole body, the power of the Fa will manifest. She once injured her foot. She looked inward and found the loopholes in her cultivation. The next day she was able to go out and continue her efforts.
Ms. Ogawa talked about how she set up an exercise site at a public park, sells Falun Gong books in several bookstores, and raises awareness about Falun Gong. Mr. Takaki shared his experiences of cultivating in daily life and work.
Several new practitioners also shared their understanding of the Fa. They cherish the opportunity to practice cultivation. A veteran practitioner said that from the sharing of the newer practitioners, she gained a better understanding of "cultivating like when we first began practicing."