(Minghui.org) Falun Gong practitioners from Brisbane, Australia, participated in the annual Mind Body Spirit Festival for the sixth time on June 28-30, 2013. The festival was held at the RNA Show Grounds. Many people learned about Falun Gong at the festival.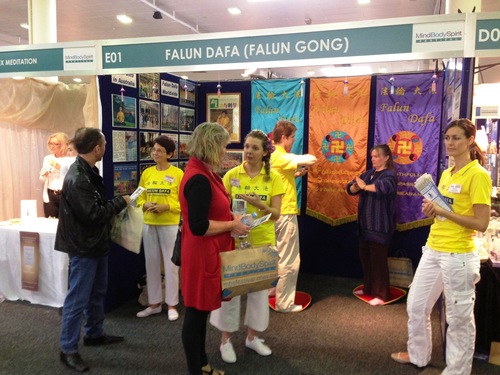 Falun Gong booth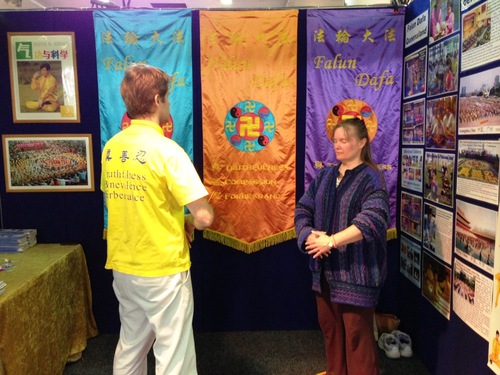 Learning the exercises
Over ten thousand people have come to the festival over the years. Beth, a local lady, was excited to see Falun Gong practitioners, "It isn't coincidental. I found what I've been looking for." Gail had a similar feeling, "I felt that a strong force pushed me to your booth. I think that I've got what I have been looking for."
Local practitioner Laurel said that many tourists told her that they believe Falun Gong is beneficial to their lives. She said, "Not only local people, but also people from all over the nation come to this festival. They all had a chance to learn about Falun Gong. Many of them are interested in learning the exercises. It is so great that we can share the beauty of Dafa with people."
Many people learned the exercises at the festival. Melisa from Bundaberg liked the feeling of exercises. She was willing to drive for three hours to join the exercise site in Toowoomba. A young man from South America talked to practitioners for a long time. He was concerned about the persecution of Falun Gong in China. He thanked practitioners for bringing all the information. He came back the next day and said that after hearing more about Falun Gong, he had decided to learn the exercises.
A Mexican family had heard about Falun Gong, but didn't know the details. They were happy to see practitioners at the festival. They learned the exercises, and wanted to do the exercises again at the exercise site in South Bank Park in Brisbane before they returned to Mexico.
A western gentleman told practitioners that he talked to a practitioner many years ago at King George Square. He clearly remembers how he was shocked upon learning of the brutal persecution of Falun Gong. He said, "I admire Falun Gong and the practitioners. You are selfless, standing up for Chinese people's freedom. If everybody is like you, the world will be a better place. Please keep it up."