Ms. Qiu Liying Falsely Charged and Sentenced for "Possessing State Secrets"
June 16, 2013
|
By a Minghui correspondent from Hebei Province, China
(Minghui.org) Chang'an District Court officials in Shijiazhuang City, Hebei Province, recently sentenced Ms. Qiu Liying to 30 months of imprisonment for "possessing State secrets." Her attorney and relatives were stunned, both by the unjustified charge and the wrongful sentence.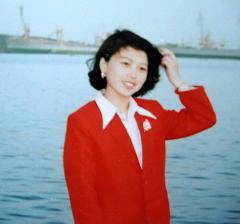 Ms. Qiu Liying
Chief Judge Tian Dianying issued the verdict on May 17, 2013, charging Ms. Qiu with "illegally possessing confidential State documents." The "confidential" document, ironically, was a policy issued by the Ministry of Public Security several years ago, banning "dangerous organizations." It listed more than 10 organizations; Falun Gong was not one of them. Officials at the time, including those who worked in the Ministry of Public Security, knew that banning Falun Gong was unjustified and illegal. In fact, attorneys inside China often refer to this policy when defending practitioners. This could be one reason why officials tried to keep the policy secret.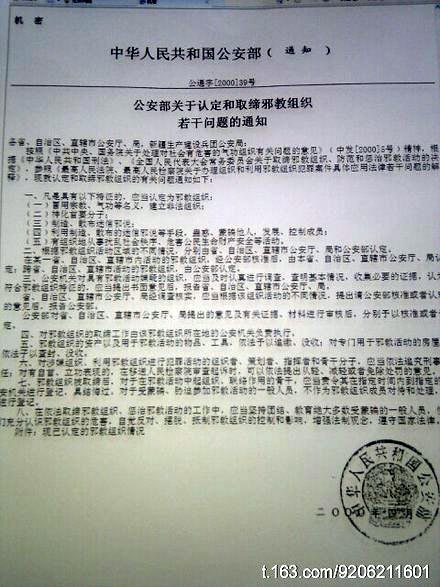 "Confidential" State documents
This policy was not considered confidential, nor a State secret. The Chang'an District Court, however, used it to persecute an innocent citizen.
Ms. Qiu, 47, used to work at Shijiazhuang Oil Refinery Factory. Since the persecution of Falun Gong began in 1999, she has been arrested, beaten, shocked with electric batons, and injected with nerve-damaging drugs. She has also served a forced labor sentence. She was arrested for the eighth time on February 25, 2012, and remains in custody.
Ms. Qiu appealed the verdict and seeks to bring those who mistreated her to justice.
Perpetrators responsible for the persecution:
Chang'an District Court: +86-311-85059850
Wang Xu, chief judge of the First Criminal Court: +86-311-85033133, +86-13081008679 (Cell)
Tian Dianying, judge: +86-13832312521, +86-311-85032881 (Office)
Yu Shufeng, Prosecution Office head of Chang'an District Procuratorate: +86-311-85187809 (Office), +86-311-85871046 (Home), +86-13933869180 (Cell)
Zhao Zhuangtao, prosecuting officer: +86-311-85187629
Zhang Qiyun, Chang'an 610 Office head: +86-311-85996214
Shijiazhuang City Political and Legal Affairs Committee and 610 Office: +86-311-86686701, +86-311-86686357
(For more perpetrators' contact information, please refer to the original Chinese article)