(Minghui.org) Mrs. Chang Yamei, a researcher from Academia Sinica in Taiwan, pointed to a painting titled "The Call of Innocence," one of the artworks exhibited at the Meishan Culture and Education Foundation in Chiayi, and said, "People will respond to her call. I can hear her voice from her eyes, tears, and sweat. She stands in the rain in Manhattan and tries to tell the public about the persecution of Falun Gong. She is calling for help to end it. I am touched by her eyes. This painting is my favorite."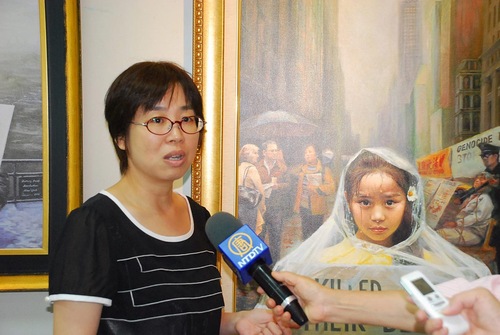 Mrs. Chang Yamei is touched by the painting "The Call of Innocence."
Art Exhibition Held in Chiayi
The Art of Zhen Shan Ren International Exhibition was held at the Meishan Culture and Education Foundation in Chiayi, Taiwan, from May 15 to 29. Community leaders and government officials in Meishan and Chiayi County sent congratulatory letters to the exhibition.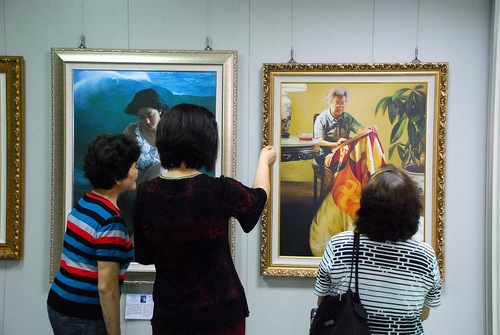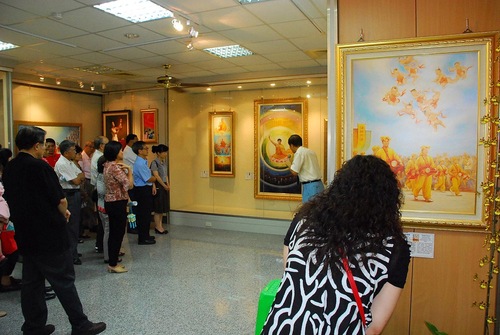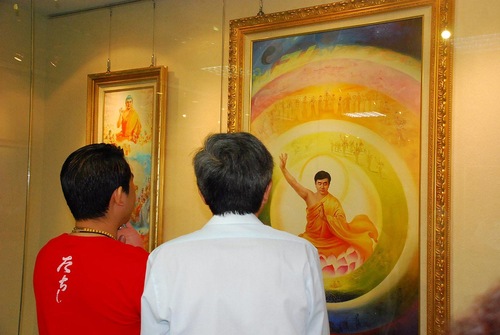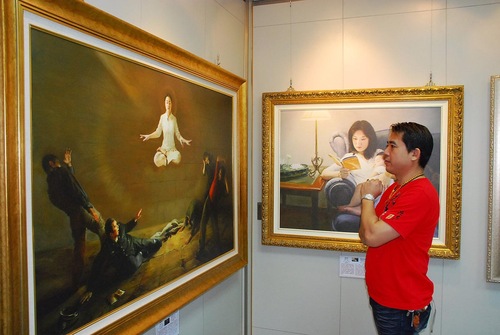 People view the artworks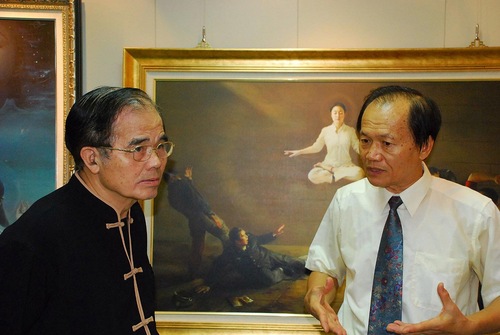 Mr. Hsie Mei, a famous artist from Yunlin County, praised the artwork.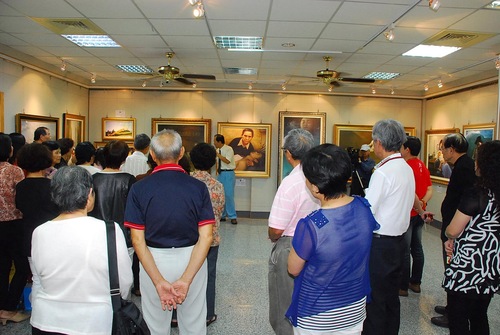 People listen to the guide explaining the meaning of the artworks.
Visitors Respond to the Paintings
Mr. Ye Herong, the board chair of the Meishan Culture and Education Foundation, thanked organizers for bringing the artworks to Meishan. At the opening ceremony, he said: "The art exhibition has been held more than 500 times in 50 countries. It is our honor to have it here. There is a touching story behind every painting. The artworks reflect the compassion of the artists, and are spiritually beneficial to people."
Mr. Hsu Qianwen, a Falun Gong practitioner, said: "These artworks can lift people's spirits and purify their hearts. The artists are Falun Gong practitioners. In cultivating Falun Gong, the artists try to get rid of bad notions and attachments. They try to uplift their minds. From the paintings, we can see their spirit. We can also see Falun Gong practitioners' peaceful resistance to the brutal persecution in China. The profound contents of the paintings are moving, intimate and inspiring, reflecting both an inner spiritual life and an outer human rights tragedy."
Many people came to the opening ceremony. Mr. Hsie Mei, a famous artist from Yunlin County, highly praised the artwork. He said: "These are masterpieces. Everyone who likes art should come see these paintings." Mr. Hsie Mei particularly liked the painting "Eve of the Parade," in which a woman contentedly sews a banner of a large Falun emblem—the symbol of the Falun Gong practice.
In addition to the painting "The Call of Innocence," Mrs. Chang Yamei also liked "A Tragedy in China," in which a wife weeps beside her husband, who has been tortured to death at a brainwashing center. "I feel very sad. I didn't know much about Falun Gong before, but I've learned their principles from this exhibition," she said. Before leaving, she bought a copy of Zhuan Falun, and said that she would learn more about Falun Gong.