Malaysia: Art and Music Celebrate World Falun Dafa Day in Kuala Lumpur (Photos)
May 18, 2013
|
By Falun Gong practitioners in Malaysia
(Minghui.org) On May 13, 2013 Falun Gong practitioners from Kuala Lumpur and Selangor gathered at Titiwangsa Lake Garden – a well known tourist destination – on May 12, 2013 to celebrate World Falun Dafa day and the 62 nd birthday of Master Li Hongzhi, the founder of Falun Dafa. They did the Falun Gong exercises as a group, held a painting exhibition – The Art of Zhen, Shan, Ren (Truth, Compassion, Tolerance International Exhibition) – and collected signatures calling for an end to the persecution in China. There were performances by the Divine Land Marching Band and Falun Gong waist drummers too. Many people gained a better understanding of Falun Gong through this event.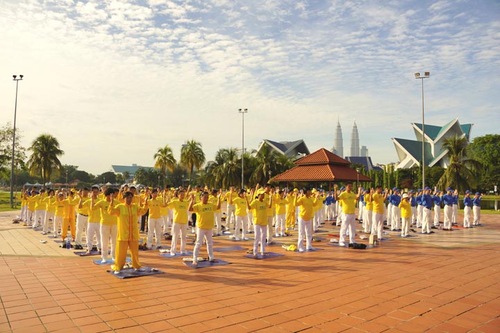 Falun Gong Practitioners doing group exercises at Titiwangsa Lake Garden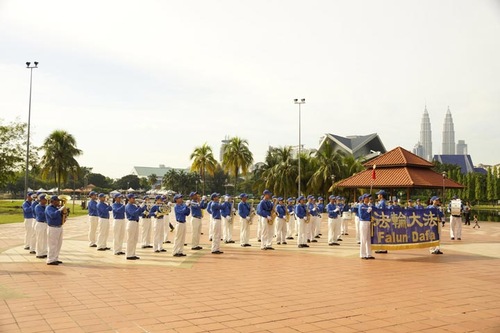 The Divine Land Marching Band performs at Titiwangsa Lake Garden in celebration of World Falun Dafa Day and Master Li Hongzhi's birthday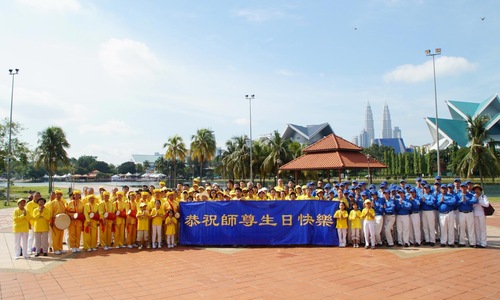 Group photo taken in Titiwangsa Lake Garden just before the event concluded, to wish esteemed Master Happy Birthday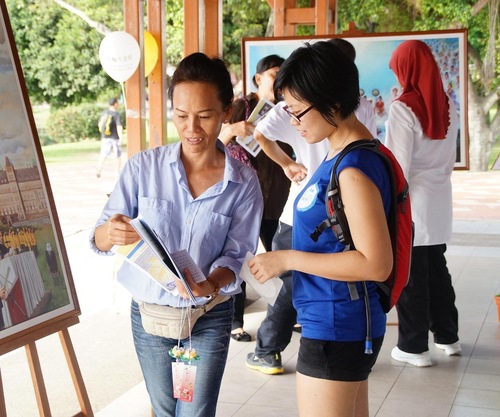 The Art of Zhen, Shan, Ren International Exhibition helps the public understand the facts about Falun Gong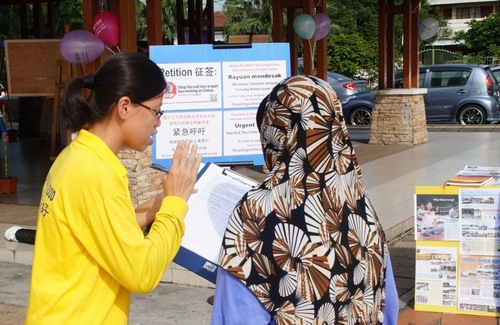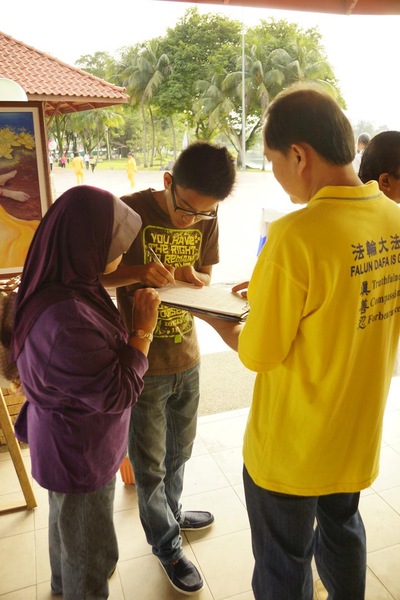 People signing a petition calling for an end to the Communist regime's persecution of Falun Dafa
Falun Gong practitioners began the day's activities at 7:00 a.m.with group exercises. The art exhibition and petitions to stop the Communist regime's forced harvesting of organs from living Falun Gong practitioners were held concurrently, attracting public attention.
Sylvia, one of the organizers of the art exhibition, said that the response from the public was enthusiastic. People were shocked when they learned about the brutal torture endured by Falun Gong practitioners who simply want to follow the principles of Truthfulness-Compassion-Forbearance. They found it inconceivable that such a terrible thing is happening in China today. When told that the Chinese Communist regime is harvesting organs from living Falun Gong practitioners, they responded by signing the petition to stop this brutal act.
Sylvia explained that every painting in the art exhibition is a truthful, heartfelt expression of the artist. From scenes of the spread of Dafa worldwide, to improving one's moral values, to the brutal torture suffered by innocent practitioners in China, each painting portrays the beauty of Dafa and exposes the brutality of the persecution. The paintings touched people deeply. A Malay who works at an arts center said he would ask his boss about holding this meaningful exhibition at their workplace.
Understanding the Truth Through the Art Exhibition
A Malay woman in her 30s commented that the art exhibition was successful because it helped her understand the truth about Falun Gong. She said that on the surface, one doesn't know that something like this is happening in China and there are no such reports in the newspapers as well. However, she did not expect that the persecution was so brutal.
After viewing the paintings, a young Malay man asked why nothing was being done to stop this persecution. Ms. Chen, one of the organizers, told him that everyone can show their support by signing the petition. She said that another way to help is to pass on the message to friends and family members so that everyone can come together to stop this inhuman persecution. After talking with the practitioner, the youth immediately signed his name on the petition.
A Malay who has learned about Falun Dafa expressed his wish to take up the practice. He said, "Truthfulness-Compassion-Forbearance teaches one to be a good person and is truly good."
Sports coach: People of all nationalities can practice Falun Gong
Mr. Ramli who got to know Falun Gong several years ago, is a retired sports coach from a university in Malaysia. Today he had the opportunity to see the art exhibition. Mr. Ramli said that Falun Gong is an excellent practice. He remarked happily, "It's great. I felt very comfortable doing it and it is suitable for all Malaysians."
He hopes that Falun Gong will grow in Malaysia, bringing the beauty of Truthfulness-Compassion-Forbearance to local residents and resolve various problems prevalent in society nowadays.
When asked about his thoughts on the persecution in China, he said repeatedly, "This is a terrible thing. It is a serious human rights violation. I am against such heinous crimes! There is nothing wrong with Falun Gong. It is beneficial to the public."
Many people learned about Falun Gong at the day's events. They took brochures, inquired about where they could learn the practice and expressed a desire to take it up.
The day's events were brought to a close with stirring performances by the Divine Land Marching Band and waist drum group.