(Minghui.org) On May 12, Falun Gong practitioners from New York and New Jersey assembled at Foley Square in Manhattan to celebrate the 14 th annual World Falun Dafa Day.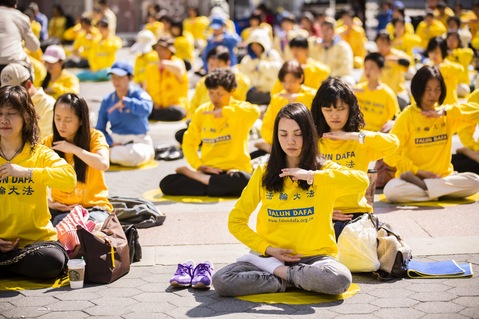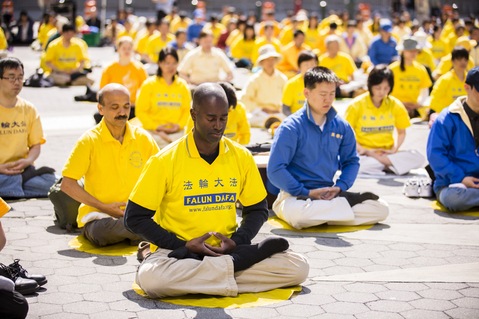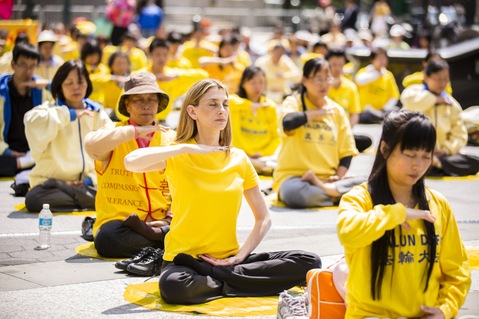 Group exercises and meditation in the morning
A few hundred practitioners did the Falun Gong exercises together in the morning and then celebratory performances started at noon. The Divine Land Marching Band performed the song "Falun Dafa Is Good" and the two hosts briefly introduced Falun Dafa to the public. Practitioners then performed traditional Chinese dance and music.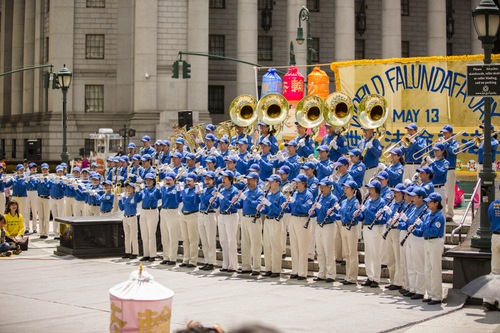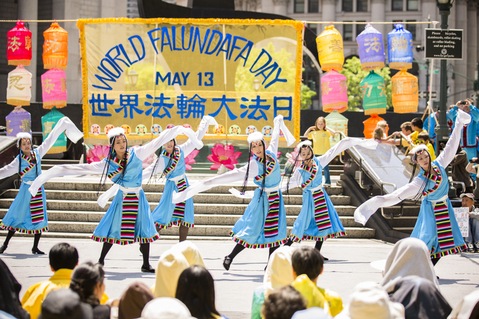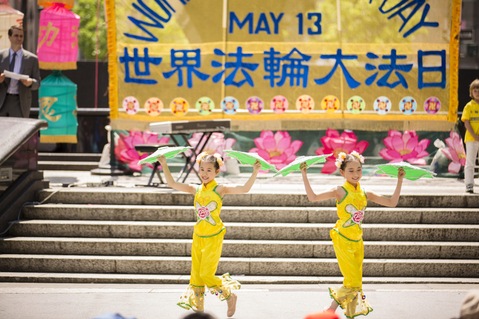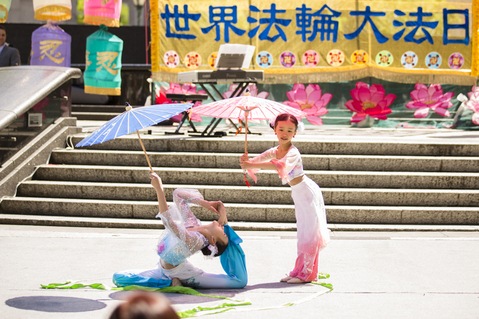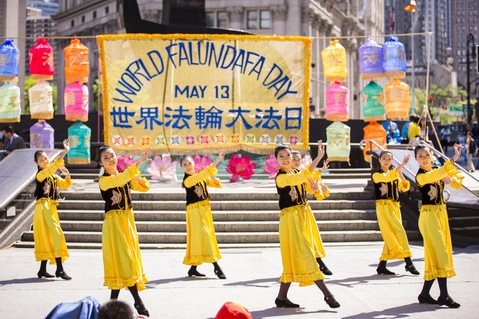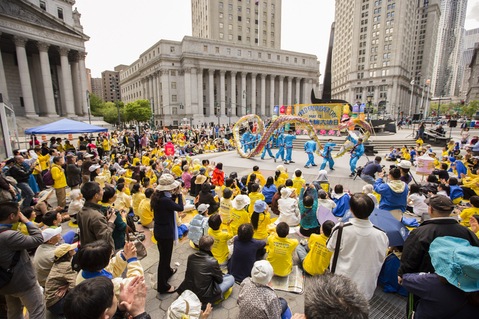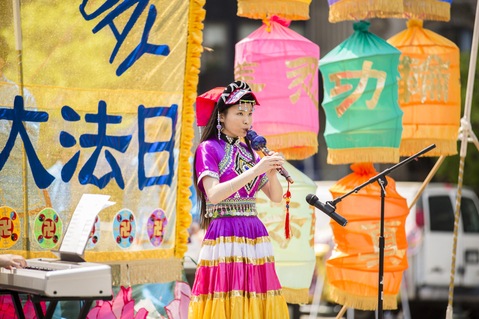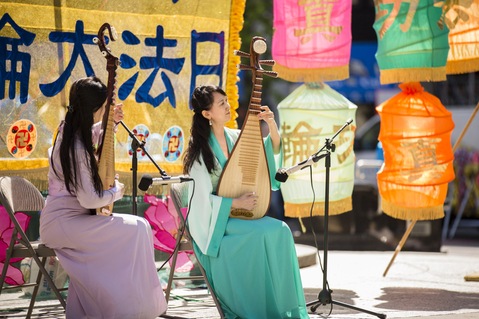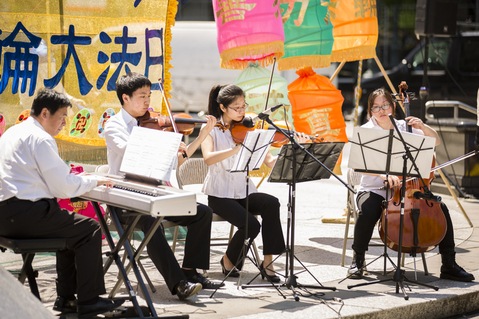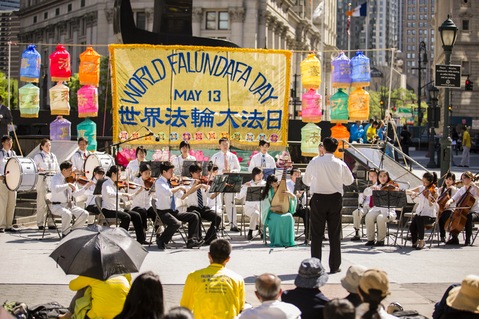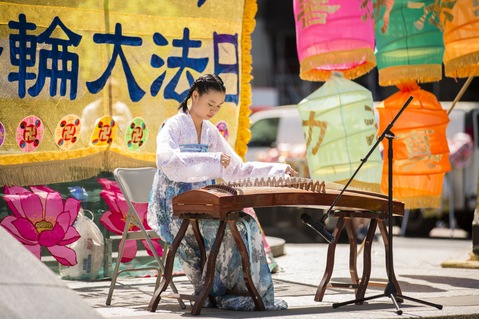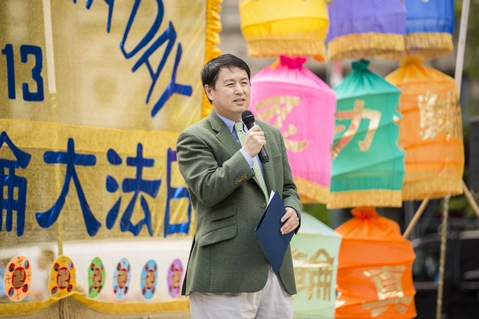 Mr. Zhang Erping, spokesman for the Falun Dafa Association in New York, gives a speech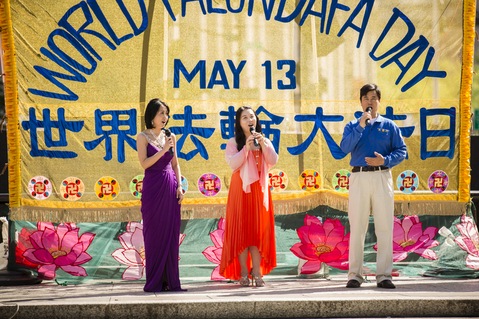 Singing Dafa songs
The celebration ended late afternoon with the practitioners wishing Master Li Hongzhi a happy birthday.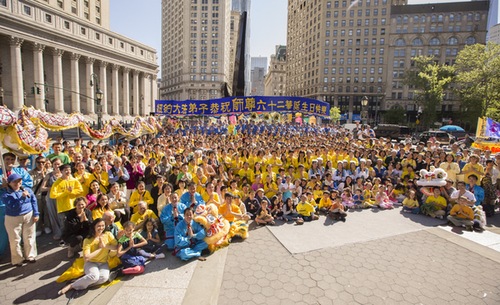 Practitioners wish Master Li Hongzhi a happy birthday
Tim Bishop, Congressman from New York, and several State Senators sent congratulatory letters for the event. The State Senate House passed a resolution and issued a proclamation to Falun Gong.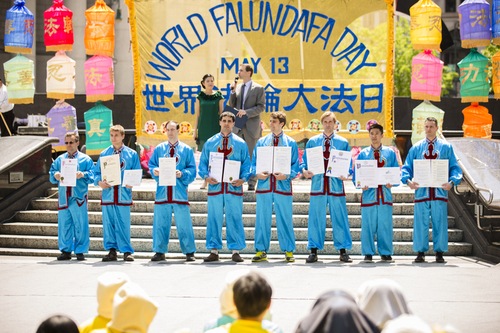 The state proclamations to Falun Gong issued by 13 State Senators
Tami and Cheryl, two tourists from Florida, were attracted to the performances and learned the Falun Gong exercises. After the exercises, Tami said: "I felt so relaxed now. It is so amazing. The meditation gave me a peaceful feeling that I've never had before." Tami heard about the persecution of Falun Gong in China and said she would go to the website and learn more about the practice.
Several Chinese tourists also watched the performances. Mr. Cheng Changhe, a lawyer from China, said that he didn't believe the Communist Party's propaganda attacking Falun Gong. He also condemned the organ harvesting from Falun Gong practitioners.
Wang Peng and Xiao Ping, two new practitioners who moved from Shijiazhuang, China, one year ago, shared their experiences of practicing Falun Gong. Wang Peng said: "All I want to say is Falun Dafa is good. It has helped me to improve both my physical body and my mind." Xiao Ping said: "Although I didn't have any diseases, I always felt tired. Now, I feel light all the time, and my mind is clearer. I've improved my temper, and try to consider others first. I was not like that before."