(Minghui.org) Shen Yun Performing Arts, dedicated to promoting traditional Chinese culture, is well-known and highly regarded all over the world. On March 11, 2013, however, Ms. Zhan Yanyan was arrested by the 610 Office for giving out Shen Yun DVDs.
At 11:30 a.m. that day, Ms. Zhan, who is from Pingdu, Shandong Province, went to pick up her son. On their way home at the north end of Huashan Road, Ms. Zhan gave a Shen Yun DVD to a man in his 40s as a gift. The man asked, "Is it related to Falun Gong? Are you a practitioner? Don't move." He blocked their way and called the Taishan Road Police Station, but nobody answered. He then called another man, who came in a car and asked, "Falun Gong practitioner? Arrest her, arrest her." Then he left. The man continued to call the police.
Ms. Zhan tried to clarify truth to him. He pretended to listen to keep her there. Shortly after, several officers from Taishan Road Police Station arrived and dragged Ms. Zhan into their car. She called out, "Falun Dafa is good!"
Ms. Zhan continued to explain the facts to police officers and told them how to be safe. Officer Li Zheng said, "I don't want to be safe. What can you do?" At around noon, Liu Jie from the Anti-cult section of Pingdu Police Station came to interrogate her and tried to force her to sign something, but she refused. At 4 p.m., a deputy director of the Pingdu 610 Office had her searched.
At 5:30 pm, Ms. Zhan was taken to Pingdu for a physical. No matter where she went, she called out, "Falun Dafa is good! The Chinese Communist Party (CCP) persecutes Falun Gong."
On her way back from the hospital, she cried out, "Falun Dafa is good!" It attracted the attention of many. One policeman verbally abused her to try to get her to stop.
At 9 p.m., the police took her to a secret 610 Office brainwashing center in the CCP school in Pingdu. It is located at the very back of the school and has no signs. A two-level building marked "2," it has secured doors and windows. Every day, at least four people brainwashed her, including staff in the Maidishen community administration, Yin Yan, and another policeman from Taishan Road Police Station. Deputy director Guo from the 610 Office, Dai Yugang, and another woman were also involved in tormenting her.
One night, deputy director Guo noticed a Falun Dafa talisman around Ms. Zhan's neck. He went to grab it, but Ms. Zhan fended him off. Guo then grabbed a shoe and ordered the others in the room all out, saying, "You all leave. You don't see a thing." Then Guo slapped her in the face with the shoe. Ms. Zhan tried her best to resist but still was hit many times.
That same afternoon, Ms. Zhan's parents went to Taishan Road Police Station to seek her release, and happened to run into Zhao Hongwu, director of the anti-cult division of the police station. Zhao offered to release her in exchange for 10,000 yuan.
After Ms. Zhan was detained in the brainwashing center, her mother went to the 610 Office to ask for her release. Office personnel threatened her, "If you come again, we will extend her term for another year."
Guo from the 610 Office ordered Ms. Zhan to hand over 6,000 yuan and two boxes of cigarettes valued about 400 yuan. Guo then released her at about 10 a.m. on March 16, five days after she was picked up.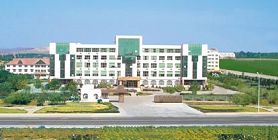 Pingdu CCP School


The two-level building marked "2," where Ms. Zhan was held
After Ma Guochun became the director of Taishan Road Police Station in 2009, he has been helping to carry out the persecution of Falun Gong. In 2009, he sentenced Wang Jiyu, 67, and Wei Qingzheng from Jilin Province to forced labor. In 2010, Taishan Road Police Station and Pingdu Police Station arrested Ms. Ma Qin, an excellent teacher in an experimental school in the developing district. After Ms. Ma escaped, she became homeless. In 2011, he sentenced Falun Gong practitioners Jing Jianmei and Qiu Shuhui to a year each of forced labor.
In 2012, he arrested Li Li, Wang Huanzhong, and Zong Huiqing. Li Li was sentenced to four years and Wang Huanzhong to one year. Zong Huiqing, about 70, was arrested and put on trial on March 13, 2013.
Information about people who have participated in the persecution:
Taishan Road Police Station
Ma Guochun, director: +86-13906482705(Cell)
Jiang Hanbin, police officer: +86-13864269886(Cell)
Zhang Jinrong, director, the 610 Office in Pingdu, +86-13953216049(Cell)
610 Office: +86-532-88360309
Guo, the 610 Office in Pingdu
Dai Yugang, 610 Office: +86-532-87309201
Pingdu Police Station:
Tang Longwen, director: +86-13606306367(Cell)
Zhao Hongwu, chief of cult-reconnaissance division, +86-15253263357(Cell)
Liu Jie: +86-15866870870(Cell)
Mu Zhuping, leader, domestic security team: +86-13806395321(Cell)
Please refer to the original Chinese text for more names and telephone numbers.