Name: Li Shanshan (李姗姗)
Gender: Female
Age: 33
Address: Fengrun District, Tangshan City, Hebei Province
Occupation: Teacher
Date of Most Recent Arrest: October 29, 2011
Most Recent Place of Detention: Shijiazhuang Forced Labor Camp (石家庄劳教所)
City: Shijiazhuang
Province: Hebei
Persecution Suffered: Forced labor, illegal sentencing, home ransacked, detention
(Minghui.org) A young couple's love story and their decade-long effort in resisting the persecution of Falun Gong under the tyranny of the communist rule in China over the past year has touched many people in Hebei Province. In Qinhuangdao City, 2300 residents signed a petition and helped to rescue the husband, Mr. Zhou Xiangyang.
In the Fengrun District of Tangshan City, 528 residents have signed a petition calling for release of his wife, Ms. Li Shanshan. After reading the open letter written by Ms. Li: "A Young Couple's Journey: Zhou Xiangyang's Fiancee Appeals Seven Years for His Release" (http://en.minghui.org/html/articles/2011/6/26/126261.html ) and the sequel written by Mr. Zhou, 939 more people have now signed the petition in support of Ms. Li, who is currently detained in the Shijiazhuang Forced Labor Camp.

528 signatures petitioning for Ms. Li Shanshan's release
939 more signatures collected for the petition calling for Ms. Li's release
Ms. Li Arrested by Communist Party Officials after Appealing for Her Husband
"...Only when I walked out of the prison, I found out that an open letter written by my wife, "A Young Couple's Journey: Zhou Xiangyang's Fiancee Appeals Seven Years for His Release" (http://en.minghui.org/html/articles/2011/6/26/126261.html) had touched 2300 people who had put down their signatures and thumbprints petitioning for my release.
"Only when I walked out of the prison did I find out that my wife was again arrested for appealing for my case. The people of Fengrun District, Tangshan City had initiated the righteous act of collecting signatures to petition for her release and 528 people had signed.
"...I also didn't expect to write a sequel to her open letter 'A Young Couple's Journey: Zhou Xiangyang's Fiancee Appeals Seven Years for His Release' when I walked out of the prison. I didn't expect to have to appeal for my wife after I was released.
"Do we really have to exhaust our youth and spend all of our prime years appealing and petitioning, in order to uphold our belief and protect the basic right to religious freedom in this society?
"I hope that this letter will make more people understand our sacrifice and persevere in defending the universal values of Truthfulness-Compassion-Forbearance and understand why these good people are going through such hardship and suffering in this country. I hope that such suffering will never have to be repeated..."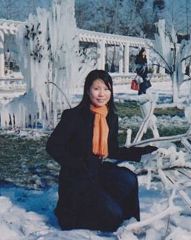 Ms. Li Shanshan
To appeal for Ms. Li, her husband wrote the sentences above in the introduction of his sequel to her open letter "A Young Couple's Journey: Zhou Xiangyang's Fiancee Appeals Seven Years for His Release."
Persecuted by the communist regime for living by Truthfulness-Compassion-Forbearance, this young couple had no fear of imprisonment or torture, retaliation or false accusations and helped support each other. The Dafa principles that they live by and the unjust hardship that they have endured have touched many. Theirs has been sorrowful journey.
In order to rescue Mr. Zhou, her boyfriend at the time and whom she had met only three times before he was imprisoned, Ms. Li was willing to endure nine years of loneliness and, with determination, decided to submit to the prison authorities her request to marry. To rescue Mr. Zhou from prison and to protect the right of religious freedom, she appealed on his behalf despite a tremendous amount of pressure and at the risk of being arrested.
Chinese Communist Party (CCP) officials arrested Ms. Li and sentenced her to 15 months of forced labor. She didn't change her mind and resumed appealing for Mr. Zhou after being released. Mr. Zhou also put forth his best effort to resist the persecution in prison. He went on a year-long hunger strike and was eventually released. The young couple finally tied the knot after spending seven years apart.
However, in less than a year, Mr. Zhou was again arrested and incarcerated in Gangbei Prison, and Ms. Li began another round of appeals and rescue efforts. She wrote a heartfelt letter, "A Young Couple's Journey: Zhou Xiangyang's Fiancee Appeals Seven Years for His Release," which touched thousands of people, many of whom were moved to tears, and made many angry at the government. Mr. Zhou's neighbor, who had a dispute with his family, is now deeply concerned and sympathetic.
A petition calling for Mr. Zhou's release was initiated among the local residents, and 2300 people from 10 surrounding villages and towns signed and fingerprinted it to support him. The petition called for Mr. Zhou's immediate release and for an investigation of the cruel torture called "pinning to the floor" that he had been subjected to in prison. Three quarters of the residents from Mr. Zhou's village have signed the petition.
Mr. Zhou was finally released, but Ms. Li was again arrested and sentenced to two years of forced labor by the Tangshan Political and Legal Affairs Committee officials.
Ms. Li's Situation at Shijiazhuang Women's Forced Labor Camp Is Worrisome
According to reports, Ms. Li was kept alone in a separate cell for a long time after her arrival at the Shijiazhuang Women's Forced Labor Camp Group No. 4, because she refused to renounce her belief in Falun Dafa. She later was forced to do hard labor. Mr. Zhou's requests to visit her were turned down because he needed a permit issued by the local police station confirming that he "doesn't practice Falun Gong." For another year, the couple did not get to see each other.
Shijiazhuang Women's Forced Labor Camp abuses Falun Gong practitioners severely, and many practitioners have died in the camp. In the last year alone, Ms. Zhao Ye, the decorative pottery designer of Tangshan Ceramic Institute, and Ms. Hao Yuzhi of Guantao County, Handan City, have died.
While detained at Group No. 3 of the forced labor camp, Ms. Hao was severely beaten by guard Wu Lina with a club for trying to protect petitioner Ms. Li Yahong. Ms. Hao later reportedly vomited a large amount of blood but did not receive timely medical attention. She was not able to eat due to chest pain, and was forced to do hard labor in the fields and was frequently beaten. She soon passed away.
Ms. Zhao was shocked with an electric baton, severely beaten and injured, and was not treated when she lost consciousness. She became extremely weak and died shortly after her medical parole was granted.
Practitioner Ms. Feng Xiaomei was forced to sit with her legs crossed for seven hours straight at the forced labor camp just because she hired a defense lawyer.
Ms. Hu Miaomiao from Zhangjiakou City was sexually abused. Her lower body bled as a result of being harshly kneed in her private area. The forced labor camp authorities willfully extended many of the practitioners' terms.
Ms. Li has been denied visits, and her lawyer is not allowed to see her. All legal channels through which to appeal her case have been closed, and her current situation is worrisome.
Tangshan Political and Legal Affairs Committee Officials Spearhead the Persecution, Triggering Large Scale Resistance
The Tangshan Political and Public Security System authorities have been the leading force in persecuting Falun Gong and has brutally tortured and murdered many innocent practitioners. Many are arrested and illegally sentenced, and lower level public security police forces are rife with corruption.
The rules instruct the lower level officials to "generate their own bonuses," encouraging extortion and confiscation of personal belongings. In the last year alone, there were several large scale arrests, including February 25 and June 9, and a large number of personal belongings were confiscated. The officials deliberately abused the law, and many practitioners were subjected to heavy penalties and sentenced to long prison terms. Three practitioners were sentenced to more than 10 years in prison.
In an attempt to arrest Mr. Zhou Xiangyang, the Tangshan Domestic Security officials promised each officer 3,000 yuan as a reward. The officers hustled for the reward and eventually arrested Ms. Zhou. The officers commented, "Did you think it was easy to earn the 3,000 yuan bonus?" They later continued to follow their superiors' instructions and arrested Ms. Li. When her lawyer asked to see the official notice of forced labor, none of the Tangshan Public Security officials dared to step forward and respond directly. Ms. Li's family has not seen the official notice of forced labor either.
Mr. Zhou wrote the sequel to his wife's open letter "A Young Couple's Journey: Zhou Xiangyang's Fiancee Appeals Seven Years for His Release" and began the effort to appeal for and rescue his wife at the end of 2012. The escalated persecution against innocent Falun Gong practitioners by the Tangshan Political and Legislative Affairs Committee officials has triggered large scale resistance. After learning what this young couple had gone through, Tangshan residents again showed their support and signed the petition calling for Ms. Li's release. So far, 939 signatures have been collected.
People of Hebei Province Witness That Falun Dafa Is Good
In Tangshan, Falun Dafa has a very good reputation. Many stories and testimonials have borne witness to how wonderful Dafa is and how righteous the people have become after awaking to its truth. A practitioner from Tangshan encountered a beggar who, after learning the truth, told the practitioner the second time they met, "I think Dafa is wonderful! I only have one yuan left but I would like to donate it to Dafa!" The third time they met, the beggar was very excited, "My illnesses have disappeared! Dafa is remarkable!"
There was another person who was very ill and suffered from chronic coughing and wheezing. A practitioner told her to recite "Falun Dafa is good," so she did. Right away, she said, "I feel much better! I don't care who doesn't believe in Dafa, I do!"
When a person refused to accept bills with Dafa truth clarification messages written on them, a merchant who had learned the truth about Dafa said, "You are a bad person if you don't take these bills. How wonderful is Dafa! I would say 'Falun Dafa is good' in front of anyone!"
While signing the petition, many people revealed their true feelings about the government and thoughts on the persecution. In an interview conducted by an international media, people spoke up and frankly expressed their views. Many locals from Mr. Zhou's hometown had read Ms. Li's letter and were deeply moved by practitioners' spiritual and moral state of Truthfulness-Compassion-Forbearance. They readily signed the petition when asked to.
A young man saw many people gathered to sign a petition as he walking by and asked, "Is this for the guy named Zhou? I would like to sign, too." People who knew the truth about Falun Gong not only signed the petition themselves but also encouraged others to do the same.
A family had many friends over when the host was told about the petition and asked to sign it. He said, "They are all good people and do not do any harm. When I worked as an electrician, I saw for myself that all the Falun Gong practitioners paid their agriculture taxes first." Without saying another word, the host and his mother signed the petition, and all the guests followed their example and signed as well.
The host's son later came in and said, "I don't have to sign if everybody already did." The host simply said, "Just sign it," and the son took a pen, signed his name, and left his thumbprint. The son also announced he would quit the CCP and its affiliated organizations.
Many people responded very enthusiastically as soon as they found out that the petitions were in support of Falun Gong practitioners. After an elderly gentleman learned that Ms. Li was a Falun Gong practitioner when asked to sign the petition, he said, "It is our responsibility, and this is what we need to do. Do you have a pen? Do you have ink for thumbprints? They didn't do any harm."
A middle aged women from Qinhuangdao City responded indignantly during an interview conducted by the international radio station Sound of Hope: "The government is so inhuman and unreasonable! Mr. Zhou's entire family is decent and honest. How could the government mistreat good people and not punish the corrupt officials? We think that the government is wrong, and we hope that Mr. Zhou comes home soon. The people of the entire village signed the petition calling for his release. How can the government torture good people like that? The letters brought us to tears, and we are very sympathetic. Why torture and imprison people for their belief in Falun Gong? It is so wrong--this should not be happening. The Party is indeed vicious!"
The persecution will not last much longer. Those who have committed crimes against humanity will receive their due retribution. The heavens will eventually reveal justice and compassion to humankind!
Related Articles:
Mr. Zhou Xiangyang Not Allowed to Visit His Wife in Forced Labor Camp (http://en.minghui.org/html/articles/2012/8/6/134812.html)
Ms. Li Shanshan Sent to Forced Labor, Denied Family Visitation for Six Months (http://en.minghui.org/html/articles/2012/6/28/134168.html)
Mr. Zhou Xiangyang in Critical Condition and on Hunger Strike at Gangbei Prison (http://en.minghui.org/html/articles/2012/2/27/131781.html)
Gangbei Prison Officials Refuse to Release Engineer Zhou Xiangyang, Who Is In Critical Condition (http://en.minghui.org/html/articles/2012/2/10/131385.html)
Ms. Li Shanshan Sentenced to Forced Labor Again, Tangshan Residents Try to Rescue Her, Collecting 528 Signatures So Far (http://en.minghui.org/html/articles/2011/12/29/130388.html)
Ms. Li Shanshan Arrested by Tangshan Domestic Security Division (http://en.minghui.org/html/articles/2011/11/11/129382.html)