(Minghui.org) The world renowned Shen Yun Performing Arts enthralled audiences for two shows at New York's Rochester Auditorium Theatre on February 16-17, 2013. Many art enthusiasts and VIPs felt their hearts open and spirits soar, during and after the performance.
Shen Yun Orchestra Impresses Music Professor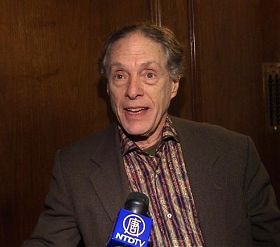 Violin professor Charles Castleman at the Shen Yun Performing Arts performance at the Rochester Auditorium Theatre on Feb. 16. (Photo courtesy of NTD Television)
Musician Charles Castleman, a violin virtuoso and a professor of violin at the Eastman School of Music, was very glad he had attended the Shen Yun show.
"I enjoyed it thoroughly. I've never had quite an experience like it and I think it was just wonderful," Mr. Castleman said.
"The show is spectacular, it's a wonderful show. The dancers are amazing, the singers are excellent."
Shen Yun artist Xiaochun Qi's solo performance of the two-stringed violin-like Chinese instrument, the erhu, won praise from Mr. Castleman.
"[That] was really wonderful!" he said.
He also enjoyed the backdrops and the costumes as well. "I was particularly impressed with the effects of the backdrop … and the costumes were just beautiful."
Since 1975, Mr. Castleman has been a soloist with a number of prominent orchestras, including those of Philadelphia, Boston, Brisbane, New York, and Shanghai, just to name a few.
He is also the founder and director of the Castleman Quartet Program, which offers intensive workshops in solo and chamber performance.
He said that he is likely to incorporate some of Shen Yun's orchestral music into some of his own work.
"I'd be interested in having a part, that is, playing some of this music or trying some of it myself, because that's what I do, so when I see something like this, I'm very interested in incorporating it into what I like to do," he said.
Mr. Castleman said the overall show gave him a meaningful, brief look into Chinese culture.
"I think this gives us an important glimpse into what the [Chinese] culture really is," he said.
"I've just become familiar with a whole different kind of art form that I wouldn't have known before. … It was quite a remarkable experience."
"The show is beautifully put together," Mr. Castleman said. "I'm very impressed."
Shen Yun's Majesty Overwhelms Artist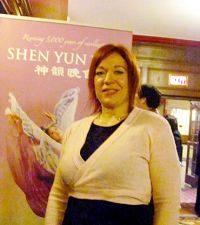 Musician, artist, and playwright Cassandra Kelly, said she was deeply impressed by Shen Yun Performing Arts at the Rochester Auditorium Theatre on Feb. 16. (Photo courtesy of NTD Television)
Also in the audience, on opening night, was Cassandra Kelly, a musician, artist, and playwright, who had high praise for Shen Yun.
"I am also a performer. These are wonderful performers," said Ms. Kelly, an artist-in-residence at MuCCC Theater in Rochester, who has worked in the arts and arts education internationally.
She is a jazz singer with a musical flexibility that allows her to perform in a variety of other genres as well, including classical music, blues, and country. She has also performed as an actor in theater and had written a number of musical theater shows.
The musician mentioned that it was her first experience of classical Chinese dance and music, and the caliber of the performance left her with a wonderful impression.
"This is my first time seeing the art form in person and I was fairly overwhelmed by the majesty and the grace and the perfection. It was really well done and skillfully done," Ms. Kelly explained.
New York-based Shen Yun tours the world with an all-new show each year that features classically trained dancers and singers from around the world, many of whom are winners of international competitions in dance, choreography, music, and singing.
"I thought the dancing was fabulous," Ms. Kelly said, especially applauding the "Mongolian Bowl Dance," in which elegant dancers display both strength and gentleness as they balance bowls on their heads in a dance of welcome.
Ms. Kelly also enjoyed the technique of the dancers twirling handkerchiefs in a dance called, "An Early Spring."
"The difficulty in the moves that they do, and they do it so gracefully, it was wonderful," said Ms. Kelly.
Xiaochun Qi's solo performance on the erhu, also caught her eye.
"That was beautiful, that was absolutely beautiful. She is obviously very skilled and very artistic. It was very moving," Ms. Kelly explained.
"When I listened to that piece, I closed my eyes for a moment, and I saw a river, a wide river, and there were reeds that were dancing in the wind. You could see and feel all the years and history behind it. It felt very modern and very ancient at the same time. It was beautiful!"
As a singer herself, Ms. Kelly especially praised the performances of the vocal soloists, noting the "amazing voice" of tenor Yuan Qu and the "very powerful, incredible presence" of soprano Geng Haolan.
Shen Yun's lyrics are rich with philosophical reflection about human life, with themes of hope, truth, and spiritual faith.
"It was very personal, it was very important, and they were definitely expressing something more than just entertainment, and yet it was very entertaining," Ms. Kelly said.
She explained how she personally experienced the passion of the Shen Yun artists' work.
"As an artist myself, there have been times when I have done work that was deeply personal, that resonated with something, a message that I wanted to communicate. And it is a great joy as an artist to have something you really believe in, versus just doing something that has the veneer of entertainment."
Some of Shen Yun's dances and lyrics expressed the faith and courage of the practitioners of Falun Dafa, a spiritual practice that is being persecuted by the Communist regime.
"It's in the power of peacefulness," she said. "They are standing up for what they believe in, they are standing up to be able to have equality in their voice."
"Doing this through art is very powerful," she added.
Former Journalist: "I Enjoyed [Shen Yun] Immensely!"
Robert Palmer (R) and Ward Paddle attended Shen Yun at the Rochester Auditorium Theatre Feb. 16. (Photo courtesy of The Epoch Times)
Attending the show together, were Robert Palmer, a retired journalist and Ward Paddle, an interior designer.
"I thought it was very interesting, very colorful," said Mr. Palmer.
"The dancers are very good. I think they're very accomplished; it's a lot of work," he said, adding that he "was impressed that they had a live orchestra. It was very nice."
He said he especially enjoyed Shen Yun's unique digital backdrops, which provide vivid imagery to enhance the experience and are often animated to integrate with the storytelling and complement the piece being played out onstage.
"I liked the use of the technology. It's a new thing, that backdrop, [with] people coming in and going out. I'm sure everybody loves that. … I haven't seen it before so I enjoyed it. It was a lot of fun."
Mr. Paddle noted the way the costume fabrics lent themselves to the dance.
"I thought it was beautiful. I was speaking to a woman earlier, saying that I thought the use of fabrics in the dance were almost part of the music themselves. The way the fabrics moved with the dancers, I thought it was quite beautiful," he said.
"They're awfully, awfully colorful," said Mr. Palmer of the costumes. "It's very, very pretty. It's beautiful, moves beautifully."
"I enjoyed it immensely, I really did. It was very interesting," he concluded.
Shen Yun "Breathtakingly Beautiful," Says Senior VP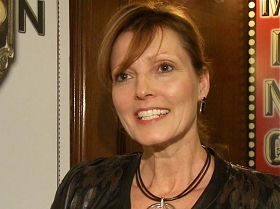 Shen Yun brought Lisa Critchley, an executive for a large real estate company, to the edge of tears during its opening night show at the historic Rochester Auditorium Theatre. (Photo courtesy of NTD Television)
One of the many VIPs in the audience, Lisa Critchley, a senior executive for a large real estate company, was deeply impressed with Shen Yun.
"It is amazing and breathtakingly beautiful. The enthusiasm of the artists is touching my heart," she said.
"It's almost indescribably amazing and beautiful. Indescribable, the scenery, the feeling that's coming from all of the artists, and the costumes are so beautiful—vibrant silk fluttering, it is gorgeous!"
Ms. Critchley, VP of human resources for Home Properties Inc., said her company employs some 1,300 workers, and owns, manages, and develops multifamily apartments along the East Coast.
The VP said she had some expectations of Shen Yun from the colorful brochure she received, but it did not fully prepare her for the caliber of the performers in their skill, energy, and elegance.
"I was surprised at how much tumbling and just how graceful, but also how strong and athletic everyone is," she said.
Many people are surprised to find out that Classical Chinese dance is the precursor of both gymnastics and acrobatics. The jumps and flips people enjoy during the Olympics actually have a history of thousands of years and originated in Classical Chinese dance.
Ms. Critchley noted the delicate movements of the female dancers in the "Mongolian Bowl Dance," a traditional dance of welcome, balance bowls on top of their heads.
She also enjoyed Shen Yun's opening number, "Descending to the World," which begins with a host of heavenly beings coming to Earth, to begin China's divinely inspired culture.
"The first piece was very moving because it helped to open you up to the 5,000 years of Chinese culture. I started to feel like I was going to cry, and particularly when the first female artist [soprano Huang Pi-Ju] sang," Ms. Critchley said.
Pride In Traditional Culture
Ms. Critchley said she could feel the love and pride that the performers had for their country and their interest in sharing the "wonderful history" of China with the audience.
"The history, and the battles, and the loveliness of it, is all coming through," she said.
She also mentioned how much the dancers smiled and the friendliness that they conveyed throughout the performance.
She has been studying Chinese brush painting for the past three years and said that experience has helped her build a connection with the culture. The opportunity to form that connection was why she would recommend the show to others, she said.
"The most important reason to be here is to understand and be drawn into the culture and the beauty and also story—the story of battle, the story of love, the story of triumph, the story of perseverance, but also this happiness that's coming out. That's why you should come here," she explained.
Language Professor: "I Couldn't Stop Crying"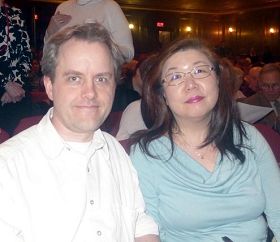 Mariko Tamate and Eric Likness enjoyed Shen Yun's Feb. 17 show at the Rochester Auditorium Theatre. (Photo courtesy of The Epoch Times)
Mariko Tamate, a language professor and senior lecturer who teaches Japanese at the University of Rochester, said that the performers' sincere efforts to preserve a lost culture through the medium of art brought her to tears. She was accompanied by the university's technology liaison coach, Eric Likness.
"All the discipline, the hard work that goes into it, and the philosophy—it's really touching. I couldn't stop crying," said Ms. Tamate during intermission.
She said Shen Yun's mission to revive 5,000 years of traditional Chinese culture and values was beautifully expressed through the story-based dances.
"I think they're trying to show compassion, love, respect and those things through their art, and it really comes across nicely," she said.
"[There's a] sense of justice, freedom," added Mr. Likness.
Ms. Tamate said, "All of the [dances] are equally good. … They're all really awesome, and the songs are really touching, too."
The professor also mentioned that she is a practicing Buddhist and that Shen Yun reminds humanity of its own goodness and long-cherished values such as respect for others, tolerance, and cooperation.
"People want material things and are in pursuit of material things; lots of nice [traditional] philosophies are lost," she said.
"All of the nice culture and the philosophy and the values are getting lost. I think [Shen Yun] is trying to revive all that."
One of the most memorable moments for Ms. Tamate was a dance titled, "An Unexpected Encounter," which highlights the story of Falun Dafa, a spiritual discipline based on truthfulness, compassion, and tolerance that is violently persecuted in China.
She said the story was inspirational and symbolized the triumph of good over evil.
"They're not trying to gain anything—their mind is pure, so such a pure mind should prevail," Ms. Tamate said.
Art Teacher: Shen Yun "A Canvas Coming to Life On Stage!"
Jacque and Larry Ruth took in Shen Yun's Sunday afternoon matinee at Rochester Auditorium Theatre Feb. 17. (Photo courtesy of The Epoch Times)
Larry Ruth, a former middle school art teacher, came to the show with his wife, Jacque, who is a retired director of Special Education for Nazareth Academy.
He said he felt as though he was witnessing "a canvas coming to life on stage."
"The color was beautiful, and then when you put the color in motion, it just added so much more—just wonderful," he enthused.
Mr. Ruth said the costumes' fabric enhanced the motion of the dance.
"The whole symphony of color, that was nice," said Mrs. Ruth, who is also a retired pastor at the local United Methodist Church.
"It sparkled, it was lovely. You almost got to the point where you didn't see the people, you just saw the colors," she said.
Mr. Ruth said, as an art teacher, he really appreciated the use of color, which is one of the reasons he found Shen Yun's colorful costumes and digital effects enthralling.
"Just the way it was incorporated, and it moved, it wasn't static," he said, adding that the colors were more vivid than other performances he had seen.
"It Jumps Out At You, Very Vivid"
He said that he and his wife were touched by the beauty of the performance and said they could see that other audience members were moved, as well.
"It touched us, and judging from the conversation we had with the people around us as we were leaving, it touched them too," said Mr. Ruth. "I think there's a lot of people here today that are wishing the [show] could be here longer because they're going to go tell their friends what they saw."
"I don't know if any of the people around us had seen it before, but they were just as impressed with it. I'm delighted," added Mrs. Ruth.
Mr. Ruth said he thoroughly enjoyed Shen Yun's digitally animated backdrops, which interact with the dancers and project dynamic scenes from China's multifaceted regions and dynasties—adding vivid context to each story-based dance.
"The set designer did a marvelous job with how he chose to present different scenes," said Mr. Ruth.
He was particularly impressed with the split-second timing between the dancers and the backdrops, which created the illusion that the performers could leap in and out of the screen.
"I've never seen anything like that before," he said. "That was very clever."
Mrs. Ruth was impressed with the scale of the performance, which includes dozens of dancers, a full philharmonic orchestra that features traditional Chinese instruments, vocal soloists, and hundreds of handmade costumes and props.
"I am so glad we got to see it—it was graceful, the color, the stories—there was just so much," she said, adding the story-based dances were wonderfully diverse.
"It just ran the gamut of emotions from serenity to danger, and little bits of humor."
"It definitely engaged the audience," added Mr. Ruth.
Mrs. Ruth enjoyed the expressive range of classical Chinese dance, saying it was graceful, smooth, and ethereal, during female performances, yet powerful and strong with the males.
"I love to watch those girls just sort of scoot across the floor without even bouncing," she said. "They just glided across the floor."
"And the guys were very dynamic and athletic. It was just very fun."
Mrs. Ruth noted the hard work that went into the dance titled, "An Early Spring, in which female dancers continuously twirl sparkling handkerchiefs as they perform.
"That takes a lot of practice—that's just dedication," she said. "When you can be so precise and so definite, that was just very well rehearsed and it was very effective."
The traditional Chinese culture and beliefs expressed in Shen Yun's stories, such as kindness, honesty, and the triumph of good over evil, were universal and resonated, said Mrs. Ruth.
"As humans in general we look for the beauty in life. And this was very well represented—that beauty," she said.
"There's just this common thread in all our cultures: its kindness, it's love and [the belief that] there's something more beyond this life. It's not just this life but there's more beyond."
Mr. Ruth said these common values had the power of uniting humanity.
"You watch a production like this, the message it delivers, and you find out that we're really not so different," he said.
"When you bring in a different culture and you see these things, it unites us."
"It's a good way to connect," added Mrs. Ruth.
Sources:
http://www.theepochtimes.com/n2/shen-yun-on-tour/violin-virtuoso-and-professor-impressed-with-shen-yun-orchestra-348634.html
http://www.theepochtimes.com/n2/shen-yun-on-tour/artist-in-residence-overwhelmed-by-shen-yuns-majesty-grace-and-perfection-348638.html
http://www.theepochtimes.com/n2/shen-yun-on-tour/i-enjoyed-it-immensely-former-journalist-says-of-shen-yun-348759.html
http://www.theepochtimes.com/n2/shen-yun-on-tour/shen-yun-breathtakingly-beautiful-says-senior-vp-348642.html
http://www.theepochtimes.com/n2/shen-yun-on-tour/language-professor-brought-to-tears-by-shen-yun-i-couldnt-stop-crying-348936.html
http://www.theepochtimes.com/n2/shen-yun-on-tour/art-teacher-enthralled-with-shen-yuns-colorful-artistry-it-jumps-out-at-you-348820.html