More Than 3,000 Signatures Collected in Two Provinces Petitioning for the Release of Ms. Dai Meixia
December 28, 2013
|
By a Minghui correspondent from Hubei Province, China
(Minghui.org) Ms. Dai Meixia, a Falun Gong practitioner from Hubei Province, was illegally arrested on May 10, 2012. She was sentenced to a five-year prison term in March 2013.
The trial was held at the Humei County Court. Ms. Dai appealed the sentence at the Huanggang City Intermediate Court, and her case was remanded in August. She is currently being held at the Huangmei County Detention Center. More than 3,000 residents from Hubei Province, where she is from, and Jiangxi Province, where she lives, have signed and left thumbprints since March 2013, on a petition calling for her immediate release.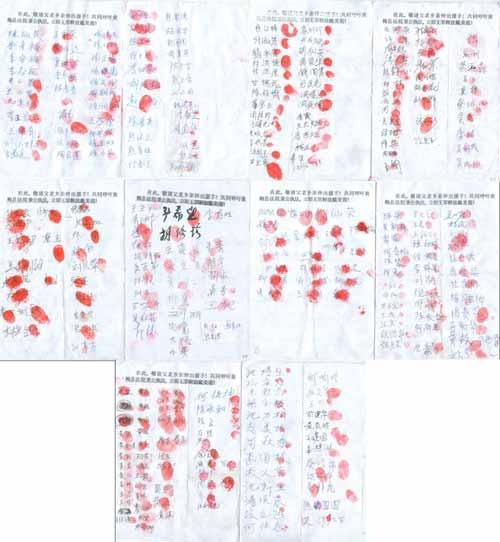 Ms. Dai is from Huangmei County in Hubei Province. For the past ten-plus years, she has been forced to work and live in Jiujiang City in Jiangxi Province, which is just across the river from her hometown in Hubei Province. She was arrested by police officers from the Huangmei County Domestic Security Division on May 10, 2012, in front of her home. The police took her to the Hubei Province Brainwashing Center in Wuhan City, where she was held for two months.
To pressure her to write a guarantee statement promising to give up her belief, officers from the Huanggang City 610 Office, the Wuxue City 610 Office, Huangmei County Domestic Security Division, and prison doctors subjected her to brutal torture. She was beaten, denied use of the restroom, force-fed, and given unknown drugs. She was also pressured to reveal the names of other local practitioners with whom she associated. Ms. Dai was in critical condition at one point as a result of the torture.
A guard named Hu from the brainwashing center threatened Ms. Dai, saying, "Everybody has to write a repentance statement here. I don't care if you have to lie about it. You have to write it. Otherwise, I will make your life a hell on earth. I dare you to try me." Guard Huang Wei said to her, "Hurry up and tell us about everything you know and everybody you know. The people here are too nice to you. If it were me, I would cut the flesh off your body piece by piece." Ms. Dai eventually wrote the repentance statement against her will. However, the 610 Office and the public security agents did not let up on her.
She was taken to the Huangmei County Detention Center in July 2012 and was tried on March 25, 2013, by the Humei County Court. Lawyers from Beijing and Guangzhou defended her, pleading not-guilty on her behalf. One of the judges lost consciousness during the trial. It didn't occur to the officials that they were doing anything wrong and proceeded with the trial. Ms. Dai was sentenced to a five-year prison term.
Ms. Dai's lawyer filed an appeal on her behalf with the Huanggang City Intermediate Court on May 13, 2013, and was notified on August 26, 2013, that due to a procedural due process violation, her case was remanded for a new trial.
After her story was publicized, residents from Huangmei County and Jiujiang City expressed their support for Ms. Dai. Nearly 300 residents from Huangmei County signed and left thumbprints on a petition calling for Ms. Dai's immediate release in March 2013. 1,861 more signatures were collected in Huangmei County by July 2013. By November, 237 more residents from Hubei Province and 373 from Jiangxi Province had signed the petition. Since then, 304 more signatures have been collected in Hubei Province and 240 in Jiangxi Province, for a total of more than 3,000 signatures.
According to reports, officials of the Huangmei County Police Department held a special meeting to discuss details for the second trial.