Disabled Practitioner Escapes Custody (Graphic Photos)
November 08, 2013
|
By a Minghui correspondent from Heilongjiang Province, China
(Minghui.org) Mr. Wang Xinchun from Yichun City, Heilongjiang Province, escaped from a hospital, despite being disabled, while in police custody on October 12, 2013. Police have been searching everywhere for him.
Mr. Wang had been arrested and tortured multiple times for his belief in Falun Gong. He was arrested again on September 9, 2013, in the Yinchun District, and was later held in room 301 of the injury department in Jinshantun Hospital. His face and arms were injured after being beaten by the police. He lost consciousness but was handcuffed to the bed and monitored by police.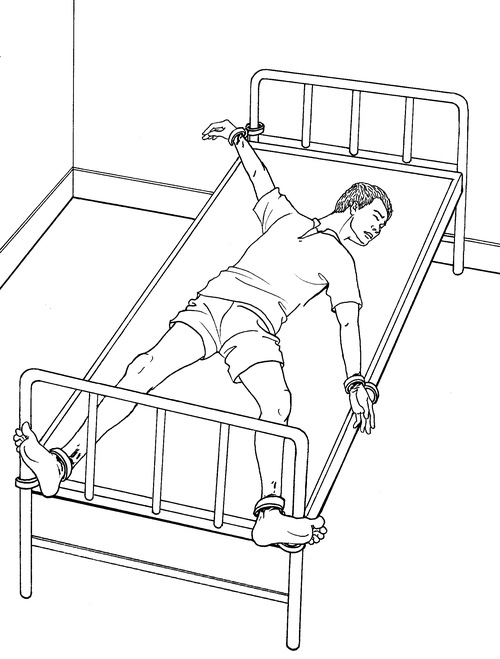 Torture reenactment: Cuffed to the bed
Mr. Wang managed to escape from the hospital on October 12, 2013. The surveillance camera showed that he fled at around midnight. His whereabouts are unknown.
The police have been harassing local practitioners, Mr. Wang's work colleagues, and his family members in an effort to find him. Another practitioner, Ms. Zhao Shuqin, was arrested and later released.
Mr. Wang was born in 1976 and lived at the Fengmao Forestry Center in the Jinshantun District, Yichun City. He was persecuted because he refused to give up Falun Gong, which he has practiced for over 14 years. His home has been ransacked more than a dozen times. The police have extorted money from him, monitored him, and confiscated his identification card.
How Mr. Wang Lost His Feet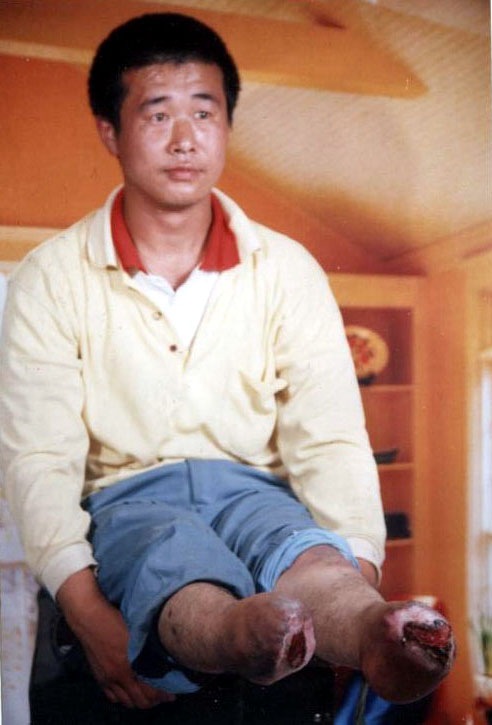 Mr. Wang Xinchun
Mr. Wang was arrested on January 8, 2002, by officer Wang Wei from the Fenggou Police Station for distributing Falun Gong truth clarification materials at the Fenggou Forestry Center. He later managed to escape.
Cui Yuzhong, chief of Jinshantun District Police Department, ordered dozens of officers to search the mountain. The police looked for him for three days and nights.
Mr. Wang accidentally fell into a river, and his shoes and cotton-padded trousers got wet and froze.
Officers Wang Wei and Bian Haitang found him and kicked and punched him. Mr. Wang was taken to Fenggou Police Station. Even though his feet and trousers were frozen, he could still walk. Officer Wang Wei told Bian Haitang to put Mr. Wang's feet in a basin of hot water. Mr. Wang then lost all feeling in his feet and couldn't stand up. To keep from being held responsible, the police released him.
After Mr. Wang returned home, the flesh on his feet began to decompose, and 11 months later, both of them had to be amputated. He was only 26 years old.