(Minghui.org) From September 21 to 26, the "Truthfulness-Compassion-Forbearance" Art Exhibition was held at the community center in Manly, Australia. More than 30 works were displayed.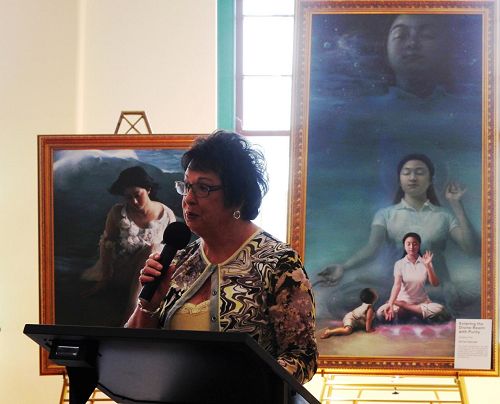 Jean Hay, the mayor of Manly, at the opening ceremony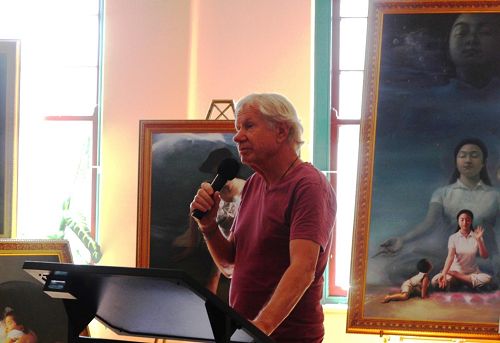 David Barr, former member of the New South Wales Legislative Assembly from Manly, at the opening ceremony
As a part of the local art festival in 2013, the art exhibition was supported by the city government.
At the opening ceremony, the mayor of Manly, Jean Hay, said: "The Truth, Compassion, Tolerance art exhibition is a moving, intimate, fine collection of works detailing their spiritual lives and human tragedy that has happened in China. Since Falun Gong was banned in China 13 years ago, many practitioners have been tortured and persecuted by the Chinese Communist party in the name of transforming them."
"Part of this exhibition shows how the practice of Falun Gong has changed people's lives, providing them a return to traditional values. A handful of dedicated people put forth their time and money to make this happen."
David Barr, former member of the New South Wales Legislative Assembly from Manly, also attended the opening ceremony.
Many local citizens came to the exhibition. One lady told the staff: "My mother was here yesterday and said the children need to see this exhibition."
A Manly councilor, who also chairs the Manly Art Gallery and Museum, came to see the exhibition. She said that she liked the exhibition and found it very moving.
A man with an aboriginal spiritual background came in a couple of times, and he was here last year. He said that he could really understand what Dafa practitioners were trying to do.
There were a few artists present, as well. One of them was from the Julian Ashton Art School Sydney. He is going to Italy and France on scholarship to further his studies. He talked to the staff from the artistic point of view, saying how beautiful the work was done with the effect of light, shade and composition. He was really impressed. He also bought a couple of art books. He came back the second day with a friend who was also an artist. The friend said that he would be interested in reading Zhuan Falun to understand the exhibition better.
There was also a local artist who was having an exhibition as a part of the Manly Art Festival. She was really impressed with the exhibition and said that she could understand the meaning of the paintings.
Visitors left touching comments in the guest book. Here are a few:
"Seen many times. Always drawn to it."
"Very honest, mysterious and honorable! True culture! Five stars!"
"Two or three very strong paintings where I wept."
"Powerful art—certainly makes one think."
"The oppression is unbelievable- My thoughts go to the Falun Gong believers!"
"The work really opened our eyes to very real and current issues."
"Powerful images depicting a sad reality, your struggle does not go unnoticed. This is how we change our circumstances."
"Thank you for sharing. I feel for your struggle and am grateful that you shared this. I will remember and share."