Practitioner Arrested on Way Home from Mother-in-law's Funeral, Sent to Forced Labor Camp
October 27, 2013
|
By a Minghui correspondent in Liaoning Province
(Minghui.org) Falun Gong practitioner Ms. Huang Yaguang was illegally arrested a year ago, immediately after her mother-in-law's funeral. She was later sentenced to one year at Masanjia Forced Labor Camp. Ms. Huang is from Xinbin County, Fushun City, Liaoning Province. The following is an account of her ordeal.
Abducted While Returning from the Cemetery
Ms. Huang Yaguang and her husband's family were returning from the cemetery on the morning of April 15, 2012 when they were stopped and pulled over by four people in a black car. They opened the door on Ms. Huang's side and forced Ms. Huang's sister-in-law out of the car. No one knew what was happening so everyone got out. When Ms. Huang stepped out, policeman Gong Jian and two other officers grabbed Ms. Huang's arms and handcuffed them behind her back. They pushed her into the car and covered her head with a heavy jacket so that she could hardly breathe.
The police took the 4,000 yuan in cash Ms. Huang had in her pocket. They also took her cellphone and keys. Everyone at the scene knew that the money was to pay for her mother-in-law's funeral. The family reasoned with the police, and they finally returned the money to Ms. Huang's husband.
Home Ransacked
Ms. Huang was taken to the third floor of the Xinbin County Police Department. Over a dozen officers then ransacked the Huang home. They confiscated a computer, DVDs, Internet card, modem, a picture of the founder of Falun Gong, and a Falun Gong exercise illustration poster, among other items. The director of the Fushun City National Security Bureau led the group.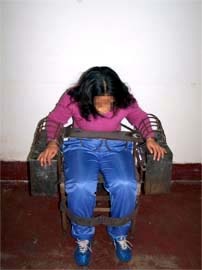 Torture reenactment: Iron Chair
Interrogated and Charged
Ms. Huang was forced into a car and the police covered her eyes with a towel. They took her to a small dark room on the third floor of the Xinfu Police Station in Fushun City. She was handcuffed to an iron chair before the towel covering her eyes was removed. The police interrogated Ms. Huang, asking her why she practiced Falun Gong. She told them about the benefits she received from practicing Falun Gong, as well as the benefits that Falun Gong brought to her family and society. The police however turned a deaf ear and sent her to the Nangou Detention Center.
They arrived at the detention center after 8:00 p.m. During the admission procedure, the on-duty officer asked the police who brought her in whether Ms. Huang practiced Falun Gong. He then picked up a stack of paper and said, "These are all Falun Gong practitioners, over 20 of them. They all say 'disturbing social order.'" Ms. Huang was detained with the crime of disturbing social order.
All inmates at the detention center are subjected to forced labor. Everyone is required to knit three hats every day. If one cannot achieve that quota, they are punished and forced to stand for two hours. Because there is a high possibility of suicide at the detention center, no one is allowed to go alone to the restroom. Ms. Huang was detained at the Nangou Detention Center for 38 days.
Sent to a Forced Labor Camp
Ms. Huang was brought back to the Xinfu Police Station and locked up in a small, dark room for two days. The room had only a shabby sofa and two chairs. Ms. Huang was wearing light clothing and it was very cold at night. The police had two women watching her. On the third day, she was taken to an office and was ordered to sign some paperwork. When she refused, the police called in a woman who was heard saying, "Send her there, even if she refuses to sign the paper." Without any legal procedure, Ms. Huang was sent to Masanjia Forced Labor Camp for one year.
At Masanjia Forced Labor Camp, Ms. Huang was assigned to Cell #402. She was monitored by two other inmates, and forbidden from talking to anyone. The guards bombarded Ms. Huang with lies and propaganda in order to "transform" her.