Practitioners Persecuted at Weifang City Brainwashing Center in Shandong Province
October 22, 2013
|
By a Minghui correspondent from Heilongjiang Province, China
(Minghui.org) The brainwashing center in Weifang City, Shandong Province was established by the 610 Office to persecute Falun Gong practitioners. Fu Jinbin and Zhao Yongjun have committed many crimes against practitioners there. Some of these are listed below.
Fu Jinbin's evil deeds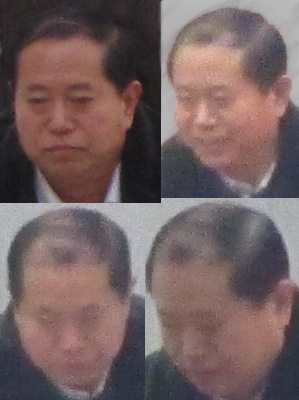 Guard Fu Jinbin
Fu Jinbin, 54, male, was born in Cao County, Heze City, Shandong Province. His cell phone number is: 86-13070733468, and his work line is: 86-536-8789620. He used to be a soldier, and was later transferred to become a department head of the public security bureau in Weifang. He was later promoted to the position of assistant manager of the 610 office in Weifang and also a team leader.
Fu was very active at the brainwashing center, and worked with Guo Jing to severely persecute Falun Gong practitioners. Ever since the Industrial Managers College's brainwashing center moved to Kuiwen Party College on Fushou Street, by the south side of Shengjian Prison, Fu was always driven there by a private chauffeur. Each time he went there he would enter the practitioners' cell and talk to them for quite a while in an attempt to get them to renounce their belief. While there, he would also monitor and give further orders to the guards as to how they should continue persecuting the practitioners.
On December 6, 2009, Fu took part in a meeting to plan the building of a brainwashing center at a former police station in Nansun Village, Hanting District, Weifang. He also went to brainwashing centers in other areas to persecute the practitioners there.
Elderly mother arrested and detained
Fu had threatened to send practitioner Yu Jianhua to a forced labor camp if they did not renounce their belief. Fu also arrested Mr. Chen Hongqi's mother, who is over seventy years old, and detained her in a brainwashing center. Chen strongly requested that his mother be released, but Fu coldly said, "Political stability is better than fifty aging mothers suffering the fate of death."
Female practitioners sexually assaulted
Fu has sexually assaulted many female practitioners, including Ms. Jiao Huifang and Ms. Yu Meixia. He spoke to them in a filthy manner, groped them and displayed his genitals to them.
Spreading hatred and trying to deceive people
When Fu was an assistant investigator and researcher for the 610 Office, he went to a Hanting District hotel on November 22, 2010 with Li Huanchang, chairman of the anti-cult association, to attend a meeting. On November 24, Fu and Li both presented their reports slandering Falun Gong at the meeting, further inciting hatred through their propaganda. Leaders from the Kuiwen District, Liu Liangjia, Cui Huaitian, Zhai Fusheng, Ren Xiang, Liu Zhanqing, as well as the city's vice chairman from the scientific association, were all there.
On June 6, 2012, Fu accompanied Li Bingjie, head of the Kuiwen District 610 Office, and went to the Dayu Street office to investigate the details of practitioners in that area. They affixed propaganda slogans to windows, harassed practitioners in their homes and gave further instructions on the persecution to the neighborhood committees under the Dayu Office's jurisdiction.
When Fu was an assistant manager at the local 610 Office, he and other assistants Li Tongkui, Wu Dongming and others gave a presentation to slander Falun Gong in Xiashan Bilingual School on April 18, 2013.
Zhao Yongjun's evil deeds
Guard Zhao Yongjun
Unlike Fu Jinbin, who was transferred to the brainwashing center, Zhao Yongjun, 50, chose the job himself to persecute Falun Gong practitioners there. He was called internally by director Zhao (phone: +86-536-83214710) to the brainwashing center. After each round of persecution was completed, he would report to Gao Xingchang, head of the Kuiwen District 610 Office, for his reward. During his time at the brainwashing center, the iron cage and iron chair were used to torture Falun Gong practitioners. He remained at the brainwashing center even during the Chinese New Year in order to persecute practitioners.