Dark Secrets Behind Flashy Merchandise – Slave Labor Products by Sichuan Province Women's Prison (Part 2)
October 11, 2013
|
by a Falun Gong practitioner in Sichuan Province
(Minghui.org) (Continued from Part 1: http://en.minghui.org/html/articles/2013/9/13/141981.html )
For practicing Falun Gong, the communist regime sentenced me to Sichuan Province Women's Prison in Yangmahe Town, Jianyang City. The following images are copies of designs we used to make Shu embroidery in prison. I secretly traced the patterns on carbon paper while making the products.
Shu Embroidery
There are two kinds of Shu embroidery: single-sided and double-sided. Shu embroidery requires splitting a thread into multiple strands. These embroidery patterns are designed for handkerchiefs to be sold in the Sanxingdui tourist areas. There are many patterns like this. There are also larger pieces of embroidery. For example, I used to embroider on Korean dresses that were exported to South Korea. The collars and wristbands were covered with embroidery.
But how many people know that these delicate dresses came from Chinese prisons?
Many Falun Gong practitioners and prisoners were forced to create these delicate Shu embroidery pieces. They had to work for more than ten hours per day. If they could not finish their quota, they would get two kinds of torture in monthly sessions.
Torture Used on Those Who Failed to Meet Quotas
1. "Planting Seedlings" Torture: The victims are forced to stand with legs straight and their finger tips touching toes for as long as several hours. Many victims passed out, but they were forced to continue this position after being revived.
2. "Tying with Rope" Torture. First, the rope was wet. Several guards and prisoners pin the victim to the ground, then tie the victim's hands together behind his/her back. Then chopsticks are used to tighten the rope.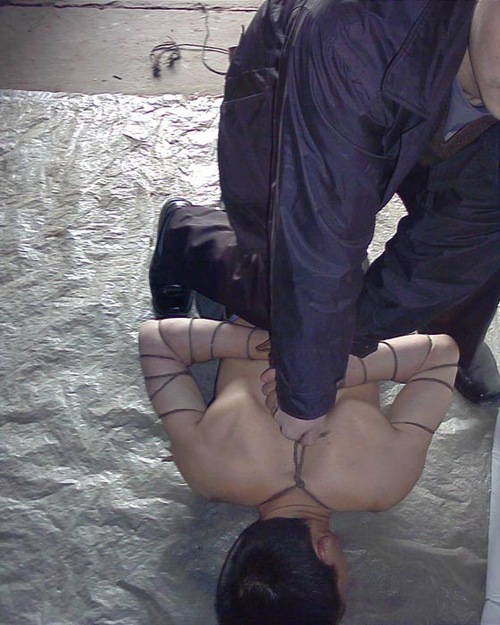 Torture Re-enactment: Tying with Rope
The pain of this torture is indescribable. I suffered this kind of torture on my first day in prison because I refused to give them my copies of articles by Master Li Hongzhi. My hands and fingertips still felt numb after a couple of months, making me incapable of handling lots of little things in daily life. The day after the torture, the guards forced me to do slave labor, claiming that I should earn my meals.
Many practitioners in this prison suffered this kind of torture, which caused some women to suffer gynecological problems. Many practitioners were forced to do embroidery for long hours, plus frequent torture, making their vision quickly drop so they were not able to embroider any more. Then they were forced to do other work. The prison forced detainees to do intensive work to exhaust their vision and physical strength until they could make no more profit.
These two kinds of torture were generally applied to all prisoners. There were more torture approaches particular to Falun Gong practitioners: solitary confinement; not being allowed to wash or change underwear; cursing and beating, etc.
(to be continued)