Elderly Man's Cancer Cured Through Dafa Practice, Dies after Forced to Live in Cold Cave
January 07, 2013
|
By Minghui correspondent in Henan Province, China
(Minghui.org) Mr. Zhai Jiazhong, an elderly farmer from Beisun Village, Zhicheng Town, Jiyuan City, Henan Province, has persisted in practicing Falun Dafa. Just for that reason, the village chief, who is a member of the Chinese Communist Party (CCP), forced him to move out of the village and live in cold cave in the mountain. He passed away in August 2012 due to starvation and living in the cave.

Elderly Mr. Zhai Jiazhong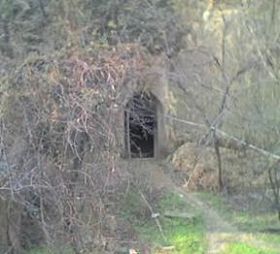 The cave where Mr. Zhai lived
Falun Dafa saved Mr. Zhai Jiazhong's life fourteen years ago. In 1998, Mr. Zhai was hospitalized, and diagnosed with late chronic stomach cancer. He was given less than two months to live.
After Mr. Zhai returned home, Falun Dafa began to spread in Beisun Village. Mr. Zhai was fortunate to watch Master Li's lectures on videotapes. He said, "Whenever I watched Teacher's lectures, I felt so refreshed and comfortable that I really did not want to stop." So, he began to practice Falun Dafa. Within two weeks, he experienced the body purification process. He vomited large amounts of blood and blood clots. After that his illness miraculously disappeared. He finally could eat again and recovered within a short period of time.
Mr. Zhai Jiazhong was extremely grateful to Master Li for saving his life. He traveled tens of miles on mountain roads by bike every day, to tell others about his personal experience and Dafa's power and beauty. He helped many predestined people begin Falun Dafa practice.
Persecution Leading to Death
On July 20, 1999, Jiang Zemin's regime started to persecute Falun Dafa. Mr. Zhai refused to renounce the practice. Consequently, he was constantly harassed and persecuted.
In 2001, the village chief attempted to take away Mr. Zhai's apportioned land, void his registered permanent residence card and force him out of the village. Villagers that still had a good conscience stood up and stopped the CCP officials. They said, "Even a death row inmate has to be fed, not to mention Mr. Zhai, who is not a criminal. He had cancer and recovered because of practicing Falun Dafa."
After the autumn harvest festival in 2010, chief Niu Tongyin of Beisun Village, Zhicheng Town, Jiyuan City forbid workers to plow and sow on Mr. Zhai's land. Plowing and sowing was arranged by the village and charged for according to the size of the land. Mr. Zhai's family had to use the most primitive methods to plant seeds.
In mid-October 2011, chief Niu Tongyin of Beisun Village, Zhicheng Town colluded with Xie Hongwu, deputy chief of the Jiyuan City Domestic Security Division, and others, and broke into Mr. Zhai's home and ransacked it. They found nothing they could use to frame Mr. Zhai. They took him to Niu Tongyin's home, where they abused him. Since Mr. Zhai didn't renounce Falun Dafa, Niu Tongyin angrily roared: " [I will] void your registered residence today, and you get out of the village, return to where you were in the mountain. From now on you are banned from Beisun Village."
Mr. Zhai Jiazhong's son and daughter-in-law did not dare oppose the oppressors for fear of suppression and retaliation, so the 76-year-old man was forced to move to a cave in a remote mountain which had been abandoned more than a decade.
The living conditions in the mountain were deplorable. Being short of food and clothing, Mr. Zhai Jiazhong's health deteriorated. His children only dared to bring him home shortly before he died, but it was too late. Mr. Zhai Jiazhong passed away in August 2012.