(Minghui.org) Part 1: http://en.minghui.org/html/articles/2012/8/31/135235.html
In early March 2006, several witnesses exposed to the international community the Chinese Communist Party's (CCP) atrocities of organ harvesting from living Falun Gong practitioners at Sujiatun Concentration Camp and at least 36 other concentration camps in China. Over the past six years, with Falun Gong practitioners' continued efforts to raise awareness about this atrocity, the international medical community has continued to express concern about the CCP's practice of forced organ harvesting from living people.
Doctors Believe Allegations of CCP Organ Harvesting from Living Falun Gong Practitioners
Dr. Rudolf Garcia Gallont from Guatemala is a member of The Transplant Society (TTS). He told this reporter during a TTS conference in Sydney, Australia in August 2008, that since 2006, TTS has paid close attention to the allegations of organ harvesting from living Falun Gong practitioners in China. Dr. Garcia said, "Since this problem with Falun Gong was brought up in Boston two years ago, The Transplant Society started to take action; I don't think there is any doubt that every doctor who is here knows that this is happening, and has a very clear opinion about it."

Dr. Garcia condemns the CCP's organ harvesting atrocities
Dr. Garcia condemned the CCP's atrocities of live organ harvesting. He said that it is officially known that this problem exists in China. He said that it is condemnable and that the TTS has taken a very clear stand.
DAFOH: Falun Gong Practitioners are the Largest Group of Victims of the CCP's Live Organ Harvesting Atrocities
Dr. Dana Churchill, Southern California representative for Doctors Against Forced Organ Harvesting, said that a lot of evidence shows that Falun Gong practitioners are the largest group of victims of the CCP's live organ harvesting atrocities.
Dr. Churchill stressed that the CCP's atrocities of live organ harvesting is gaining more and more attention and protest from the medical community.
During a rally held on May 27, 2012 in Los Angeles to celebrate the 20th Anniversary of Falun Dafa's Introduction to the Public and to support 116 million Chinese people quitting the CCP and its affiliated organizations, Dr. Dana Churchill exposed an appalling crime of the CCP in the persecution of Falun Gong – harvesting organs from living Falun Gong practitioners, and selling the organs to international patients for huge profit in organ transplantation surgeries.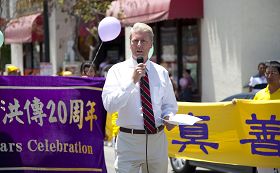 Dr. Dana Churchill, Southern California representative for Doctors Against Forced Organ Harvesting
Dr. Churchill mentioned that Jacob Lavee, director of the Heart Transplantation Unit at Sheba Medical Center, one of the most prestigious hospitals in Israel, wrote a paper that was published in The Journal of Heart and Lung Transplantation in March 2012. Dr. Lavee believes that as long as doctors in China continue to participate in obtaining organs from executed prisoners and Falun Gong practitioners to provide organs for patient from around the world, the international medical community, especially the organ transplant medical community, has a moral obligation to condemn those doctors who perform such organ transplant surgeries.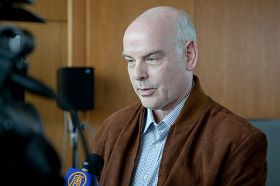 Dr. Lavee from Israel said that since April 2012, insurance companies in Israel have been forbidden to reimburse patients for any kind of transplants performed abroad
Scottish Christian Party Leader Strongly Condemns the Live Organ Harvesting Atrocities

Mr. Donald Boyd
Dr. Donald Boyd, leader of the Scottish Christian Party, stated, "I think it is very credible [that the allegations of the CCP harvesting organs from living Falun Gong practitioners are true], so I think it should be followed till the end. Western governments and medical professionals should make every effort to help prove the allegations." Dr. Boyd strongly condemned the atrocities of organ harvesting from unwilling victims, which violate human rights and are unacceptable. He said, "Without a doubt [the crime of organ harvesting] violates all moral codes, including medical ethics and even humanity. No moral code would accept these [atrocities]."
International Renowned Expert: The Worst Atrocity in the Field of Organ Transplantation
Professor Arthur Caplan, director of the Center for Bioethics at the University of Pennsylvania, is an acknowledged expert in his field and has been regarded as one of the ten most influential scientists in the world. On March 13, 2012, Professor Caplan gave a lecture at the University of Pennsylvania School of Medicine entitled "The Ethics of Using Prisoners as Sources of Cadaver Organs." In the lecture, he highlighted the horrific crimes of harvesting organs by "killing for need" in China. Professor Caplan called killing to harvest organs "the worst atrocity in the field of organ transplantation," and "a disgrace to humanity."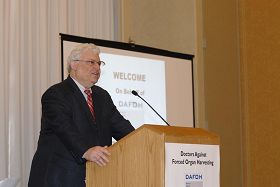 Dr. Arthur Caplan
Professor Caplan proposed in 2011 to boycott in The Lancet transplant papers from China and any other countries, which are based on killing on demand. The Lancet is one of the oldest scientific medical journals in the world, and has established a significant reputation. Other medical journals have also joined the boycott, including the American Journal of Transplantation, American Journal of Bioethics, Transplantation Proceedings, and Journal of Clinical Investigation.
UCLA Medical Director: Doctors Should Condemn the CCP's Barbaric Organ Harvesting
As Falun Gong practitioners around the world held activities to raise awareness about the CCP's 13-year persecution of Falun Gong in July 2012, the book State Organs: Transplant Abuse in China, was published. This book follows the publication of "Bloody Harvest—Revised Report into Allegations of Organ Harvesting of Falun Gong Practitioners in China" by human rights attorney David Matas and former Canadian Secretary of State David Kilgour. Both books provide clear evidence supporting the allegations of organ harvesting crimes in China.
University of California at Los Angeles (UCLA) professor Gabriel Danovitch, M.D., who serves as the medical director of the Kidney and Pancreas Transplant Program at UCLA, mentioned in his essay that doctors in a free society should refuse and condemn the barbaric organ harvesting practices happening in China. As has Professor Caplan, Dr. Danovitch also suggested that medical journals not publish transplant papers from China. Doctors from China should not be allowed to discuss their organ transplantation surgeries in medical conferences, unless they clearly indicate that the organs they used are not from executed prisoners.
Dr. Torsten Trey, Executive Director of Doctors Against Forced Organ Harvesting, said in his essay that usually, the donors agree to donate organs with free consent; however in China, according to official statements, more than 90% of organs come from executed prisoners. This is already a breach of western medical ethical standards. "Killing human beings for their organs in order to provide transplantation for others... leads transplant medicine as well as medicine in general into ad absurdum," said Dr. Trey in his essay.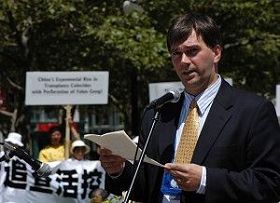 MD Torsten Trey, spokesperson for Doctors Against Organ Harvesting
For further information about live organ harvesting, please see Organ Harvesting Overview http://en.minghui.org/html/articles/2012/4/8/132609.html#.UD3VY_XkqSo .
Related article: "Members of the Medical Community Condemn Chinese Communist Party's Live Organ Harvesting (Photos)" http://en.minghui.org/html/articles/2012/8/31/135235.html