Malaysian Divine Land Marching Band Welcomed in Its First Participation in National Day Parade (Photos)
September 03, 2012
|
By a practitioner in Malaysia
(Minghui.org) August 31, 2012 was Malaysia's 55th National Day. The Divine Land Marching Band, consisting entirely of Falun Gong practitioners, participated in National Day parade in Shah Alam, Selangor, Malaysia for the first time on August 30. The parade was sponsored by the Selangor State government. Shah Alam is the capital of Selangor.

The Divine Land Marching Band was welcomed in the National Day parade in Shah Alam, Selangor.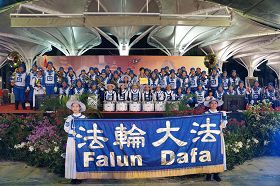 The Divine Land Marching Band received a special award from the hosting organization.
Beginning at 9:30 p.m., Tan Sri Abdul Khalid Ibrahim, Selangor's head of government, state assembly members and invited guests arrived at the celebration venue. After playing the national and state anthems, more than fifty groups from the state government, local government, universities, schools, and non-governmental organizations entered the venue.
The host then announced, "The group entering now is a special band, called the Divine Land Marching Band. Their motto is Truth-Compassion-Forbearance. The band has 80 members led by Linda Su. The members are of different ages, from 5 to 65 years old."
The band, dressed in traditional Tang Dynasty costumes, stepped onto the celebration venue in good order.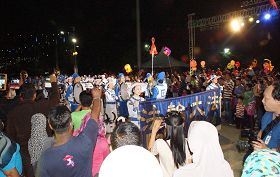 The Divine Land Marching Band played the well-known folk song, Rasa Sayang
Selangor has over five million people, making it the state with the largest population in Malaysia. Besides the parade, the celebration included cultural performances and reading out of the national principles and selecting the best parade group and band. The Divine Land Marching Band was offered an award after participating in this parade for the first time. The band was asked to perform Rasa Sayang, the famous Malay folk song, to conclude the celebration. The band's performance was very well received, and many people came forward to get a better view and take photos or video footage.
Ms. Su said that the band was happy to participate in the National Day parade. The members had prepared for the parade carefully. The waiting time to enter the celebration venue was close to two hours. The entire band waited in patience, as they practice Falun Dafa and follow the principle of Truth-Compassion-Forbearance. She recalled that a leader of another group in the parade admired at the team spirit of the band, waiting so patiently for their turn to perform.