(Minghui.org) On September 10, the Cross-Strait Relationship Association chairman of the Chinese Communist Party (CCP), Chen Yunlin, once again led a delegation to visit Taiwan for 10 days. Only a month earlier, on August 9, Chen visited Taiwan to sign the "Cross-Strait Investment Protection and Promotion Agreement" and the "Cross-Strait Customs Cooperation Agreement." People in Taiwan suspect that Chen Yunlin's sightseeing tour around Taiwan in the name of cultural exchange was really a CCP united front. He visited Nantou, central and southern Taiwan, Chuang Park, the Museum of Fine Arts, Eluanbi Lighthouse, and so on. Everywhere he went, Falun Gong practitioners followed him to protest the persecution in China. They set up banners that stated, "Stop the Persecution of Falun Gong" and "Falun Dafa Is Good."
On September 15, Chen Yunlin's entourage went to visit Chong Park and the National Taiwan Museum of Fine Arts. Hundreds of Falun Gong practitioners held banners that stated, "Stop the Persecution of Falun Gong" and "The Persecution of Truthfulness-Compassion-Forbearance Is an Intolerable Injustice" to condemn the CCP's persecution of Falun Gong in China. In addition to the Falun Gong group, there were other protesting groups. Wherever Chen Yunlin went, protesters followed. He did not even dare to enter the main entrance; instead, he went through the side door to avoid answering media questions.
"Several times when Chen Yunlin has visited Taiwan, our demand had been very simple, which is: 'Stop the persecution of Falun Gong practitioners in China.' We want to say that the people of Taiwan enjoy freedom and human rights and we hope they cherish it."
During Chen Yunlin's visit to Taizhong, a huge police escort kept the protesters away from him. With the exception of the Falun Gong peaceful demonstration, police did not fence off Falun Gong practitioners. A policeman said, "We know that Falun Gong is a kind and peaceful group."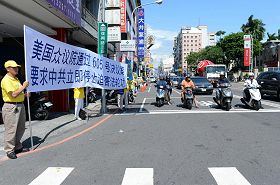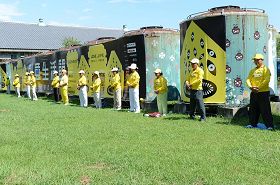 Falun Gong practitioners are seen at every stop on Chen Yunlin's itinerary
On the evening of September 15, when Chen Yunlin arrived at the Kaohsiung Zuoying rail station, he was protected by layers of police forces. There were a number of Falun Gong practitioners shouting "Falun Dafa is good! Stop the persecution of Falun Gong!" in the lobby. Under the protection of his personal bodyguards, Chen Yunlin rushed into the elevator. A practitioner near the elevator door told him, "Falun Dafa is good, stop the persecution of Falun Gong." Chen nodded in response.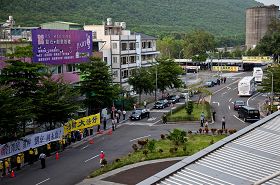 Practitioners holding signs in front of Zuoying rail station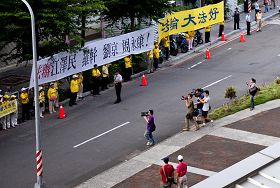 Passersby and media personnel taking pictures and videotaping the Falun Gong group
On September 16, when Chen Yunlin's entourage arrived at Kenting National Park and Eluanpi scenic area, there were about 200 Falun Gong practitioners in yellow shirts and white pants quietly waiting with banners at the entrance. When Chen Yunlin appeared, some protest groups got agitated that plainclothes police quickly led him into the scenic area. On the road, Falun Gong practitioners used banners to convey the message: "Taiwanese people's freedom of belief is to be respected."
On September 16, Chen Yunlin and his entourage arrived at a restaurant in Kaohsiung for lunch. To avoid Falun Gong practitioners, he canceled the trip to visit Kaohsiung's Art District and went directly to the hotel. Along the way, he encountered hundreds of practitioners protesting under the scorching sun.

Chen Yunlin encountered hundreds of Falun Gong practitioners on his way to E-da Hotel
Deputy Director Lee of the Nantzu District in Kaohsiung City Police Department said, "We are confident that Falun Gong's appeal is peaceful and orderly, just as they have been orderly in previous years... We have recently encountered many Falun Gong practitioners on various occasions and they are very sensible and orderly, and the police are very pleased in carrying out their duties."
On September 17, Chen Yunlin's entourage went to Foguangshan Buddha Memorial Hall. With support from the police, Falun Gong practitioners were able to display their banners in a good position for the motorcade to see.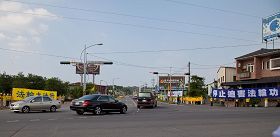 The police backed off from forming a barrier in Siaogang Airport. Practitioner's banners can be seen clearly.
When Chen Yunlin's entourage left Foguangshan Hall early on the 17th and arrived at Siaogang Airport at noon, Falun Gong practitioners had lined up at the airport and were holding banners. The police were instructed that Chen Yunlin did not want to see Falun Gong practitioners and wanted the police to form a barrier to surround the protesters and their banners. Several practitioners talked to police officers nearby, saying, "In spite of the scorching sun we are here to protest the CCP's atrocities and its harvesting of Falun Gong practitioners' organs for profit." Several police officers sympathized and backed off so that Chen Yunlin's encourage could clearly see the Falun Gong banners. Some police officers at the airport let another group of practitioners hold their banners where the entourage would pass by.
The CCP has been persecuting Falun Gong for the last 13 years. Every time Chen Yunlin visits Taiwan, he is met with the anti-persecution efforts of Falun Gong practitioners. As long as the CCP continues the persecution, the protests will not stop so that the will world know the truth.
Chen Yunlin could see and hear Falun Gong practitioners protesting the persecution taking place in China during his entire trip to Taiwan.