(Minghui.org) The 2012 Korea Falun Dafa Cultivation Experience Sharing Conference was held on September 2, 2012 at the Youth Town Assembly Hall, near Mt. Songnisan. Nearly 1000 practitioners attended the conference and 14 participants presented their stories of how they followed the principles in various environments and continued to look within, eliminate human notions, and progress diligently in cultivation.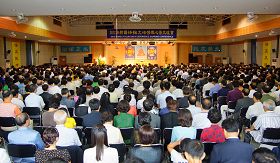 On September 2, the 2012 Korea Falun Dafa Cultivation Experience Sharing Conference was held at the Youth Town Assembly Hall near Mt. Songnisan
Mt. Songnisan is one of the eight wonders of Korea. It is also where Songnisan National Park is located. It is a very culturally rich area. A day before the conference on September 1, the practitioners studied the Fa together and held discussions on cultivation in small groups.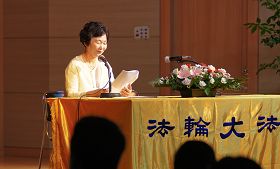 A Falun Gong practitioner shares her experience in the practice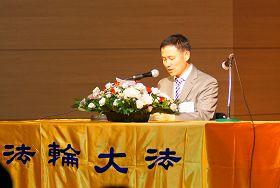 A Falun Gong practitioner shares his experience in the practice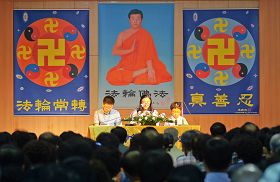 Three young siblings who practice Falun Dafa
Assimilating to the Fa
Before she learned Falun Dafa, cancer cells had spread all over Ms. Jin Aizi's body. Her doctor practically pronounced her death and asked her family to get ready for her funeral. A month after she learned Falun Dafa, she recovered. It's been 16 years and she is healthy and well.
When Ms. Jin just started reading in Chinese, she could barely recognize Chinese characters and it was very hard for her to read the book. She persisted in reading the book word by word. One day she saw every word in Zhuan Falun turn into small Falun. With the guidance of the Falun, as her eyes went through the words, she could read every character correctly, even the characters she did not recognize. She felt that she was melting into the Fa. When she opened the book, the energy field she felt was beyond description. In the end, she was able to read through the book fluently.
Ms. Jin came to understand that one must be very focused when studying the Fa, like every word was branded in the brain. Studying too fast was likely to cause her mind to stray. If she read at a reasonable speed, she saw every character in Zhuan Falun clearly manifest in front of her eyes. She experienced the wonders of being one with the Fa and enlightened to the Fa principles at different levels.
Promoting Shen Yun Every Day
Ms. Piao began practicing Falun Dafa in 1999. She worked in Chungnam National University Hospital in Daejeon. When she learned that Shen Yun Performing Arts was going to perform in Daejeon in 2012, she was excited and overwhelmed. She was anxious and stressed out. However, she thought about how practitioners in China validate the Fa unyieldingly and nobly while being suppressed by the Chinese communist regime. She gradually found her way. She followed Teacher's guidance and promoted Shen Yun to the mainstream society. Every day during her lunch break, she recommended Shen Yun to the staff, nurses, professors and doctors in the hospital and sold many tickets.
"Shen Yun is not over and is ongoing. I still talk to everyone about Shen Yun every day and receive a lot of feedback," said Ms. Piao.
Looking Within and Seizing Opportunities to Save People
Seventy-three-year-old Ms. Zheng Zhenshun had been looking for the Buddha Fa for over 36 years among the temples in Korea. Despite how sincere she was, her illnesses did not go away. People around her often died of unknown diseases, which intensified her mental burden. In March 2004, her daughter brought her the book Zhuan Falun and she read it. "In a short period of time after I learned the practice, Teacher purified my body and all my ailments were gone. I walked like I was floating and I felt the bliss of not having any discomfort. I did not feel tired at all when I worked," said Ms. Zheng.
Ms. Zheng understands that practitioners are responsible for saving sentient beings. Practitioners must study the Fa and look within whenever and wherever. Practitioners should put themselves in others' shoes and think about how others could be saved. When Shen Yun performed in Korea, most of her family members saw the performance because they saw her kind heart and respected her. There was only one exception, her mother-in-law. She refused to watch the performance.
Ms. Zheng looked within trying to find what she did wrong. She finally remembered what she did dozens of years ago. Her mother-in-law's youngest son went to school close to where Ms. Zheng lived. She asked Ms. Zheng to take care of him. Being financially tight, Ms. Zheng refused. Her mother-in-law was unhappy about it. Ms. Zheng went to her mother-in-law's house and sincerely apologized. A few days later, her mother-in-law and five of her family members bought the tickets to see Shen Yun. "That happened to be on my 73rd birthday. Fifteen of my family members praised the beauty of Shen Yun and wished me happy birthday. I would never forget that day," said Ms. Zheng.
Get Rid of Human Notions to Save People
Mr. Li Yonghe began his practice in 2003. Through constant Fa study and sharing with other practitioners, Mr. Li understood the importance of saving people. However, he believed that he only needed to clarify the facts of the persecution to the Chinese people. If a practitioner mentioned the importance of saving the Korean people, he would consider that practitioner being at a low level. When Shen Yun performed in Korea, he still had the same understanding and hence did not sell many tickets. Only a few people he knew went to see Shen Yun.
Through careful Fa study and sharing with others, he knew the importance of Shen Yun's role in saving people. As a result, many of his acquaintances went to see Shen Yun. One of them told Mr. Li after seeing Shen Yun's show, "I am such a fortunate person!" Mr. Li was very grateful for Teacher's help.