Mr. Zheng Xiangxing Sentenced to Ten-Year Prison Term (Photos)
August 24, 2012
|
By a Minghui correspondent from Hebei Province, China
(Minghui.org) Mr. Zheng Xiangxing from Tanghai County in Tangshan was arrested on February 25, 2012. He was then sentenced to a ten-year prison term on July 26, 2012. A petition signed by 526 people was sent to the local government demanding his release. When people later heard that Mr. Zheng was in critical condition as a result of torture, over 1,200 people joined in the effort to demand his release.
Mr. Zheng Xiangxing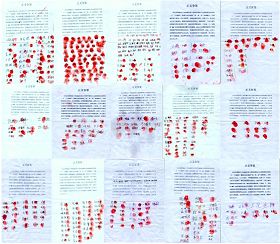 Petition supporting Mr. Zheng Xiangxing's release
Mr. Zheng runs a well respected and popular small appliance store in Tanghai. At approximately 6:00 a.m. on February 25, 2012, Li Fuguo from the Tanghai Domestic Security Division, along with the head of Shinongchang Police Station, led over a dozen officers to Mr. Zheng's home. Two female officers tricked Mr. Zheng into opening his door by pretending that they needed help with their car. They arrested Mr. Zheng and confiscated several small appliances. People around the store at the time were outraged and started shouting at the police.
Mr. Zheng was held in detention for over a month and became emaciated due to the severe persecution to which he was subjected. A total of 526 residents from Shinongchang and Shiyinongchang signed a petition demanding his release and sent it to the local government offices. Over the next several days, Li Fuguo and Liu Jiaman, the assistant director of Tanghai Police Department, threatened local residents and tried to get them to sign guarantee statements promising not to support Falun Gong, but no one would sign.
After people heard that Mr. Zheng was in critical condition as a result of being tortured in the detention center, 1,200 people from eight towns in Tangshan and Qinhuangdao joined in efforts to demand his release. A young lady in her early twenties signed her name on the petition, but they had run out of ink for her fingerprints. She then pricked her finger to make it bleed, then left the fingerprint on the petition form.
Manipulation of the Verdict
During Mr. Zheng's trial on May 29, 2012 an unidentified man sat in the observation area, and repeatedly gestured signals to the judge. If the man moved his finger when the judge was talking, the judge either stopped talking or changed the direction of his speech. When the defending lawyer spoke, this man either kicked the table or made other sudden movements to disturb the proceedings. The court staff even stated that the verdict was not decided by the court, but came from higher authorities.
On the day that Mr. Zheng was arrested, Li Fuguo also mentioned that he'd received orders from higher authorities to arrest him. On June 13, after Mr. Zheng's wife Ms. Sun Suyun had exposed the persecution to the international media, she was arrested by order of the Hebei Province 610 Office in Tangshan. Sun Jingsen from the Tanghai Domestic Security Division then made the arrest. Mr. Wu Qingmin and his wife Ms. Zheng Lanrong were also arrested in connection with the petition forms being delivered to the local government offices. Those who made the arrests told them that they were following orders from the Tanghai 610 Office.
Mr. Zheng is currently being held at Tanghai County Detention Center, where he held a hunger strike to protest the persecution.
Those responsible for the persecution:
Ding Jianyi, head of Tanghai Detention Center: +86-13582500896 (Cell), +86-315-8717698
Yang Limin, head of Tanghai County Court: +86-315-8723599 (Office), +86-315-2048528 (Home), +86-13582912811 (Cell)
Bai Yuli, head of Tanghai County Police Department: +86-13832985038 (Cell), +86-315-8711758
Li Fuguo, team leader of Tanghai County Domestic Security Division: +86-13832886232 (Cell)
Qiu Zheng, head of Tanghai County 610 Office: +86-315-8700710, +86-315-8982829, +86-13903159399 (Cell), +86-18831500088 (Cell)