Fingerprints on a Petition to Rescue a Practitioner Signify Strong Support for Falun Gong
August 10, 2012
|
By a Falun Gong practitioner in China
(Minghui.org) After the Minghui website published the petition to rescue Mr. Zhen Xiangxing from Tangshan City, Hebei Province, and Changli County, Qihuangdao City, residents in my area joined the cause and started collecting fingerprints on a petition—979 people have provided their fingerprints to date. Here are several interesting things that happened while they were being collected.
A young lady in her 20s noticed that the red ink pad was dry when she tried to put her fingerprint on the petition. She said, "Do you have a needle? I will sign with my blood." Others there were very moved. People normally do not provide their fingerprints, let alone fingerprints in their own blood. The Falun Gong practitioner soliciting signatures told her, "Don't be hasty. I will go home and get a fresh ink pad." Yet she insisted on signing the petition with her blood. She is opposed to the Chinese Communist Party (CCP) persecuting Falun Gong practitioners. Her action has manifested her support for and faith in Falun Gong, as well as her sense of justice and righteousness in the face of the CCP's cruelty.
A middle-aged butcher, after he heard Mr. Zhen's story, gladly signed and added his fingerprint. He said, "I will sign. I will give you my fingerprint. My life has been much better ever since I got your Falun Gong materials and installed a satellite dish to receive signals for New Tang Dynasty TV. My business is booming. Now I can sell three pigs a day. The two meat stands next to mine only sell one pig a day. It must be the good fortune from believing in Falun Gong. I want to repay Falun Gong by signing the petition!"
A local laborer in his 50s said, "The CCP is rotten. Give me the petition. I will sign it."
A middle-aged woman who works as a vegetable vendor said, "Someone else asked me to sign this petition today. I was only too happy to do it. I have always wanted to thank Falun Gong. Since I started believing in Falun Gong, everything has been going so well, such as selling my home and looking for a job. I believe in Falun Gong."
An 11-year-old boy signed the petition when he heard it was a petition to rescue a good person. He gladly signed and gave his fingerprint. A high-school student signed as well.
There was a couple that are both members of the CCP. The husband worked for the Chinese regime before he retired. When practitioners solicited their signatures, they also told them about the CCP's persecution of Falun Gong. They said, "The CCP should have been done for a long time ago. We stopped paying dues a long time ago." They both agreed to quit the CCP and the two student leagues they were once members of. They both signed and put their fingerprints on the petition.
In Chinese culture, it is believed that giving one's fingerprints might alter one's fate. Therefore, people do not easily provide their fingerprints. One man, after signing and putting his fingerprint on the petition, commented, "I have left my fate with you when I put my fingerprint here."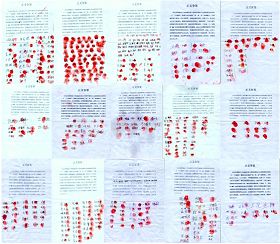 Signatures and fingerprints on the petition to rescue Mr. Zhen Xiangxing
The Petition
Mr. Zhen Xiangxing is an honest and dependable businessman from No. 10 Farm, Tanghai County, Hebei Province. He used to be a thug. Since he started practicing Falun Gong, he has conducted himself according to Falun Gong's principles of Truthfulness-Compassion-Forbearance. He and his wife run a small appliance store. They never carry counterfeit merchandise. They provide excellent service, including free delivery. He also fixes customers' cars for free. He is a man that his customers trust. Yet this good person has been arrested and incarcerated in Hangtai County Detention Center because he spreads the truth about Falun Gong. His weigh dropped and he is down to skin and bones due to being tortured in custody. A total of 562 villagers in No. 10 and No. 11 Farms have signed a petition with their fingerprints to demand his release. Two attorneys represented him in court and pleaded not guilty for him on the grounds that it is not against any law to distribute materials about Falun Gong. Neither the judge nor the prosecutor could cite any law or regulation to justify the charge, but Mr. Zhen remains incarcerated to this day. We would like to call upon all righteous people of all walks of life to help rescue Mr. Zhen Xiangxing.