Practitioners Commended in New Jersey Independence Day Parade (Photos)
July 06, 2012
|
By a practitioner in New Jersey
(Minghui.org) The Independence Day parade in Montville, New Jersey was held on the morning of June 30, 2012. Many people watched it in person. The Divine Land Marching Band, consisting of Falun Dafa practitioners, was the largest Chinese band in the parade.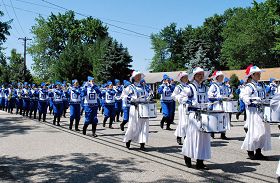 Divine Land Marching Band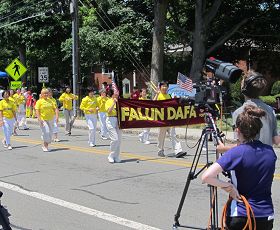 Falun Gong procession passes by the TV live broadcasting area
Members of the Divine Land Marching Band wore Tang Dynasty costumes. The band performed the music Falun Dafa is Great, Drums and Trumpet Shake the Ten Directions, and Fa Rectifies the Universe.
Lisa, a spectator who was watching the parade with her kids, said that the band members' costumes were beautiful and the music performance was outstanding. A couple of Indian origin commended the band's lineup being huge, and "really great." Upon receiving the Falun Gong leaflets, some of the audience immediately browsed the Internet with their smart phones to learn more about Falun Gong.
There were also many Chinese spectators, who felt pride for the large Chinese band in the parade. An older couple from China, who were in the United States for a short visit, watched the parade. The gentleman said, "It was my first time to watch such a large-scale parade of Falun Gong."
The Independence Day parade in Randolph, New Jersey was also held in advance, on June 30. It was one the largest parades in the state. Nearly 60 groups participated in the parade. House representative
Rodney Frelinghuysen of the eleventh district in New Jersey, and elected officials from the city, participated in the parade. Falun Gong practitioners participated in the parade with an exercise demonstration team, and were the only Chinese group in the parade. A local cable TV station broadcast the parade live.