Taiwan: Collecting Signatures to Rescue Mr. Chung Ting-pang, Illegally Detained by the Communist Regime (Photos)
July 22, 2012
|
By Wang Hanqing in Taiwan
(Minghui.org) Falun Gong practitioners in Chiayi, Taiwan, held an activity at the Chiayi Railway Station on the afternoon of July 15, 2012, to rescue Falun Gong practitioner Mr. Chung Ting-pang. Mr. Chung has been by the Chinese Communist Party's (CCP) State Security Bureau. The practitioners collected signatures to call for his immediate release. Within six hours, more than a thousand concerned Taiwanese citizens signed their names on a yellow ribbon, which will be hung in front of the President's Office to urge the Taiwan government to rescue Mr. Chung.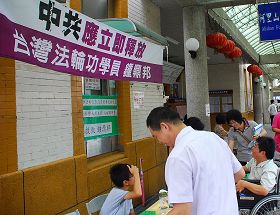 Taiwan practitioners at Chiayi Railway Station collect signatures to urge the Taiwan government to rescue Mr. Chung Ting-pang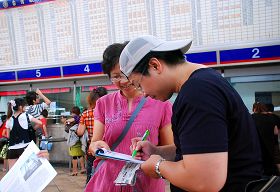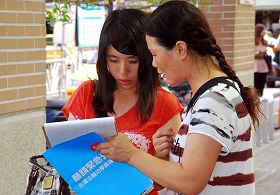 Chung Ting-pang, the manager of a high-tech company in Hsinchu, Taiwan, visited relatives in Jiangxi Province on June 15, 2012. On his way back to Taiwan from the Ganzhou Airport on June 18, Chinese state security agents detained him and placed him under "residential surveillance" on the pretext of "assisting the investigation of Falun Gong." Relatives and friends heard nothing about him until July 15, when the Chinese authorities finally agreed to allow Mr. Chung's wife and children to visit him.
Government officials in Taiwan signed a petition to call for the rescue of Mr. Chung. They strongly condemned the CCP agents unlawfully detaining Mr. Chung. They also urged the Taiwan government to be more proactive in rescuing Mr. Chung, so as to protect Taiwan citizens' personal safety in mainland China.
Dana Rohrabacher, Chairman of House Committee on Foreign Affairs and a founder of the Taiwan Caucus in the US House of Representatives, wrote to Taiwan President Ma Ying-jeou on July 10, 2012, encouraging President Ma and the Government of Taiwan to speak out strongly against the detention of Mr. Chung. "Taiwan should not stand idle while its citizens are held captive," said Congressman Rohrabacher.
Mr. Chung's daughter, Chung Ai (钟爱), flew to Washington, DC, on July 11 to meet with members of the US Congress and international organizations to seek more help to secure the release of her father.
Amnesty International Taiwan Secretary-General Yang Tsung-li (杨宗澧) announced on July 13 that the Amnesty International headquarters has issued an "Urgent Action" to over 150 of its divisions around the world to ask members to write immediately to Chinese officials, urging Chinese authorities to clarify the charges against Mr. Chung and "to release him unless he is charged with an internationally recognizable criminal offense."
Taiwan Falun Gong practitioners in Chiayi held an activity on the afternoon of July 15 at the Chiayi Railway Station. They spoke with travelers about the CCP's illegal detention of Mr. Chung, and collected signatures to petition to the government and high-ranking officials to rescue Mr. Chung immediately. Many students signed the petition, and several students from Hong Kong who were on their summer vacation in Taiwan also signed.
A passerby signed the petition and said, "I wish you success!" One woman said, "I usually don't casually sign petitions, but today I do so because you're Falun Gong [practitioners], I trust you." A reporter left his phone number and said he would spread the message about Chung Ai rescuing her father on Facebook.
Several citizens who have learned the facts about Falun Gong wanted to learn the practice. "I wish I had found you sooner! I have been thinking about practicing qigong," said a man. Another woman signed up to be informed of future workshops to learn Falun Gong.
A Falun Gong practitioner surnamed Yan and her two children circulated through the crowd to collect signatures. Ms. Yan said: "A Falun Gong practitioner who cultivates Truthfulness-Compassion-Forbearance was illegally detained by the CCP. This is a serious violation of Taiwan's human rights in mainland China. I hope that Taiwanese people with a sense of justice will join the effort to support human rights."