(Minghui.org) On July 14, the annual Falun Dafa Cultivation Experience Sharing Conference in Washington D.C. was held in Constitution Hall with more than 5000 practitioners from all over the world in attendance. At 11:15 a.m., when Revered Master Li Hongzhi came to the conference, all Dafa disciples stood up and gave enthusiastic, prolonged applause. Master Li taught the Fa for about 40 minutes.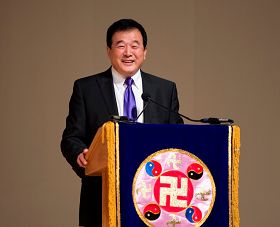 Master Li Hongzhi teaching the Fa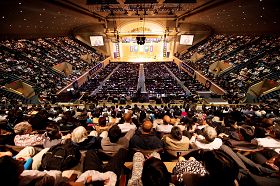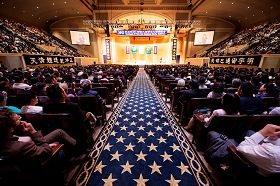 The conference hall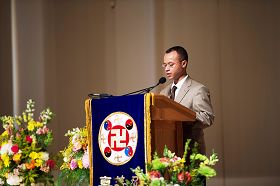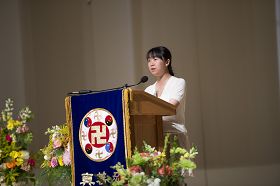 Practitioner sharing her cultivation experience
At the conference, 17 Chinese and Western practitioners shared their experiences regarding studying the Fa well, improving their xinxing, clarifying the truth about Falun Gong and the persecution, promoting Shen Yun shows, and saving sentient beings. Practitioners shared how they look inward, believe in Master and the Fa, and cooperate with each other well. Practitioners also talked about how to save sentient beings on a larger scale in the current Fa-rectification circumstances.
Mr. Wang, who is in charge of the sales department at the Epoch Times, shared how he cultivates himself when doing coordinating work. He told how the local Falun Dafa Association and practitioners at the Epoch Times have improved the local cultivation environment. Mr. Wang described how the practitioners working at the newspaper tried their best to not only clear away all the debt, but also to make a profit every month. He said that after the attacks in San Francisco, the Epoch Times objectively reported the facts and exposed the Chinese Communist Party's propaganda. Mr. Wang said that the Epoch Times has won more respect from the Chinese people in the Bay area, and more commercial business.
Ms. Xi from New York shared how she looked inward while having conflicts with fellow practitioners. She said that she found her fundamental attachments and let go of the attachment to her everyday person's skill and ability. Ms. Xi said that before, she only looked inward when she had tribulations, but now after intensive Fa-study, she has learned how to look inward at every moment.
Jamie from New York has joined the Shen Yun promotion in the last few years. He said that previously, he paid a lot of attention to how many tickets he sold, but now he knows that purifying one's own thoughts and saving people are more important. He enlightened that it is every practitioner's effort that makes the Shen Yun show successful in New York. He realized that even if the customers didn't buy a ticket on the spot after he introduced the show to them, his effort was not wasted. Jamie also talked about how he learned to think from others' perspective, and not be attached to his own notions.
Ms. Zhang from Taiwan shared how she brought the principle of "Truthfulness-Compassion-Forbearance" to 3000 students in the high school where she teaches, and how she cultivates at her workplace. She said that the environment at the school has changed, and students have improved their behavior and grades. The local government awarded her school for their excellent moral education. Ms. Zhang also shared her experiences of clarifying the truth of Falun Gong to Chinese people at a tourist spot.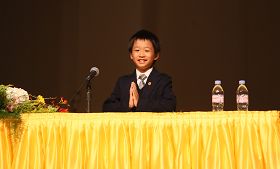 Ten-year old practitioner from Japan is telling his story.
Long Yan, a 10-year old practitioner from Japan, shared his experiences of clarifying the truth to the Chinese students at his school. He also shared how he, his mother, and his sister study the Fa together, encouraging each other to cultivate well.
Vivian, a Vietnamese American from Colorado, shared her experiences of introducing the Fa to her husband, three daughters, brothers, mother, uncles, aunts, cousins and cousin-in-laws. She is the local contact person for promoting Shen Yun. Although she is very busy, she has also created a good cultivation environment for her children, and they are doing very well at school.
Ms. He from Canada shared her experiences of calling Chinese people and clarifying the truth on the phone. She said, "I kept trying different ways to make the calls and clarify the truth. I tried different opening lines. Now I am very calm when making the calls and clarify the truth with a practitioner's righteous thoughts. I realized that the process of making phone calls to China is one which requires letting go of human notions and attachments, and is also a process of self-improvement."
The conference concluded at 5:30 p.m. Many participants said that Master's teaching made them realize that the time for saving people is limited and we should hurry up.