Missouri Practitioners Celebrate the 20th Anniversary of Falun Dafa's Public Introduction (Photos)
May 21, 2012
|
By a practitioner in Missouri
(Minghui.org) On May 17, 2012, Falun Gong practitioners held an event at the Missouri State Capitol building in Jefferson City to celebrate the 20th anniversary of the pubic introduction of Falun Gong.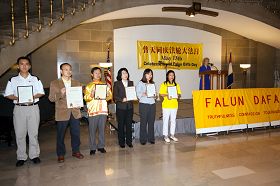 Falun Gong practitioners present proclamations for World Falun Dafa Day from different cities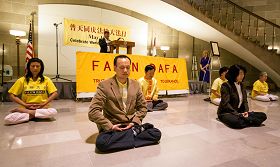 Practitioners demonstrate the exercises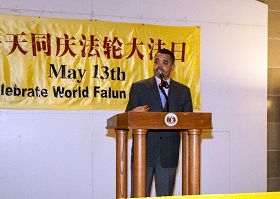 State Representative Leonard Hughes speaks at the event
Before the event, Missouri House Representative Timothy Jones issued a resolution to proclaim May 2012 as Falun Dafa Month. Several Missouri cities including St. Charles, St. Peters, University City, Carthage, and Rolla issued proclamations for World Falun Dafa Day.
Missouri House Representative Leonard Hughes attended the event and gave a speech. He called on more people to speak out for Falun Gong practitioners' human rights and thanked the practitioners for bringing the event and information about Falun Gong to the State Capitol. He said, "The more people that understand the beauty of Falun Gong and the more people that understand the truth and compassion that's behind it rather than the misinformation [from the Communist regime], then I think we can all work together to make sure that the beauty rises to the top and the misinformation sinks to the bottom, as it should be. Then we can free Falun Gong, so more people can prosper from the Truthfulness, Compassion, and Forbearance that it teaches."
Ms. Mao who came from Beijing in 1989 shared her story during the event. She said in her speech, "I faced many challenges in the early 1990s as my family had just come to this country. I worked very hard. When I was diagnosed with early stage cancer, I felt desperate and did not know what I could do. There was a history of cancer in my family and no one had escaped. Later I saw an announcement about Falun Dafa in the newspaper. I learned Falun Gong from a student at Washington University. After practicing for a few months, I found my health improved. For 17 years, I have remained healthy and have never had to visit a doctor again."
Sara Effner, a practitioner from Rolla, performed a few songs at the event. The songs were written by her father, Randall Effner, also a Falun Gong practitioner. Their song "Beijing Lullaby" recently won First Place in Lyric Writing Category in the 2011 Annual Great American Song Contest.
The music performances and exercise demonstration drew attention from passersby. Many of them stopped to learn about Falun Gong.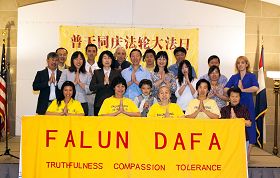 Group photo of Missouri Falun Gong practitioners
After the event, the practitioners took a group photo to express their appreciation to Master Li.