An Outstanding Employee from Heze College Dies after Being Tortured Repeatedly
April 28, 2012
|
By a Minghui correspondent from Shandong Province, China
Name: Liu Shaolan (刘少兰)
Gender: Female
Age: In her 40s
Address: Unknown
Occupation: Section head of the Distance Learning Center at Heze College in Shandong Province
Date of Death: September 15, 2003
Date of Most Recent Arrest: March 2000
Most Recent Place of Detention: Heze Police Department (菏泽公安局)
City: Heze
Province: Shandong
Persecution Suffered: Torture, extortion, physical restraint, home ransacked, interrogation, detention
(Minghui.org) Falun Gong practitioner Ms. Liu Shaolan was the section head of the Distance Learning Center at Heze College in Shandong Province. Because she remained steadfast in her belief, she was subjected to multiple means of persecution. She died as a result of torture on September 15, 2003, when she was only in her 40s. Due to the torture she was subjected to while she was still alive, her back was no longer straight, but humped. When she died, her family had to pad her back with cloth so that they could lay her body flat on the bed.
When she passed away, the weather was cold and the wind was very strong. Nevertheless, many people attended her funeral and wept. Her boss cried as he gave the memorial speech. He said that Ms. Liu had been a wonderful employee and that she had worked very hard and did not care about personal gain.
Reborn after Practicing Falun Gong

Ms. Liu used to have very poor health and sometimes had trouble falling asleep. Although she was nearly 5 feet 5 inches tall, she weighed only 80 pounds. After she started practicing Falun Gong in 1997, her illnesses disappeared. She gained weight, became healthy, and felt happy. She often told other people of the beauty of Falun Gong.
Ms. Liu was a very decent and kind person. She was a kind wife and a good mother, as well as a highly regarded employee. Everyone held her in high esteem and spoke very highly of her.
Persecuted for Appealing in Beijing
In March 2000, after the Chinese Communist Party (CCP) had launched the persecution of Falun Gong, in order to appeal for a free environment where people could practice Falun Gong, Ms. Liu went to Beijing. However, she was by the and subjected to torture by being hung up with her hands cuffed behind her back.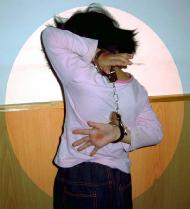 Torture reenactment: Handcuffed behind the back
The police handcuffed her very tightly behind her back, forcing her into a fixed position: bending over and keeping her head down, while keeping both legs straight. She was forced to remain in that position for as long as an hour. Her wrists and arms swelled, and the handcuffs cut into her skin.
Ms. Liu lost consciousness twice due to the torture. When she fell over, police agents grabbed her by the handcuffs and pulled her upright, lifting her up so that the entire weight of her body was borne by her handcuffed wrists. They repeatedly wrenched her up and threw her back down. Those who witnessed Ms. Liu being tortured could hear the sound of her bones cracking.
Only in Her 40s, Ms. Liu Passes Away
One night in March 2000, after Ms. Liu endured brutal torture, Heze Liaison Office in Beijing ordered the Heze Police Department to take her back to her hometown. Officials from her workplace, the Heze College, brought her back. Ms. Liu was interrogated in the Heze Police Department and detained in a small, dark room with 11 other practitioners. The practitioners went on a hunger strike to protest the persecution. When Ms. Liu was on the brink of death, the police finally released her.
Subsequently, Ms. Liu was arrested and held in a brainwashing facility several times. The arrests were carried out by the Domestic Security Division in the Mudan District, the Heze Police Department, the 610 Office and the Heze College Security Section. While being detained in the brainwashing center, Ms. Liu was fined 3,000 yuan. Officials also ransacked her home many times.
During the torture in Beijing, Ms. Liu's vertebrae were fractured. She also suffered greatly, both physically and mentally, from the persecution in Heze. Ms. Liu passed away on September 15, 2003. She was only in her 40s.