Respected Business Owner from Tanghai County, Hebei Province Incarcerated at Mental Hospital
April 16, 2012
|
By a Minghui correspondent in Hebei Province, China
Name: Zheng Xiangxing (郑祥星)
Gender: Male
Age: In his 40s
Address: No.10 Farm, Tanghai County, Hebei Province
Occupation: Home appliance store owner
Date of Most Recent Arrest: February 25, 2012
Most Recent Place of Detention: Tangshan Ankang Hospital (唐山安康医院)
City: Tangshan
Province: Hebei
Persecution Suffered: Forced injections/drug administration, home ransacked, detention
(Minghui.org) Tanghai County Domestic Security Division head Li Fuguo colluded with the Tanghai County Detention Center on April 6, 2012. They took Mr. Zheng Xiangxing to Tangshan City's Ankang Hospital, which is actually a mental hospital. In this place, as a form of torture, Falun Gong practitioners are known to have been injected or administrated with unknown drugs. Li Fuguo deceived Mr. Zheng's family into paying 10,000 yuan for his "medical treatment." In actuality, they were paying to have their loved one abused and tortured.

Mr. Zheng Xiangxing
Mr. Zheng Xiangxing and his wife are widely known at No.10 Farm and have a good reputation. The couple has never sold fake or substandard goods. They are pleasant to their customers, provide home delivery services, install TV sets and commission them to the satisfaction of their customers. They are honest and their business is a successful one. Because the couple follow Truthfulness-Compassion-Forbearance and conduct their business accordingly, local people feel assured in buying goods from their family store.
Such an honest and trustworthy man was subjected to persecution. After 6:00 a.m. on February 25, 2012, a group of officers from the Tanghai County Domestic Security Division, led by chief Li Fuguo, came to Mr. Zheng's store. Two female officers told Mr. Zheng to open the door. They lied and said that they wanted to have their electric bike repaired. When the door was opened, the other officers entered the store and arrested Mr. Zheng. The officers ransacked his store, and they took so many items that they filled up two trucks. Mr. Zheng was held in the Tanghai County Detention Center for more than one month, where he was subjected to physical abuse and mistreatment. He became emaciated, his breathing was shallow, and he was in critical condition.
According to an insider, all Falun Gong practitioners sent to the Ankang Hospital in Tangshan were injected with unknown substances, which caused the practitioners to develop different symptoms. Ms. Liang Zhiqin, a retiree from the Tangshan Iron and Steel Company, became emaciated. After being detained there, Ms. Ni Yingqin from Kaiping suffered from a stroke and couldn't take care of herself for nearly three years. She died on December 8, 2009. Ms. Shao Liyan, a technician at the Tangshan Steel Rolling Factory, suffered a mental collapse due to abuse at Ankang Hospital. Ms. Liang Shufen, an employee at the Tangshan Iron and Steel Company, was injected twice with toxic drugs. Ms. Shang Shiying, who is still being held in the Fengnan Detention Center, was also injected with unknown substances, which left her in great pain. She was disoriented and unable to move her eyes or tongue. Ms. Li Fengzhen from Tanghai County suffered from bouts of amnesia as a result of the persecution at the Ankang Hospital.
During the past nearly 13 years of persecution, the Chinese Communist Party has used all kinds of methods to force practitioners to give up their beliefs. One of the worst is the use of toxic drugs. In Tangshan City, detained Falun Gong practitioners were sent to Ankang Hospital and injected with drugs that damage nerve tissue. For details, please read
"Falun Gong Practitioners in Tangshan City Injected with Toxic Drugs (Photo)"
http://en.minghui.org/html/articles/2010/11/2/121209.html#.T4V3pPkrpTI
Person primarily responsible for the persecution of Mr. Zheng Xiangxing:
Li Fuguo, Tanghai County Domestic Security Division head: +86-13832986232 (Cell)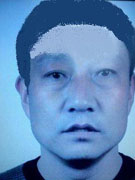 Li Fuguo