(Clearwisdom.net) Shandong Province Men's Prison is in Jinan City. Ever since the CCP (Chinese Communist Party) began the persecution of Falun Gong, this prison has been cruelly persecuting Falun Gong practitioners in its No. 11 District, and its brutal tactics have been publicized several times. Since its relocation after April 26, 2010, the prison has used modern scientific and brutal methods to torture several hundreds of Falun Gong practitioners illegally detained there.
Mr. Shao Chengluo, a doctor of Chinese medicine, and a practitioner from the Chengyang District of Qingdao City were both subjected to brutal "transformation" for protesting the persecution by going on hunger strikes. Prison guards and inmates tortured Mr. Shao with nearly one hundred different ways, such as breaking his fingers, twisting his fingers, smashing his hips, spreading salt on his wounds, etc. His legs and neck bone were broken from the beatings. His skin and flesh were abraded and torn. A healthy, strong man became skin and bones after five years of this brutal treatment.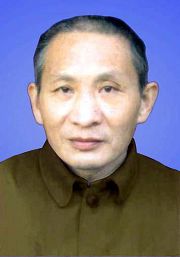 Chinese Medicine Doctor Shao Chengluo
Mr. Liu Xitong, a well-known calligrapher from Qingdao City, suffered over one hundred forms of torture at the hand over 40 inmates who tortured him for more than eight months. Mr. Liu was secretly detained at the No. 21, 22, 23 teams of the prison, which were severely restricted teams. The inmates who were monitoring him claimed that the government told them to do what they did and that they despised Falun Gong practitioners, who are knowledgeable, educated, and thoughtful. The inhuman torture was extremely painful. For instance, seven to eight inmates lay on Mr. Liu's back and poked his armpits with shoes; the prisoners put a paper hat on his head, hung posters around his neck, and forced him to bend over; they also forced his head to bend over towards his crotch and forced him to kneel down; several people beat him, slapped his tongue and nose with shoes, and ordered him to curse Falun Gong's Master. The prisoners covered his head with a water bucket, covered his eyes, stuffed a cloth in his mouth, tied him up, and used him as a target. They also hung him up on the bed side and tightly tied his neck with a rope. They took off his clothes and poured cold water on him on cold winter days and deprived him of sleep. They did not allow him to eat, made him squat down, beat him with a wooden stick and stepped on him. They punched him, poked him with needles, and burned his eyes. He became paralyzed from the waist down. He lost consciousness over 50 times while being tortured.
The No. 11 District is a closed and isolated building. It carries out the persecution policies of Jiang Zemin's regime, which regards "Being beaten to death as suicide" even as it claims to "educate, move, and save" people to confuse the general public. At the beginning of 2001, they selected a group of police officers who openly ignored the rules, plus over a thousand inmates screened from thousands of murderers, to form high-handed rogue gangs. These gangs commit crimes such as habitual theft, drug trafficking, kidnapping, robbery, etc., all to persecute Falun Dafa and Falun Dafa practitioners.
In order to intensify their efforts to "transform" practitioners, the prison adopted measures like "strict supervision first and then brainwash to change one's mind completely." They arranged for inmates to guard the exits on each floor, installed 24-hour inspection systems, and forbade Falun Gong practitioners from coming and going at will. They isolated each cell room and forced practitioners to watch DVDs and read books slandering Falun Dafa and pressured them to write the three statements and "articles that expose other people." They also forced practitioners to write reports on a regular basis to summarize their thoughts. They wanted to comprehensively and systematically indoctrinate them with the evil lies of the Communist Party. In order to brainwash the practitioners more intensely, they set up modern conference facilities on the 2nd floor and scheduled every Wednesday, Friday, and Saturday as "criticize" meetings. They would play "patriotic education" movies and then pressure practitioners to "expose other people." Each time, there were many more inmates than Falun Gong practitioners to monitor on site. They focused on those practitioners who were proactive in protesting the persecution or those who had issued a solemn statement not giving up their belief or those who would not accept the brainwashing. They would use violent, high-pressure tactics, and took turns torturing them. They would beat and verbally abuse practitioners and then carry them onto the podium and order them to speak to admit that they were guilty. Otherwise those practitioners would suffer even more brutal torture.
According to incomplete statistics, there are countless torture methods just to destroy the flesh. For instance, beating with wooden sticks and stepping on them, stepping on their fingers, moving a shoe brush back and forth over the skin, burning them with lighters, poking them with needles, brushing spicy hot pepper water on their penis, shackling them, punching and kicking them, depriving them of sleep, etc. Even more frequent was verbal abuse. Especially for those practitioners who were first sent to the prison, they were violently and brutally beaten. Those in charge would register and take photos of those who were "transformed" quickly, and then force them to leave their finger prints, and secretly plan and set up traps. They divided the practitioners into three groups: strictly monitored, generally monitored, and mid-level between the first two. They would detain the 3rd, 4th, and 5th floor prisoners for long term persecution.
In 2010, this prison district adjusted its team to persecute Falun Gong and became even more emboldened. The persecution center was located on the 2nd floor. Li Wei is the director of the district. Chen Yan is the assistant director. Hu is the instructor. Zhou is the assistant instructor. There were several team leaders. The district team also has multiple organizations such as a discipline committee and a new arrivals team. In the meantime, each team adopted the method of having a team leader in charge of "transformation." They forced inmates to monitor practitioners. The five-floor building was used to detain practitioners who would not give up their belief. About ten inmates monitored each practitioner. Many practitioners were tortured because they refused to be "transformed." Almost all of them were beaten by inmates instigated by guards. Guards even told the inmates how to beat practitioners and which body part they should hit, or what kind of torture they should use. Guards Li Wei and Chen Yan, instructor Hu, etc. arranged all of this torture behind the scenes. The No. 11 District also set up a lecture room on the 2nd, 3rd, 4th, and 5th floors. Guards could interrogate practitioners at will. Not only that, practitioners were followed by inmates when they went downstairs to get water, get food, or buy something. They also arranged for inmates to guard the exits and strictly investigate each person passing by. If practitioners spoke to each other, they would be verbally abused by the inmates. Li Wei, the director of the district, and instructor Hu claimed in many meetings last year that, "From now on we will strengthen our crackdown on Falun Gong. Death is the only way for those who do not want to be transformed."
Practitioners Lu Zhen from Mengyin, Shandong Province; Qian Dongcai from Qingdao; and Wang Xinbo from Zibo were persecuted to death.
At present, the practitioners incarcerated in Shandong Province Men's Prison are still being inhumanly tortured and persecuted.
Photos of some of the prison guards from Shandong Province Prison:
| | | | |
| --- | --- | --- | --- |
| Qi Xiaoguang, assistant jail director | Zhang Leiguang, director of jail district | Li Wei, instructor | Chen Yan, assistant jail district director |
Address: No. 91 Qingqi Road, Jinan City, Shandong Province
Telephone: +86-531-87075454
Fax: +86-531-87075444
Mailing Address: #11 of Mail Box 210, Jinan City
Zip Code: 250100