Germany: Chinese Tourists Quit the CCP in the New Year (Photo)
February 04, 2012
|
By a German Falun Gong practitioner
(Clearwisdom.net) The 2012 New Year has seen many more tourist groups from Mainland China visiting Europe. On Saturday, January 28, German Falun Gong practitioners held an Information Day in Titisee. They told Chinese tourists the facts about Falun Gong and helped them quit the Chinese Communist Party (CCP) and its affiliated organizations.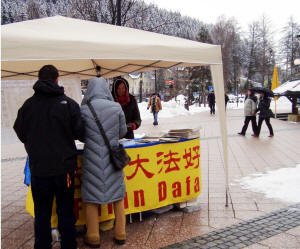 Information booth on the shore of Lake Titisee
Chinese tourists used to try to avoid Falun Gong information activities, but now they walk by slowly so that they can read the displays. Many of them take pictures of Falun Gong banners.
A middle-aged man told a practitioner, "I know many people have announced their resignations from the CCP. It's a way of expressing their attitude. I stay neutral." The Falun Gong practitioner said, "If you stay neutral, you should quit the CCP. How do you stay neutral when you are a member of the Party?" He thought about it. The practitioner continued, "It's not only a way of expressing one's attitude, it's more of a choice for one's future. We all know the good will be rewarded and the bad punished. When the CCP is punished for what it did, wouldn't its members be implicated? We really wish you safety!" The man sincerely thanked the practitioner and quit the Youth League and Young Pioneers that he joined when he was young.
A couple in their 50s came over. A practitioner asked them if they had heard about quitting the CCP. The husband said, "My ancestors were landlords. We didn't qualify for a chance to join anything." The wife used to be a member of the Young Pioneers. When she heard that more that one hundred million people had already quit the CCP and its affiliated organizations, she immediately quit the Young Pioneers. She said, "Who would struggle for its (CCP's) cause now?"
A girl told a practitioner with smile, "We swore an oath when we joined the Youth League and Young Pioneers. But who cares about This-ism or That-ism anymore? Nobody cares!" The practitioner said, "You don't care anymore. But you made that vow with your fist raised. It was a poisonous vow. It was your choice..." The girl waved her hand and said, "It wasn't." The practitioner said, "What about making the vow void and quitting it to be clean?" The girl nodded her agreement sincerely.
When a practitioner handed a lady a copy of , the lady said she had already read it. When asked if she had quit the CCP, she said, "Yes, I have. I got a phone call from your group. Since I had only joined the Youth League before, I quit right away on the phone."
Another lady also said, "I have quit. Thank you!" As she patted on the practitioner's shoulder, she added, "Bless you!"
A young man said, "I have never joined those organizations. I would quit, too, if I had joined. Thank you!" The practitioner told him, "Don't forget to tell your family to quit when you get back home." The young man said "Yes" with gratitude.
Chinese tourists from Malaysia, Taiwan, and Indonesia gladly accepted introductory materials. They said they knew all about the CCP's dictatorship and the persecution of Falun Gong. Many said, "Falun Dafa is great! Bless you!"