Malaysia: Practitioners Warmly Received During Chinese New Year Parade (Photos)
February 03, 2012
|
By a practitioner in Malaysia
(Clearwisdom.net) On January 28, 2012, the sixth day of the first month in the lunar New Year, practitioners in Malaysia came to Batu Pahat, the second largest city in Johor, with a history of more than 110 years, to hold a New Year Parade. Many local residents said that it was the first time that they deeply felt the traditionally joyful Chinese New Year atmosphere. They hope to see the practitioners' parade every year.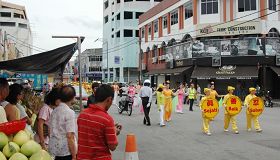 The parade procession passes through the main streets of Batu Pahat, attracting many people to stop and watch

People stop to watch the practitioners' parade, and some read the truth clarification materials right away
The parade, led by the Divine Land Marching Band, lasted for about two hours in downtown Batu Pahat. The procession also featured a Lantern Team, "Celestial Maidens" Team, and Waist Drum Team, which attracted many local residents to watch, and many people followed behind the procession.
Sixty-eight-year-old citizen Liu Caicheng said, "I heard music, and then I rode my motorcycle to come to see it. I think it's wonderful, very good!"
Ms. Yan, who was waiting for a bus at the bus station, said that she and her two-year-old granddaughter both loved seeing the Falun Gong practitioners' parade. Her granddaughter insisted on coming to see it, and was reluctant to return home. Ms. Yan said, "I'm very lucky to meet with them."
A young student who was waiting for a bus with her friends was pleasantly surprised to see such a beautiful performance on the street. She said, "Very special, it's the first time I've seen it, and their costumes are very pretty."
Malay resident Fatimah was impressed by the practitioners' discipline. She said, "Very special! They're disciplined! I've never seen such a performance."
Hotel staff members Kamarul and Farid said that it was the first time they had seen such a parade, "Very special, their costumes are colorful, similar to costumes of ancient times. Such a wonderful parade should be held every year."
Malay citizen Abdul Hadi said that he was delighted to see a parade like this. "It has the festive atmosphere of Chinese New Year. I hope you'll do even better next time! Please come again. We truly thank you!"