(Clearwisdom.net) On February 16, Xi Jinping, vice president of the PRC, visited Los Angeles and returned to China on the evening of February 17. From February 15 to 17, Falun Gong practitioners and supporters rallied at the Chinese Consulate in Los Angeles and several other locations to call for an end to the persecution in China and for justice to be served against responsible officials, including Jiang Zemin, Luo Guan, Liu Jing, and Zhou Yongkang. Reporters of ABC 7, AFP, the Los Angeles Times, Free Asia, the Central News Agency, and the Taiwan Times reported the activities.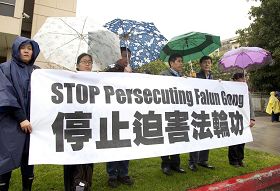 On February 15, over 100 Falun Gong practitioners and supporters rallied outside the Chinese Consulate in Los Angeles to call for an end to the persecution.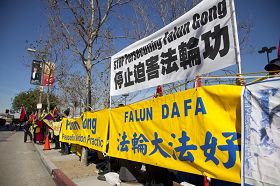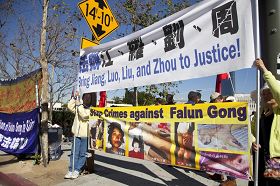 On February 17, Practitioners displayed banners outside the Marriott Los Angeles Downtown.
Human Rights Record in China Is Deteriorating
Los Angeles Falun Dafa Association spokesperson and UCLA professor Yingnian Wu told reporters: We are here to strongly protest and condemn the bloody persecution of Falun Gong which has lasted over 12 years, and we are here to tell Xi Jinping and other Chinese Communist Party (CCP) high ranking officials to immediately stop this inhuman persecution and bring persecution culprits including Jiang Zemin, Luo Gan, Zhou Yongkang, Liu Jing and Bo Xilai to justice.
Wu stressed that, since the formation of the notorious 610 Office in June 1999, over 3,500 Falun Gong practitioners had been persecuted and tortured to death, and hundreds of thousands have been abducted or arrested and taken to labor camps and detention centers.
In Washington DC, regarding human rights in China, Xi Jinping claimed: there is no ultimate best, but there is always room for improvement. In response, Wu said: "The CCP always uses lies to cover up its persecution of Chinese people. Let's look at those innocent Falun Gong practitioners who are being detained and tortured in labor camps and prisons. Where is the improvement? It is deteriorating. The persecution of Falun Gong marks a huge regression in human rights, and it is an anti-human atrocity. The CCP, Jiang Zemin and his accomplices will be held accountable."
Account of a 9-year Prison Experience
Practitioner Shi Zhenhua is from Tianjing, and she gave an account of her experience:
In February 2001, Shi was arrested and sentenced to nine years in prison. She was released in February 2010. Prior her sentence, she was interrogated and tortured in Donglou Police Station. She was handcuffed to a steel bedframe and tugged with heavy chains for 5 days. To force her to give up her belief in Falun Dafa, police officers frequently slapped her face, cursed at her, and limited her use of the restroom.
In the Tianjin Women's Prison, she was forced to do slave labor during the daytime, and then frequently made to stand still until late at night. Such torture and abuse destroyed her health and her urine often contained blood. As she refused to give up Falun Gong, guards did not allow her to have regular meals. She consequently developed severe anemia and she passed out several times. In the prison, she also witnessed how guards use inhuman means to torture Falun Dafa practitioners. Some died after months of force feeding, and some developed mental disorders.
"Step Up and Help Us to Rescue Innocent Falun Gong Practitioners"
In her speech, Vietnamese practitioner Li Tang said: "Falun Gong is based on the principles of Truthfulness, Compassion and Forbearance. It has been spread to over 100 countries and has brought people health, virtue and stability. Falun Dafa is good. Everyone, please step up and help us to rescue innocent Falun Gong practitioners in China."
"Hope Xi Will Not Be the Scapegoat for Jiang's Crime"
Liu Quan, Secretary of the Democratic Party of China, said that Falun Gong represents the conscience of China and the persecution is a human tragedy. He urged Xi to end the persecution and not be the scapegoat for Jiang's crime.
Remaining Silent in Face of the Largest Human Rights Atrocity Is a Shame and a Crime
At the end of the rally outside the Chinese Consulate, Dr. Ke Ye urged the international community not to overlook human rights in China because of commercial interests. "Remaining silent in the face of this largest human rights atrocity is a shame and a crime." Ye concluded.