Austria: Practitioners Introduce Falun Dafa at Life Expo (Photo)
February 19, 2012
|
By a practitioner in Austria
(Clearwisdom.net) A Life Expo was held January 22 and 23, 2012, in Graz, Austria. Falun Dafa practitioners participated in the event. They introduced the cultivation practice of Falun Dafa, also known as Falun Gong, to visitors and demonstrated the five sets of exercises in the broad space beside their booth. Their shimmering golden exercise outfits and graceful exercise movements drew visitors to watch for a long time.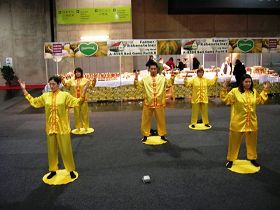 Practitioners demonstrate the five Falun Gong exercises
A lady who watched practitioners demonstrate the exercises for a long time said, "I feel a strong energy field. Where is there a study class?" A practitioner told her that Falun Gong practitioners teach the exercises free of charge and also told her the time at a practice site in a park in Graz. A couple stopped in front of the practitioners doing the exercises and said, "We have been to China and once saw similar scenes of people doing the exercises." They showed great interest as they watched the exercise demonstration. A practitioner told them about Falun Dafa and about the Chinese Communist Party's persecution of the practice. The couple wished Falun Gong practitioners success and expressed their appreciation for the practitioners' efforts.
Near the end of the first day at the expo, a gentleman came to the Falun Gong booth and watched the exercise demonstration. Upon learning that the practitioners in their traditional golden exercise outfits had been doing the exercises all day long, he was very sorry that he hadn't come earlier to see it. The practitioners told him that they would be showing how to do the exercises the next day. He said, "I'll come again tomorrow, then!" He sincerely said goodbye to practitioners.
Many visitors learned where and how to learn Falun Gong. Some bought the German edition of Falun Gong, written by the founder of Falun Dafa, Mr. Li Hongzhi.
Practitioners also made beautiful paper lotus flowers at the booth and presented them as gifts to visitors. Two girls were happy to stay at the booth with practitioners to learn how to fold paper lotus flowers, rather than follow their parents to visit other booths.
Many visitors got to know about Falun Dafa for the first time. Through this opportunity, they witnessed the wonder and peacefulness of Falun Dafa and were also made aware of the brutal persecution of Falun Dafa practitioners by the Chinese Communist Party in China.