Name: Liao Zhijun (廖志军)
Gender: Male
Age: 40
Address: Residential Complex in the Military Receiving Center in Beihu District, Shanchuantang, Chenzhou City, Hunan Province
Occupation: Employee of the Maintenance Department of the Chenzhou Train Station in Hengyang City, Hunan Province
Date of Most Recent Arrest: May 10, 2008
Most Recent Place of Detention: Jinshi Prison in Changde, Hunan Province (湖南常德津市监狱)
City: Changde
Province: Hunan
Persecution Suffered: Illegal sentencing, imprisonment, home ransacked, sleep deprivation, beatings, torture
(Clearwisdom.net) Falun Gong practitioners, father and son, Liao Songlin and Liao Zhijun from Chenzhou City in Hunan Province were illegally arrested while at home in May 2008 and unjustly sentenced. Mr. Liao Songlin was sentenced to four years and Mr. Liao Zhijun was sentenced to three and a half years of imprisonment.
The following is Mr. Liao Zhijun's account of his horrific experience while he was detained at Chenzhou Detention Center and Jinshi Prison in Changde after being arrested.
On May 10, 2008, around 9 a.m., my parents, my child, and I were at home. Suddenly, six to seven plainclothes police officers broke into my house and, without showing any legal documents or warrants, seized my father and me. I only found out later on that they were from Chenzhou City Police Department.
During the arrest, I shouted with all my might: "Falun Dafa is good!" The police quickly stuffed a towel into my mouth. Two to three of them grabbed me and dragged me into a police car. I was then taken to the detention center.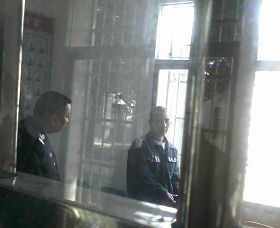 Liao Zhijun (right) in a visiting room in Jinshi Prison, Changde, Hunan Province
As soon as I was brought to the prison, a criminal inmate took a blanket from the bed and covered my head with it. He proceeded to viciously beat me.
On December 13, 2008, I was taken to the custody center at Jinshi Prison. Convicts rummaged through my belongings and found some Falun Gong scriptures. The prison guards instigated four to five convicts to beat me, stuffed my mouth with a cloth, and then dragged me into a prison cell. The convicts continued to beat me, causing my nose to bleed profusely.
On March 6, 2009, I was transferred to the No. 1 prison ward in Jinshi Prison. The deputy warden at that time, Xiao Jian, instructed convicts to strip off my clothes and brutally beat me. As a result of the beatings, the insides of both my legs were lacerated. The convicts also pinned me down to the bed and handcuffed both hands behind my back, fastening them onto the bed railings above my head. The pain was excruciating. I was kept handcuffed in this position for more than 10 hours.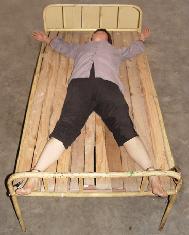 Torture Re-enactment: Death bed
On July 29, 2009, deputy ward head Xiao Jian instigated guard Li to lift both my hands above my head and cuff them to the railings on the upper bunk bed, with my feet standing on the ground.
I was tortured like that for a day. The next day, I was taken to the stairway and handcuffed in a similar position. This time my hands were shackled to railings on the staircase. On the third day, because my legs had become swollen, convicts were ordered to pin me to the bed and handcuffed both hands to the bed railings. I was kept handcuffed that way for two days and continuously tortured.
On May 28, 2011, the prison education section head, Luo Hua; deputy head Chen Lei; and a "teacher" surnamed Liu, who I think was sent by the prison management bureau, instigated guard Li Benan to take me to a brainwashing session set up by the 5th Division to persecute practitioners.
Because I was not "transformed" after two days of constant brainwashing, I was not allowed to take a shower or sleep. At 11 p.m., I was taken out for a "talk," which went on till 2 a.m., and I was not allowed to sleep. Statements slandering Master were pasted all over the room, and I was forced to stand facing the wall. As a result of the intense mental pressure, I had trouble focusing my thoughts.
I also witnessed other practitioners being tortured while I was detained in the 5th ward. Zeng Haiqi from Xiangtan was forbidden to sleep for one week. Prisoner Huang Zhengjiao tortured him by bending his palm backward. Yang Chengye from Yongzhou, who was in his 70s, was beaten by prison convicts on September 13 at around 5 a.m., and two of his teeth were knocked out.
------------------------------
Before practicing Falun Gong, Mr. Liao Zhijun's father, Mr. Liao Songlin, suffered from many illnesses, including neurosis, tuberculosis, prostatitis, gastritis, and the aftereffects of a concussion caused by a work accident. After practicing Falun Gong, these ailments disappeared. He also repaired water and electrical facilities for his workplace on many occasions for free. When he repaired his neighbors' electrical appliances, he would not accept any gifts or payment from them.
After the Communist regime began its brutal suppression of Falun Gong in July 1999, the Liao family did not enjoy many peaceful days together. From 1999 to 2000, Mr. Liao Zhijun was illegally arrested, detained twice, and unjustly fined 6000 yuan. He was subsequently put under house arrest for a year by his workplace. On March 5, 2001, he was sentenced to forced labor for two years and detained in Xinkaipu Forced Labor Camp in Changsha, Hunan Province. In 2004, he was arrested and sent to a forced labor camp again in Chenzhou. His father, Mr. Liao Songlin, was arrested and sent to a brainwashing center in 2001. In August 2002, he was seized and locked up at Chenzhou City Detention Center. On September 6, 2003, he was sentenced to three years of imprisonment by Beihu District Court in Chenzhou and sent to Jinshi Prison.
Related article:
"Father and Son Imprisoned for Helping Install Independent Television Receivers in China (Photos)"