(Minghui.org) New York-based Shen Yun Performing Arts opened its 2013 North American Tour in Ontario, Canada, at the Mississauga Living Arts Centre, on December 20-23, 2012. Audience members at five sold-out shows were overwhelmed by the grace and beauty of traditional Chinese dance, music, and ancient culture.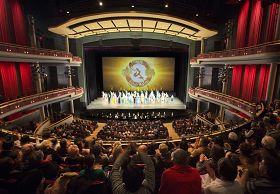 Shen Yun New York Company played to the packed audience in five sold-out shows in four days on December 20-23, 2012 in Mississauga, Canada
City Councilor Grateful for Shen Yun's Return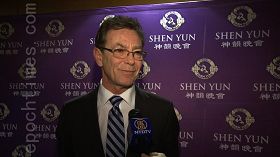 Mississauga city councilor Jim Tovey said he was grateful for Shen Yun's return to Mississauga. This was his third time seeing the show.
Mississauga city councilor Jim Tovey attended the Shen show accompanied by his wife, Lee, a ballet teacher.
Being enthusiastic patrons of the arts, the couple said that they thoroughly enjoyed the performance.
"It's absolutely wonderful. It's beautiful. The costumes are so beautiful, all the dancers are so well trained," Mr. Tovey said. This was his third time seeing a Shen Yun performance.
"We love dance and we love the wonderful multicultural aspect of our city. It enriches all of us," he said.
"We're just so very thankful that this company has come to share their talents and their beautiful creativity with us."
Mr. Tovey said that he was excited to be at the first show of Shen Yun's 2013 North American tour, which he felt made the night even more exciting.
Artistry Coupled with Athleticism
Mr. Tovey said that he was amazed at the dancers' "athleticism that goes along with the artistry."
"This style of dance, it's very, very athletic—lots of flips, lots of full aerials, full walkovers with no hands, and beautiful splits and lovely, pointed feet. It's just wonderful to be here. We really love it," he said.
Mr. Tovey talked about the misconception that many people have about Chinese culture, thinking it is just one culture. "...but it's really not," he said, "There are many, many cultures in China and in the history and tradition of China."
"I think it's wonderful to see that it's being so proudly displayed. … I think it's really wonderful for people that don't know very much about Chinese culture."
Mr. Tovey was impressed by soloist soprano Pi-ju Huang, saying, "When she hit that last note, oh my goodness! The entire theater was just reverberating. It was just shaking, it was so powerful! She is an amazing singer."
Enriching Experience
Mr. Tovey talked about the spiritual message behind Shen Yun, saying, "It's a message of love, and a message of hope, and of friendship."
He described a few of the many elements that he enjoyed about the Shen Yun performance, saying, "You know, just the beautiful costumes, the artistry, the athleticism, the way they can reach out and touch the audience so beautifully…
"It's a very complete experience and I hope that a lot of Mississauga citizens—and I'm sure they will—will come to the show and really enjoy it, and themselves become enriched by the experience."
Tenor Says Shen Yun's Music "Glorious, Perfect"
Also in the audience was Tenor Marcus Saroop, who has been involved in opera and the performing arts since childhood. He feels that Shen Yun is among the best productions he has ever seen.
"I haven't experienced anything like [Shen Yun]," he said. "I've experienced a lot of different operas, a lot of different shows, but nothing so wonderful."
Mr. Saroop has sung with live orchestras worldwide, and on several occasions this year he sang with world-renowned Spanish tenor and conductor Plácido Domingo.
He said that Shen Yun's vocal and instrumental performances were "perfect" and some of his favorite moments of the show.
"It's been gorgeous. The messages, the sound, everything's been perfect and it's been glorious," he enthused.
Mr. Saroop praised Shen Yun's tenor, Yuan Qu, and soprano singers, Pi-ju Huang and Haolan Geng.
"They have great skill," he said. "The Chinese singers have been incredible."
He concluded, "Everything works so well together—how they sing live and also with the graphics—the graphics are just incredible!"
"They Were 'A'-Class, the Music [was] Excellent"
Mr. Saroop said, "I don't know how they came to have all of this great production value. It's just gorgeous. Everything works so well together—how they sing live, and also the [digitized backdrops]—the graphics are just incredible."
Mr. Saroop thoroughly enjoyed the Shen Yun Orchestra's music, which accompanied each dance performance. "The continual music, the orchestration, I enjoyed that a lot," he said. "The show was presented beautifully, the music was wonderful and all the different cultural dances [were] spectacular."
Mr. Saroop said that he felt that everyone should see Shen Yun "Just to share that culture, share that wonderment and the beauty of it, the beauty of the whole presentation."
He said that he really appreciated Shen Yun's beauty and its universal appeal that transcends both culture and race.
City Councilor Shen Yun "Exhilarating, Unbelievable"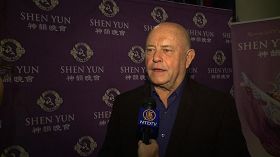 Mississauga city councilor Ron Starr said Shen Yun is a cultural experience not to be missed.
According to Mississauga city councilor Ron Starr, Shen Yun Performing Arts is not to be missed.
"The show is wonderful. It is so enthusiastic—the color and the costumes, and just the people doing their particular dances," said the councilor.
Mr. Starr was among the packed audience at the fourth of five sold-out shows to play at the Living Arts Centre.
"I'm so happy I'm here seeing it for the first time. I'm just totally taken back at the type of performance it is," he said.
The councilor said that Shen Yun showcases 5,000 years of Chinese history, thus there is a lot to take in in one performance.
"As someone who is not Chinese and someone who enjoys performances I'm learning something this evening and I think that is important, too. We should never quit learning from ourselves and other cultures."
He was very supportive of Shen Yun, saying, "I'll be one of those people that recommends [to] everybody that they should be out here taking a really good look at the performances and enjoy themselves.
"I'm very, very pleased to be here, and I'd recommend it for everyone to come and see the performance. Exhilarating. Unbelievable. You have to see it!" Mr. Starr concluded.
"Absolutely Beautiful" Says TV Station Manager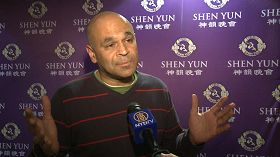 Rogers TV station manager Jake Dheer said he was deeply impressed by the sights and sounds of Shen Yun Performing Arts.
Rogers TV station manager Jake Dheer thought that Shen Yun was "absolutely phenomenal," adding, "It is beautiful visually, and a story that is 5,000 years old. The culture and dance, the acrobatics-everything, it was just beautiful from start to finish."
In addition to being named Mississauga's Citizen of the Year in 2005, Mr. Dheer runs Rogers TV channel 10—a job that he has been doing for 15 years.
He said that Shen Yun was "awe-inspiring" and that he was impressed by the combination of elements on stage. "The visuals, that just captures your eyes. It's just beautiful. I have to tell you, the music is just phenomenal. I think the orchestra is excellent. Everything visually and auditory—it's just absolutely beautiful."
Mr. Dheer reflected on the amount of work that must have gone into producing something on the scale of Shen Yun. "I think this has taken years to put together because there are so many aspects of it. And each and every part is so well choreographed and synchronized."
"And it's great storytelling without any voice. To do that, and in color, and in style, it is just beautiful—absolutely beautiful. I just don't have words for it. It's phenomenal!" he concluded.
"It is absolutely beautiful," Mr. Dheer added.
Sources:
http://www.theepochtimes.com/n2/shen-yun-on-tour/mississauga-city-council-grateful-for-shen-yuns-return-327356.html
http://www.theepochtimes.com/n2/shen-yun-on-tour/shen-yuns-music-glorious-perfect-says-tenor-328008.html
http://www.theepochtimes.com/n2/shen-yun-on-tour/shen-yun-exhilarating-unbelievable-says-city-councillor-327988.html
http://www.theepochtimes.com/n2/shen-yun-on-tour/tv-station-manager-says-shen-yun-absolutely-beautiful-327713.html