Pingdu Court in Shandong Province Wrongfully Sentences Good People (Photos)
December 25, 2012
|
By a Minghui correspondent in Shandong Province, China
(Minghui.org) Since July 2012, Pingdu Court in Shandong Province has committed multiple crimes. Not long ago, it wrongfully sentenced Ms. Zhang Youqin to three years in prison, depriving her young daughter of her mother's care.
Earlier, Pingdu Court Ms. Sui Guanghua, 65, Ms. Li Jihua, 67, and Ms. Liu Yaqi each to three years in prison; Ms. Wang Xiyu, 61, to three and a half years in prison; Ms. Li Li to four years in prison; and Mr. Wang Guangwei to five and a half years in prison. Their trials were all held in secret, without their family members having been notified.
On the evening of June 10, 2012, policemen Liu Jie and Sun Chao from the Domestic Security Division of Pingdu Police Department and 4 or 5 other officers (one of them named Guo, phone number 15615887178) broke into Falun Gong practitioner Ms. Zhang Youqin's home located at Xingfu Village, Tianzhuang Town. They arrested her and confiscated a computer, a printer, a cell phone, and materials. Ms. Zhang's husband was later forced to pay 200 yuan to get his cell phone back. That night Ms. Zhang was illegally detained in Tianzhuang Police Station. The next morning she was taken to Dashan Detention Center in Qingdao City. Later on this detention center moved to Pudong Town, Jimo City, and its name was changed to "Qingdao Police Monitoring Station."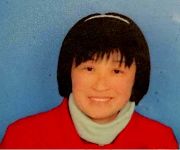 Ms. Zhang Youqin
Ms Zhang Youqin, 39, has a daughter in fifth grade. After she was imprisoned, her family was very worried, and her mother cried all the time, longing for Ms. Zhang's early release. When her family heard that her trial was to be held on August 30 in Pingdu Court, they rushed over. However, they were turned away at the entrance by policeman Guo, who had participated in Ms. Zhang's arrest, "Who gave you permission to come? I don't know when the trial will be held. You can come when you are told. Otherwise, don't come here."
The next day, a secret trial was held and Ms. Zhang was wrongfully sentenced to three years in prison. The sentencing judges were Liu Jianguo and Wang Zhongfu, who had also sentenced Ms. Wang Xiyu and Mr. Wang Guangwei. At present Ms. Zhang is being held in Qingdao Police Monitoring Station.
Ms. Zhang has a very good reputation in her village, where she opened a barbershop and served people well. She was widely regarded as a good person. In 1995 when she was in her 20s, she went to work in Beijing and was struck by a tricycle. After that she had severe, persistent back pain. To alleviate this pain, she learned Falun Gong, and very quickly her health was restored.
After the CCP launched the persecution of Falun Gong in 1999, Ms. Zhang went to Beijing multiple times to appeal for the restoration of Master and Dafa's reputation. In 2000, she was arrested at Tiananmen Square and taken back to Pingdu. She was held in Tianzhuang Police Station, but she was able to escape and return to Beijing. She continued to appeal for Falun Gong and was once again arrested and taken back to Pingdu. The police in Pingdu secretly imprisoned her in the Tonghe Mental Hospital and forced her to take drugs damaging to her central nervous system. Nearly four months later, someone told her mother where she was. After extorting 3,000 yuan from her family, Tonghe Mental Hospital released Ms. Zhang.
After the CCP secretary of Jiangshan Town, Laixi City Yu Naijiang, was appointed to be the secretary of the Political and Legal Affairs Committee of Pingdu earlier this year, the persecution of Falun Gong escalated. Besides the seven Falun Gong practitioners mentioned above, practitioners Ms. Sun Xiaohui, Ms. Guo Huisheng, Mr. Wang Huanzhong (Ms. Li Li's husband), and Ms. Li Xueping were each sentenced to labor for one year. At present, Ms. Sun Suling and Ms. Zong Huiqin are still being illegally held in Qingdao Police Monitoring Station. Ms. Sun has been imprisoned for over 80 days. Her husband, Mr. Wang Guangwei, was sentenced to five and a half years in prison. Besides the escalation of the persecution, many vicious cartoons slandering Dafa and Master were posted inside the display windows of government buildings. Yu Naijiang is mainly responsible for these.

Pingdu 610 Office director Zhnag Jinrong

Secretary of the Pingdu Political and Judiciary Committee Yu Naijiang
Parties involved in the persecution:
Yu Naijiang, secretary of the Pingdu Political and Legal Affairs Committee: +86-532-88315018 (Office) +86-13963949998 (Cell)
Zhang Jinrong, director of Pingdu 610 Office: +86-13953216049 (Cell)