(Minghui.org) Canadian Liberal Member of Parliament, Irwin Cotler, said in an interview on December 4, 2012 that the allegations of live organ harvesting from Falun Gong practitioners in China are both "serious and credible." The former Canadian minister of justice and vice-chairman of Parliamentary Friends of Falun Gong, suggested that a human rights hearing be held in Canada to expose the crime of organ harvesting and to hold the Chinese Communist Party (CCP) accountable for its crimes against humanity.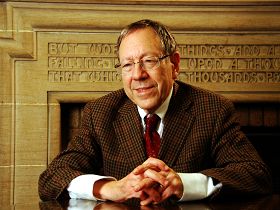 Liberal MP Irwin Cotler discusses allegations of illegal organ harvesting by the CCP in an interview on Parliament Hill, Ottawa, December. 4, 2012.
Referring to a September 12th Congressional hearing in Washington, D.C. on "Organ Harvesting of Religious and Political Dissidents by the Chinese Communist Party," Cotler said Canada should hold a similar hearing, "perhaps by our own Foreign Affairs Subcommittee on International Human Rights, where we could have this witness testimony brought before us."
MP Cotler hopes that the U.S. government will soon release organ harvesting evidence that it obtained from Wang Lijun, a former Chongqing police chief who had fled to the U.S. Consulate in Chengdu City last spring for a 24-hour period.
He believes that there is sufficient evidence to prove that the allegations of live organ harvesting of Falun Gong practitioners are true, based on: prior testimony before U.S. Congressional committees; information obtained by the U.S. Consulate from Wang Lijun; and independent investigations conducted by David Kilgour, former Canadian Secretary of State, and David Matas, an internationally renowned human rights lawyer.
Cotler said, "In fact, they [the U.S. government] had testimony before the U.S. Congressional committees in September of this year. In addition, Chinese physicians testified that organ harvesting is indeed taking place in China, and subsequent to that testimony, a letter was sent by a congressman to Secretary of State Hillary Clinton, asking that the State Department make public the testimony that they have regarding the serious allegations of illegal organ harvesting that has been targeting, in particular, Falun Gong practitioners, as well as other minorities in China, and that has been carried out by Chinese physicians in Chinese hospitals."
He added that the book, "Bloody Harvest: The killing of Falun Gong for their organs," which was written by his colleagues in Canada, David Kilgour and David Matas, thoroughly covers the issue of organ harvesting. "I think [it] represents the most comprehensive evidential basis of this illegal practice in China."
Cotler explained, "When you take the congressional testimony; when you take the testimony that has been made available to the American consulate, and when you take the book that has been written by Messrs. Matas and Kilgour, then I think we have a body here of very serious and credible allegations that the Chinese authorities have to account for, and which the State Department, in releasing the testimony, would further expose and help unmask this practice."
He went on to say, "The whole question of organ transplants has become a very significant medical exercise, which is saving a lot of lives. Therefore, the very importance now of organ transplants highlights the exploitative, manipulative, and illegal harvesting of organs from targeted groups like the Falun Gong and minorities in China. So, I would think that this should raise alarm bells in the international community and in Canada about the unscrupulous nature of such a practice and why people should be cautioned with respect to organ transplants, that is, not only refraining from going to China for that purpose, but in fact, to ensure that China complies with its international obligations in this regard.
"So, I think that the release of such testimony, which is in the hands of the U.S. State Department, along with what we already know through congressional hearings held in the United States, will have an impact and hold the Chinese authorities accountable."
Canadian Parliament Will Hold a Hearing on Live Organ Harvesting
MP Cotler suggested that Canada can initiate action on two fronts: "For one, we will hopefully have hearings before our Foreign Affairs Sub-Committee on International Human Rights; and two, I hope that the particular parliamentary committee that relates to the Falun Gong and to the violations of the rights of Falun Gong, will address this issue. The fact that this organ harvesting issue violates the rights of Falun Gong practitioners, is itself a priority concern."
He continued, "Hopefully, we will have the released U.S. Congressional testimony. That will give us a critical mass of evidence around which to have both hearings and to take action."
He went on to elaborate, "The Canadian government is a responsible member of the international community, and here we are dealing with international human rights and obligations. And China is a county bound by international treaties, like we are, that prohibits such practices.
"[Thus,] China is not only breaching her obligations to the international community, China is breaching her obligations to Canada, as a state, that is party to the same treaties and international obligations. Messrs. Kilgour and Matas are both Canadians. Mr. Matas has written a second book, thus he will be able to provide up-to-date testimony of their ongoing investigations, in this regard."
MP Cotler also talked about the issue of unlawfull imprisonment, torture while in detention, and the like. He said, "We have to ensure that the Falun Gong, which effectively stands for the ancient Chinese values of compassion, truthfulness, and forbearance, will be respected in China. And where it is not respected, then it will be the role of our committee to both make these things public, and in doing so, hold the Chinese authorities accountable."
We Cannot Barter Away Human Rights for Purposes of Trade
MP Cotler said, "Prime Minister Harper himself, in 2009, said that we cannot barter away human rights for purposes of trade. I know that in the more recent unreleased draft reports of the Canadian government's foreign policy, references have been made to the importance of trade and trade relations with China, but surely that cannot come at the expense of human rights."
He added, "The questions of trade and human rights are complementary and should not be in contradiction. And we cannot conduct trade in terms of 'business as usual' while turning a blind eye to human rights obligations by China, in particular, human rights violations that may be taking place."
He concluded, "So, I would hope that the trade relationships with China will also be under the lens of the human rights prism, so that we ensure that in fact there is respect for human rights, because otherwise, you know, at the end of the day, if you do not have respect for the rule of law, even your economic relationships will suffer. Even matters related to trade and investment will get prejudiced. So, respect for human rights actually helps protect trade and investment because it all comes together under the rule of law."
Canadian MP Speaks Before Parliament about the Issue of Organ Harvesting
On November 28, during Parliament meetings in both Canada and Australia, federal government officials heard about and showed concern over the crime of live organ harvesting. Canadian MP Judy Sgro, proposed that if China doesn't stop this crime, Canada should stop trading with China.
MP Sgro pointed out that "Since the Chinese government declared that it will no longer harvest organs from live prisoners—and instead will initiate a system of voluntary organ donation—then the illegal organ harvesting of Falun Gong practitioners must be stopped!"
She stressed that it is wrong to harvest organs from living people without their consent. MP Sgro elaborated by saying, "If China truly takes a serious attitude toward its human rights problems—as they said they would during trade discussions—then the CCP must immediately stop this brutal atrocity, otherwise why should Canada talk about trade with them?"
On the same day, Australian MPs and senators also listened to the reports by a panel of experts, and showed concern over the issue of live organ harvesting.
Background: Irwin Cotler was a former Canadian minister of justice and the Attorney General of Canada between 2003 and 2006. He once helped rescue Mr. Zhang Kunlun, Mr. Lin Shenli, and relatives of Chinese-Canadians, who were illegally detained in China for practicing Falun Gong.