(Minghui.org) On December 2, 2012, Arthur L. Caplan, professor and head of the Division of Bioethics at New York University Langone Medical Center, launched a petition on the White House's We the People website, calling on the U.S. government to "Investigate and publicly condemn organ harvesting from Falun Gong believers in China." If the petition receives at least 25,000 signatures by January 1, 2013, the U.S. government is obligated to take a stand on the issue—something it has not done, to date.
Dr. Caplan issued an open letter on the White House website stating: "Tens of thousands of illegally imprisoned Falun Gong believers have been used as a living organ bank; killed on demand to fuel China's lucrative organ transplant industry." He continued, "As a world leader in protecting human rights, the United States has a moral obligation to expose these crimes; stop them, and ensure that the perpetrators are brought to justice."
More information about the petition and a link to a video about organ harvesting atrocities can be found at organpetition.org.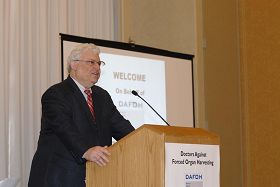 Arthur L. Caplan, professor and head of the division of bioethics at New York University Langone Medical Center
Dr. Caplan has held prestigious positions on a number of national and international committees including: Chair of the National Cancer Institute Biobanking Ethics Working Group; Chair of the Advisory Committee to the United Nations on Human Cloning; Chair of the Advisory Committee to the Department of Health and Human Services on Blood Safety and Availability; member of the Presidential Advisory Committee on Gulf War Illnesses; special advisor to the International Olympic Committee on Genetics and Gene Therapy; member of the ethics committee of the American Society of Gene Therapy, and most recently, co-director of the Joint Council of Europe/United Nations Study on Trafficking in Organs and Body Parts.
Dr. Caplan was voted Person of the Year in 2001 by USA Today. He was described as one of the 10 most influential people in science by Discover magazine in 2008; one of the 50 most influential people in American health care by Modern Health Care magazine; one of the ten most influential people in America in biotechnology by the National Journal, and one of the ten most influential people in the biotechnology ethics by the editors of Nature Biotechnology.
Live Organ Harvesting Is a Disgrace to Humanity
In February 2012, Wang Lijun, former director of Public Security of Chongqing City, China, sought asylum in the U.S. Consulate in Chengdu City. Among other things, Wang handed over secret documents to the U.S. Consulate detailing the CCP's systematic harvesting of organ from live Falun Gong practitioners. This evidence, coupled with ongoing investigations into the CCP's crime of organ harvesting, has caused quite a stir in government, medical, and academic circles throughout the world.
On March 13, 2012, Professor Caplan gave a lecture at the University of Pennsylvania School of Medicine entitled "The Ethics of Using Prisoners as Sources of Cadaver Organs." In the lecture, he highlighted the horrific crime of organ harvesting in China, or "killing for need," as he put it. Professor Caplan referred to live organ harvesting as "the worst atrocity in the field of organ transplantation," and "a disgrace to humanity."
British Organ Transplantation Society: "Unacceptable Violation of Human Rights"
In March 2006, it was reported by overseas media that 6,000 Falun Gong practitioners were imprisoned in Sujiatun District, ready to be harvested for their organs. Stephen Wigmore, Chairman of Ethics Committee of the British Transplantation Society, condemned the CCP's flagrant actions as an "unacceptable violation of human rights" and called upon the UN and the World Health Organization to conduct an investigation. Many international medical circles have likewise been calling for independent investigations into the CCP's crimes.
Dr. Dana Churchill, spokesperson of Doctors Against Forced Organ Harvesting, pointed out that a large body of evidence indicates that Falun Gong practitioners are the biggest group of victims of live organ harvesting in China.
The Transplant Society: No Doubt About Allegations of Live Organ Harvesting
Dr. Rudolf Garcia Gallont, from Guatemala, is a member of The Transplant Society (TTS). He said to a reporter at a TTS conference in Sydney, Australia in August 2008, that the TTS has been paying close attention to the allegations of live organ harvesting from living Falun Gong practitioners since 2006.
Dr. Gallont explained, "When this problem with Falun Gong was brought up in Boston two years ago, The Transplant Society took immediately action. I don't think there is any doubt that every doctor here knows that this is happening [in China], and has a very clear opinion about it."
Dr. Donald Boyd, leader of the Scottish Christian Party, stated, "I think it is very credible [that the allegations of the CCP harvesting organs from living Falun Gong practitioners are true], so I think it should be followed closely, till the end. Western governments and medical professionals should make every effort to help prove the allegations."
Dr. Boyd strongly condemned the atrocities of organ harvesting from unwilling victims, which he said violates human rights and is therefore unacceptable. He said, "Without a doubt [the crime of organ harvesting] violates all moral codes, including medical ethics and even humanity. No moral code would accept these [atrocities]."
UCLA Medical Director: Doctors Should Condemn the CCP's Barbaric Organ Harvesting
In July 2012, practitioners around the world held activities to raise awareness of the CCP's 13-year persecution of Falun Gong. It was at this time that the book, State Organs: Transplant Abuse in China, was published. This book follows the publication of "Bloody Harvest—Revised Report into Allegations of Organ Harvesting of Falun Gong Practitioners in China" by human rights attorney David Matas and former Canadian Secretary of State David Kilgour. Both books provide clear evidence supporting the allegations of illegal organ harvesting in China.
University of California at Los Angeles (UCLA) professor Gabriel Danovitch, M.D., who serves as the medical director of the Kidney and Pancreas Transplant Program at UCLA, mentioned in an essay that doctors in a free society should condemn the barbaric organ harvesting practices happening in China today and refuse to be any part of it. Dr. Danovitch also suggested that U.S. medical journals should not publish transplant papers from China, and that doctors from China should not be allowed to discuss their organ transplantation surgeries in medical conferences, unless they clearly indicate that the organs they used were not from executed prisoners.
Taiwan: 2,400 Doctors Call for an End to Live Organ Harvesting
As of December 3, more than 2,400 doctors and 1,800 nurses and other medical professionals in Taiwan have signed a petition calling for an end of the CCP's live organ harvesting. Wen-Ta Chiu, Director of the Taiwan Health Department, accepted the petition and proposed specific policies, including: advising people not to go other countries for an organ transplant; starting a registration system that would require post-transplant recipients in Taiwan to disclose details of their transplant, and assisting the courts in prosecuting any mediating doctors involved in illegal organ harvesting.
On the eve of this year's International Human Rights Day, Dr. Chun-ren Shi, a member of the Chinese Association of Neurological Surgeons, and senior director of the Taiwan Department of Health, condemned the CCP's crime of live organ harvesting. Dr. Shi said: "A violation of the will of the people to remove their organs is not a medical act; it is murder. This kind of crime is a great disaster to humanity."
He indicated that such a regime, which lacks respect for human life, would not last long. When Dr. Shi was informed that more than 2,400 physicians had signed a petition against organ harvesting, he said that he was pleased and hoped that more would sign the petition, in the near future. He believed the petition would have a huge impact on helping stop the crime of organ harvesting.