After Her Son is Severely Tortured, a Mother Asks for Help
November 11, 2012
|
By a Minghui correspondent in Hubei Province, China
Name: Feng Feng (冯峰)
Gender: Male
Age: 44
Address: Shashi District, Jingzhou City
Occupation: Unknown
Date of Most Recent Arrest: July 5, 2008
Most Recent Place of Detention: Shayang Fanjiatai Prison (沙洋范家台监狱)
City: Jingzhou
Province: Hubei
Persecution Suffered: Sleep deprivation, forced labor, illegal sentencing, beatings, hung up, imprisonment, solitary confinement, physical restraint, home ransacked, interrogation, detention
(Minghui.org) Jingzhou Falun Gong practitioner Mr. Feng Feng was severely persecuted in Shayang Fanjiatai Prison. Prison guards have instigated criminal inmates to beat him since last year. His chest became so severely injured that he couldn't get out of bed for more than twelve days. The guards then handcuffed Mr. Peng and locked him in solitary confinement for 15 days. His arms were swollen badly due to being handcuffed the entire time. When his family saw him this October, they could hardly recognize him—he is very emaciated.
In April and May this year, the persecution situation escalated. The Chinese Communist Party (CCP) Committee in the prison issued a "transformation" quota to all the prison districts that are holding Falun Gong practitioners, mainly the Fourth Prison District. So the prison guards intensified persecution of Falun Gong practitioners. On top of reducing their sleep time and limiting their use of toilet, prison guards tortured them by hanging them up in the air in handcuffs. The practitioners were hung with their feet barely touching the ground—some of them lost consciousness. In some cases their arms become disabled.
At other times the guards instigated criminals to gang up and beat the practitioners and put them in solitary confinement. The practitioners are handcuffed, shackled, and locked up in a very small cell, forced to face the wall all day. They are also put in iron cages.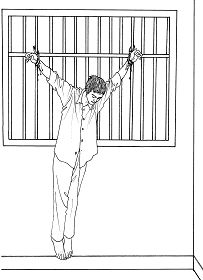 Torture Illustration: Hanging in handcuffs
Prison guards intensified the torture in an attempt to reach the "transformation" quota. Almost all Falun Gong practitioners were subjected to such cruelty. Earlier this year, when Mr. Feng refused to answer the roll calls and participate in slave labor, prison guards directed several prison inmates to truss him up tightly and then gang up and beat him. Prison guard Cheng Hao took pleasure in his condition, saying to him sarcastically, "How come you have shoe prints all over your body?"
Here is a letter written by Mr. Feng's seventy-year-old mother asking for help:
Greetings! Dear Leaders:
My name is Su Wenzhen. I am a retired staff member of the Jingzhou City Mental Hospital. I am Feng Feng's mother. Because of practicing Falun Gong, my son was arrested in July 2008. In 2009, he was sentenced to eight years in prison by the Shashi district court in Jingzhou City. He is now imprisoned in Shayang Fanjiatai Prison.
After he was sent to the prison, guards instigated criminals to beat him severely. One person came out of the prison and said, "I saw with my own eyes that Feng Feng was beaten by a group of prisoners for the last several years. One time he was so badly beaten that he couldn't get out of bed for several days. Because he refused to answer the roll calls the prison guards told prisoners to tie him up tightly and then a group of prisoners beat him. His whole body was full of shoe prints. Not long ago, Feng Feng was put in an iron cage for fifteen days. During the confinement period, his hands were handcuffed so they became swollen. When his fellow prisoners saw his condition, they couldn't help shedding tears."
All these accounts were witnessed by the person who came out of the prison. Later I heard that the news about my son being so cruelly tortured was posted online and seen overseas.
This October, when some of our family members went to see him, they could hardly recognize him, he was so emaciated and weak. His weight had dropped from 187 lbs to about 110 lbs. When his family saw him they cried. Prison guards lied to them, saying it was due to the excessive labor. Later, two of his sisters heard the news and went to the prison to see him, but the guards refused to let them see him, using various excuses.
Now he is hospitalized. His hands look like they have been injected many times. I have heard that a Wuhan Falun Gong practitioner was injected with drugs and died in this prison. Was Feng Feng injected with unknown drugs against his will?
My son is an honest person. People always say that he is a good man. Now he is so badly treated and prison guards even say thing like this: "What is the big deal if one person is dead?" May I ask this: Are they the people's police? Was what they did to him legal? Is it against the rules of the prison, doing these cruel things?
We as a family appeal to you and ask you to punish these people who beat my son. We ask that Feng Feng be released for medical treatment. Heaven will bless the good people who help those in need.