Kansas, USA: Elementary School Students Learn Falun Gong (Photos)
October 22, 2012
|
By a practitioner in Kansas
(Minghui.org) On a recent afternoon, about 35 elementary school students learned the Falun Gong exercises by following young practitioner Yuming in a classroom after school. The students—boys and girls, white, black, Chinese, Indian, Korean, and Mexican—from first to fifth grades, were in after-school care. The teacher and some of the students' parents also learned the exercises.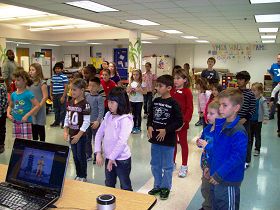 Elementary school students learn the Falun Gong exercises.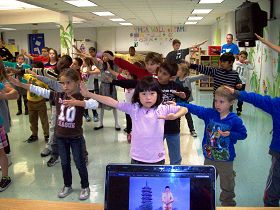 It was the second time that Yuming and another Falun Dafa practitioner had taught the exercises in the school. Among those learning the exercises were four of Yuming's classmates. Though Yuming is only seven years old, he was careful about teaching the practice. He was confident and also pleased for his young friends. When he walked into the classroom, several students greeted him, and some even called him, "Mr. Yuming."
The first time Yuming taught the Falun Gong exercises, the teacher, who took many photos, commented that he was very much in agreement with the teaching of Truth-Compassion-Forbearance. He proposed to increase the teaching from once a week to twice a week. Some of the parents were interested in the book Life and Hope Renewed: The Healing Power of Falun Dafa and said they would read it to learn more about Falun Gong.
The practitioners were pleased to see that the children could freely practice Falun Gong and benefit from it. They wished that children in China would have the freedom to learn about Falun Gong in the near future.