Falun Gong Practitioner Mr. Li Jiankui Falls into a Coma after Police Beating
October 02, 2012
|
By a Minghui correspondent from Gansu Province, China
(Minghui.org) Mr. Li Jiankui, a Falun Gong practitioner over 60, from Linxia County, Gansu Province, was arrested by police from the National Security Team on June 8, 2012. After being brutally tortured by the police and guards at the detention center, he suffered a brain hemorrhage and went into a coma.
Mr. Li did not fully recover after being given emergency treatment at the hospital. His perception and awareness were only partially restored. The police involved denied that they were the perpetrators of any violence.
From 5 p.m. on June 8, 2012, until the evening of the next day, An Huashan, the Chinese Communist Party (CCP) secretary of Linxia County, and Wang Jianlin, the secretary of the Political and Legal Affairs Committee, ordered police from the National Security Team to arrest six practitioners: Li Jiankui, Ga Hong, Wang Jinfen, Jia Chunzhen, Song Youfu, a young man named Li Mengbing, and a driver (who does not practice Falun Gong). Sixteen-year-old Li Mengbing was released after being detained for 40 days. Li Jiankui remained in custody and suffered inhuman persecution.
It was reported that police from the National Security Team of Linxia County tied Mr. Li to a tiger bench the night he was arrested and tortured him for 24 hours.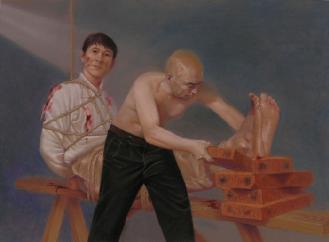 Torture reenactment: Tiger Bench
During the night of June 9, 2012, Mr. Li was taken to the Linxia County detention center. As soon as he arrived, he was beaten by police instructor Shan Yuping. The next day, Shan Yuping and the director of the detention center, Lin Jinxi, continued to beat him. Mr. Li's legs and chest were kicked and were covered with black and blue bruises. His head was also wounded. The assistant director of the detention center, whose last name is Hu, then beat Mr. Li using rope soaked with water to make it heavier.
After these inhuman tortures, Mr. Li became dizzy and fell into a coma. However, police withheld the information about Mr. Li's serious condition. Until August 10, Mr. Li's brain continued to hemorrhage and he became unconscious. His life was in grave danger. Officers from the Linxia County police station immediately asked Mr. Li's family to apply for bail to release Mr. Li so that the police could avoid responsibility for Mr. Li's condition. The police gave the family a release card, but they denied that Mr. Li's condition was caused by their brutal torture.
After Mr. Li received emergency treatment at Linxia Zhou Hospital, his perception and awareness was partially restored, but his condition still needs continued monitoring and treatment.