(Clearwisdom.net) Shen Yun Performing Arts New York Company completed its five-show run at the California Center for the Arts, Escondido, in the San Diego area, on January 22, 2012. The final performance on Sunday, along with several prior shows, was sold out well in advance.
Among the lucky audience members at the Sunday matinee was a group of family and friends from the local area, including Joan Ho, her friend Toni Day, her daughter Eudoria Lee, and Eudoria's friend Adelyn Chan. Delighted with their experience, the women were happy to discuss their impressions of and personal takeaways from the show.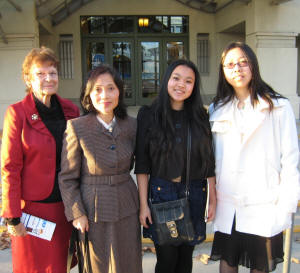 Toni Day, Joan Ho, Eudoria Lee, and Adelyn Chan took in the Shen Yun performance at the California Center for the Arts in Escondido on January 22, 2012.
"They are sharing the cultural heritage and the beauty of the fact that there is hope."
Ms. Ho grew up in Hong Kong and holds undergraduate and post-graduate degrees from U.S. institutions. She has taught science and foreign languages in high school and college for over 20 years, and has been active in promoting Asian performing and cultural arts in schools and the community, especially in the San Diego area.
Ms. Ho was deeply touched by the spiritual content of Shen Yun's program, which aims to revive the rich, divinely inspired cultural heritage of China dating back thousands of years. Along with taking the audience on an unforgettable journey through diverse dynasties, regions, and ethnicities of historical China, the program highlights the struggle that people face in modern China, where freedom of religious and spiritual belief has been harshly suppressed by the communist regime for over 60 years.
One of the dances entitled, "The Choice," for example, alludes to the persecution of the followers of Falun Dafa, a peaceful meditation practice rooted in the principles of Truthfulness, Compassion, and Tolerance. Having known about Falun Dafa prior to seeing the show, Ms. Ho said, "I really strongly believe that they should have the right and freedom to practice their religious practice and belief. ... The truth is, this group is being persecuted in China, and I deeply feel for them."
Ms. Ho continued, "From my perspective, [Shen Yun] is not just here to present the artistic skills, they are not just here to present the musical culture of China. I think the underlying message they are trying to share with the audience and all of us is that they are speaking up in a peaceful manner to the world and to China, to us, for human rights and the freedom for Chinese people in mainland China and everywhere to practice freedom of thinking, freedom of artistic expression."
"I think it's from the depth of the heart and soul that they are sharing the cultural heritage and the beauty of the fact that there is hope. I think that's so important, because right now people in China cannot see, cannot feel, and I wish them the best," she added.
"It is truly an amazing experience!"
Ms. Ho's daughter, Eudoria Lee, is a senior in high school, born and raised in southern California by parents from Hong Kong and Taiwan. With a background already rich in diversity, Ms. Lee was delighted to learn more about traditional Chinese culture, and provided her own feedback after the show.
"My parents wanted me to know about my own culture, so I enjoy reading about the Chinese classical legends and stories, but I had never seen such a grand production of authentic Chinese culture like Shen Yun Performing Arts," she said. "I am glad that I came, because I am [now] more than ever inspired to learn more about Chinese history, Chinese classics, and cultural traditions and arts."
"I really liked the artists' sincerity and authenticity in conveying messages of love, loyalty to family and country, and upholding the value of righteousness for the hope for spiritual and artistic freedom, to bring about a more peaceful world," Ms. Lee added. "I have waited for four years to see the show and I finally had a chance to see it. It is truly an amazing experience, to be remembered! The young dance artists [of Shen Yun] are my model and inspiration!"
Ms. Lee's friend and classmate Adelyn Chan has a particular interest in video and film, and "loved the cinematic backdrop" featured in the Shen Yun production. Finding the show to be a highly memorable experience, she drew inspiration from it for her own future endeavors.
"Although I am Chinese and my parents came from Hong Kong and I go to Chinese school, I have not been exposed to such fine artistic cultural presentations and it is an awfully powerful experience I will never forget," she said. "It will have an impact in my art, since I want to be a graphic artist someday."
"What an inspirational group of artists, who speak to the hearts of all people!"
Toni Day, a retired U.S. government worker, had lived in Taiwan for three years and has a keen interest in Chinese culture. "What extraordinarily talented musicians, ingenious choreographers, [and] gifted dancers performing with grace and virtuosity! What exquisite and colorful costumes and backdrops that captivated audience imagination from start to finish with finesse!" she enthused.
"The original composition of the Eastern and Western music is quite amazingly well blended and pleasing to listen to," she added, referring to Shen Yun Orchestra's unique synchronization of traditional Chinese instruments with Western philharmonic base.
Ms. Day lauded what she saw as setting this show apart, "Shen Yun is able to capture the finest art form, expressed through music and dance, that delightfully unfolds the history and culture of China with dazzling scenes and stories. What is unique about [the Shen Yun artists] is that they all gave their spirits and souls to perform with one mind, one heart, and oneness at the highest caliber artistically."
"I admire these young people with Chinese heritage, who have made such a commitment to work diligently and persistently to uphold their ideals of traditional Chinese culture and values, and devote their time and life to share such an amazing wealth of cultural and spiritual heritage with all people around the world. What comes through in their performances are their sincere belief and hope for religious and artistic freedom of expression, as well as their calls for spiritual revival of Chinese cultural traditions," she continued.
Ms. Day concluded with high praise and a message for Shen Yun performers, "What an inspirational group of artists, who speak to the hearts of all people because these traditional values they hold dear to their hearts are universal to us all! Your mission to inspire people to search [for] the heavenly values is far more worthy of our efforts, to search for above-the-material things of this world. You have given us gifts of inspiration to take away. Thank you again for your dedication, and keep up with your spirit of hope! Good luck in your endeavors!"
Shen Yun Performing Arts has three equally large companies that tour the world simultaneously with the mission to revive the 5,000 years of divinely inspired, traditional heritage of China. Shen Yun will be performing in Kansas City Missouri, Augusta Georgia, Eugene Oregon, Cincinnati Ohio, Park City Utah, and Vancouver Canada, in the week of January 31-February 5, 2012. For more information, visit http://www.ShenYunPerformingArts.org.