(Clearwisdom.net) The Divine Land Marching Band, waist drum team, lantern team, and celestial maidens, all made up of Falun Gong practitioners, held a parade in the city of Muar on January 26, the fourth day after the Chinese New Year. There are many Chinese residents in Muar.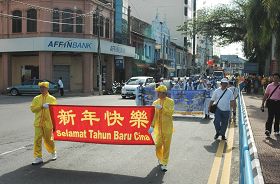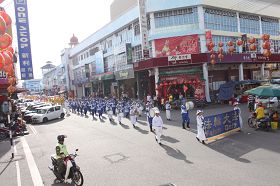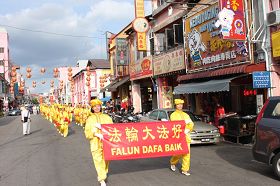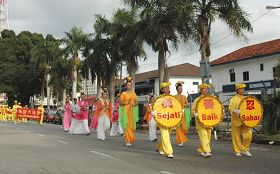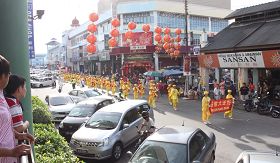 The Falun Gong procession marches down the main streets in Muar
The parade started at 4:30 p.m. Assisted by traffic police and volunteer guards, the procession traveled a route of four kilometers on several main streets in Muar for one hour and thirty minutes. Many people along the route, including drivers and passengers in cars passing by, accepted Falun Gong information materials.
The band members wore costumes reminiscent of ancient dress. Members of waist drum team and lantern team wore golden costumes. And the celestial maidens wore colorful dresses. All these and the melodious music demonstrated traditional Chinese culture.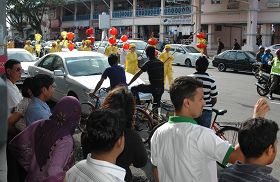 The Falun Gong procession drew the attention of many
Many people were delighted to see the parade. Mr. Chen, a local resident, said, "Falun Gong's impact is big and positive." He said it was his first time to see such a cultural display in the city.
A senior local resident, Mr. Han Ya-kun, 70, said he had never seen such a parade before. He said it was a great thing for the parade participants to bring such elegance to Muar and to promote traditional Chinese culture.
It was the second year for Falun Gong practitioners to hold a New Year parade in Muar City. Many residents were impressed with the parade. Mr. Chang said, "Very good. I watched it last year." He hoped to see the parade next year again.
Local resident Mr. Huang said excitedly, "A very rich cultural atmosphere. I have not seen anything like this for a long time. It is very good to share our Chinese cultural heritage."
A local Chinese herb doctor, Mr. Chang Fu-jun, and his wife liked the Falun Gong parade last year and were present again this year. Mr. Chang, in his 70s, and his wife walked several blocks with the procession to the destination.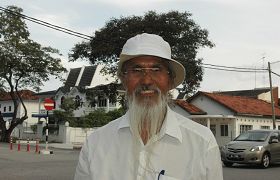 A local Chinese herb doctor, Mr. Chang, and his wife walk several blocks with the procession
Mr. Chang said that he was delighted to see the parade with its unique music and pace. He said, "Every year my wife and I follow this parade. I feel great!"
Mr. Chang's wife, Ms. Chong Yue-hao, was excited to see the parade again, "I have not seen such things for so many years until last year. We were so delighted to see them last year and now this year. We are really happy!"
She said she felt that celestial maidens had truly descended when she saw their performance in last year's parade. She could not believe her eyes. She felt fortunate that she could see them all again this year and listen to the melodious music.
Mr. Chong thought that it would be better if the Falun Gong parade could be held in a few other states to promote positive things and have more people watch it. She said, "Because we feel calm, serene and delighted after watching the parade."
She continued, "After watching the parade, I wish that the Malaysian people and the whole world have peace and joy."
She still has the 2011 calendar with the words "Falun Dafa Is Great." She disclosed that when she was not in a good mood, she would look at the lotus flower on the calendar and suddenly felt quite relieved.
Triptipal, the owner of a local restaurant, said, "The music is soothing. I felt peaceful and calm after listening to it. Such a parade with cultural information is great!"
The event concluded at 6 p.m. A traffic police officer commended the parade, saying, "Great! It can enhance the relationship between ethnic groups for one Malaysia!"