(Clearwisdom.net) Bringing 5,000 years of rich Chinese heritage to life on stage, Shen Yun Performing Arts delighted the audience at the Detroit Opera House on Thursday night. The world's premier classical Chinese dance and music company is scheduled to perform five shows at the historic Michigan venue, from January 26 to January 29, as part of its 2012 world tour.
President of Multicultural Council of America: "I don't have words to say how wonderful it is"
Dr. Shakil Khan, president of the Multicultural Council of America, was nearly lost for words after Thursday's opening-night performance. "I don't have words to say how wonderful it is," he said.
In his role at the council, Dr. Khan has had the opportunity to see a vast array of cultural and artistic performances across the globe, from Europe to Asia, as well as the United States. "I have seen a lot of shows all over the world, … but this is perhaps the most spectacular that I've seen," he said, deeply impressed with "the colors, the coordination, the choreography" and the music of the production.
When asked which aspect of the performance impressed him the most, Dr. Khan replied: "It would be hard to pick one over the other. … I couldn't tell that one is better than the other—they are all fantastic."
"It just seems out of this world, amazing—just amazing," he concluded.
Ms. Rhina Matos, vice president of the Multicultural Council of America, attended the performance with Dr. Khan. Having heard about Shen Yun while visiting Taiwan, she was delighted to see the New York-based company perform on her home soil.
"I am just amazed. It is fabulous—spectacular!" enthused Ms. Matos.
"The ladies were so gracious," she said of the female dancers, while also admiring "the synchronization, the perfection" of the male artists. "It's beautiful."
"Come to see it! It's spectacular!" she advised those who haven't yet seen Shen Yun.
Dr. Shakil Khan and Ms. Rhina Matos at the Detroit Opera House on January 26, 2012
Piano Teacher: "Lessons of tradition, beauty and hard work" in Shen Yun
Renata Frieman, a piano teacher from Poland now living in the U.S., was thrilled to see Shen Yun with her students, who are of Asian heritage.
"I was really dreaming about this concert and coming with my students to show them this beautiful music and this conjunction of tradition and new," said Ms. Frieman during the intermission on Thursday evening. "I heard about this concert—so many wonderful things. … And I said, I cannot miss it," she explained. She invited her students because she thought the experience "would be wonderful for them."
Having advanced degrees in theater and music, Ms. Frieman appreciated the traditional core of Shen Yun's production, which showcases 5,000 years of rich cultural and spiritual heritage of China. "We are really happy" to have come to the show, she said. "It is not only a family gathering, but also wonderful lessons for my students—lessons of tradition, beauty and hard work. When you see the beauty [on stage], you know that there is hard work behind it, and that is especially what I wanted to show to my students—because no matter what we are dreaming of, without hard work we [could] never accomplish it."
As a musician, Ms. Frieman also appreciated the unique blend of traditional Chinese and classical Western instruments in the Shen Yun Orchestra. "I love the scales of traditional Chinese music, … but I [also] love all the new chords," she said, noting that "this mix" of "new elements and instruments and traditional elements and instruments" brought her much pleasure.
The unique backdrop featured in the production, which combines vivid imagery with sophisticated digital animation, solidified Ms. Frieman's appreciation for Shen Yun's ability to fuse tradition with innovation. "It's very cleverly made. … I am pleasantly surprised—it worked well!" she said of the backdrop display.
"Beauty and hard work and tradition and [the] new—it all comes together. That's what I really experienced today, and I am very, very delighted to be here," summed up Ms. Frieman.
"I am so happy to be here with my little students and the rest of their families, and I hope we'll be experiencing this [again] next year," she said. "We will come for sure!"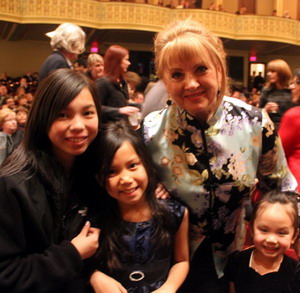 Renata Frieman with her students at the Detroit Opera House on January 26, 2012
Shen Yun Performing Arts has three equally large companies that tour the world simultaneously with the mission to revive the 5,000 years of divinely inspired, traditional heritage of China. Shen Yun will be performing in Kansas City, Missouri, Augusta, Georgia, Eugene, Oregon, Cincinnati, Ohio, Park City, Utah, and Vancouver, Canada, in the week of January 31-February 5, 2012. For more information, visit ShenYunPerformingArts.org.