Name: Wang Lei (王磊)
Gender: Female
Age: 46
Address: Liang Township, Fangshan District, Beijing
Occupation: Business Owner
Date of Most Recent Arrest: October 26, 2010
Most Recent Place of Detention: Fangshan Detention Center (房山拘留所)
City: Beijing
Persecution Suffered: Detention, extortion, force-feedings, electric shock, slapping the face, interrogation, brutal beatings, hanging by handcuffs, torture, forced labor, home ransacked, forced injections
(Clearwisdom.net) Falun Gong practitioner Wang Lei, formerly from Inner Mongolia, was a sharp businesswoman. She began practicing Falun Dafa in April 1996 and quickly understood that one should try to be a good person, be selfless, and think about others first. After practicing for two months, in order to support poor school children, she donated 100,000 yuan to the Project Hope Foundation through the Beijing Donation Center. That was a lot of money in 1996.
This kind and capable business woman has been persecuted for over 12 years by Jiang's Chinese Communist Party (CCP) regime. She was arrested over ten times and sentenced to forced labor camps four times. Each time she was arrested, the persecution made her mentally disordered.
Below are the facts of how Wang Lei was persecuted:
I. She Twice Went to Beijing to Appeal, and 6,000 Yuan Was Extorted from Her Family by Police from Inner Mongolia
On July 20, 1999, at around 4 in the morning, officers from the Police Station of Liangxiang Wujie drove Ms. Wang to the police station and ordered her to hand in her Dafa books. The police told her to sign a paper renouncing the practice of Falun Gong and agreeing not to go to Beijing to appeal. She refused to do that and refused to hand in her Dafa books. She was detained in the police station for two days, and her store was shut down.
During the Spring Festival, villagers from Wang Lei's hometown stopped by her home on their way to Beijing to appeal for Falun Gong. They had a meal at her home to break up their trip. The National Security Team from the Linhe City Police Station, Inner Mongolia, came in three police cars to drive her to Inner Mongolia that same night. Because she did not write the giving up the practice of Falun Gong, she was first under administrative detention and then sent to criminal detention, and detained there for two months. Later she was released after the director of the police station extorted 6,000 yuan from her relatives.
After returning to Beijing, in order to speak up for Falun Gong and restore Teacher's reputation, Wang Lei went to Tiananmen Square to validate Dafa and was arrested. She was then sent to her hometown by police from Inner Mongolia and held in criminal detention. They wanted to sentence her to seven years. When she protested with a hunger strike, the police took her to be force-fed. Due to mistakes in handling the forced feeding, blood spilled from her mouth and caused severe pain that was hard to endure. Ms. Wang Lei was detained there for four months and her life was in danger. Then the police station announced that she was innocent and released her. However, they did not return her ID card. This seriously affected her living a normal life and doing business, and led to huge financial losses. Moreover, the police constantly monitored and harassed her, and kept her in a difficult financial situation.
II. Sentenced to One Year of Forced Labor by the Henan Police Station and 4,000 Yuan Stolen
In the winter of 2000, Wang Lei went to Zhengzhou City in Henan to do some business pertaining to military footwear. At night she was followed by a security guard while she was distributing materials. The security guard called 110 (a section of the police department) and several officers arrested her. Wang Lei resisted and was forced against the police car during the struggle. Police stepped on her shoulder while she was unconscious and stole 4,000 yuan from her.
Despite the fact that Wang Lei was wearing little clothing, the officers took her to a police office on Nanyang Road in Zhengzhou City and handcuffed her overnight. The next day, they used an electric baton to shock her hands. They asked her her name and where she was from, but she did not answer. Then they transferred her to the No.1 Detention Center in Zhengzhou. Because she did not tell them her name, they sentenced her to one year of forced labor. She protested with another hunger strike. After being sent to the forced labor camp, because they could not figure out her blood pressure, the forced labor camp refused to accept her. She was then released.
III. Arrested by Police from the Hebei Police Station and Sentenced to Three Years of Forced Labor
In 2001, during the "Two Conferences" (the People's Political Consultative Conference and the National People's Congress annual meetings), Ms. Wang Lei was arrested by local police at the Shijiazhuang train station. In the police station, she tore apart a phone book she had that had her contact lists of other practitioners. The police then violently slapped her in the face. A ruthless thug that looked like a security guard kicked her in the abdomen. The next day, they handcuffed her to the heater for a long time. They seized her cell phone and 1,000 yuan in cash. Since they could not find out anything from the interrogation, they sent her to the Interpol squadron and locked her in an iron cage. At night, they would take her upstairs and handcuff her to a chair with her hands separated.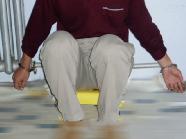 Torture reenactment: Handcuffed to a heater
Wang Lei protested with a hunger strike for five days and nights. On the third day, she was taken to the hospital and force-fed. In the hospital, she shouted, "The police are murders!" Later she was taken back by the Central Police Station of Liangfangshan Township, and then to the detention center.
Two weeks later, with no legal procedures having been followed, the police station in Linhe, Inner Mongolia deceived her, saying they wanted to ask her for something. They took her to the Hohhot Women's Forced Labor Camp for a three-year term.
IV. Three Years in a Women's Forced Labor Camp
She was brutally tortured in the Hohhot Women's Forced Labor Camp in Inner Mongolia. She was put in the No. 2 Team, where the staff members were the most vicious. Because she refused to be "", she was forced to work overtime with an overload of forced labor jobs. Each day they deducted 40 points (the points are used to evaluate whether a prisoner's term is extended or reduced). Within less than a year, her term was extended for ten months.
Wang Lei was in very poor condition when she first went to the forced labor camp. Because of constant persecution, she could not eat anything. Guo Xiangzhi, the team lead, ordered drug addicts to hold her down on the floor and force feed her. They ordered her to wrap two bags of chopsticks (several thousand pairs). If she did not finish during working hours, she had to carry them to her cell at night and stay in the hallway to finish before going to bed. One day, Wang Lei stood out from the queue and announced that she would begin a hunger strike and work strike, and demanded to be acquitted of any charges. She said, "I would like to use my own body to wake up people's consciences." She ran directly into a cement pole near the gate, hit her head, and lost consciousness (Note: This is a result of the CCP persecution. As a cultivator, one should not resort to such extreme behavior.) Police then ordered criminal inmates to carry her upstairs. Police officer Wu Jing pulled her out of the bed onto the floor while she was unconscious, and kicked her all over. Finally Wu Jing violently rubbed her foot on Ms. Wang Lei's nose and injured it.
Ten days later, Ms. Wang was interrogated. Because she was not cooperating and tore apart the record of the interrogation, Wu Jing assaulted her with an electric baton for over half a hour, until Wang Lei fell down to the floor with blood running from her hand. Guo Xiangzhi, the team lead, and Peng Yumei, the squadron lead, who were sitting nearby the entire time, did not stop Wu Jing from brutally beating Ms. Wang. They even said that they should use an electric baton with claws. An elderly team lead named Ma came in and handed a cup of water to Wu Jing, who was tired from beating Wang Lei.
Two drug addicts dragged Wang Lei into the hallway. They hit her arms until they become black and blue and she could not move them. She was also unable to walk. She even needed someone to help her with using the restroom. Fearing public indignation, the police transferred Ms. Wang to a warehouse to lock her up.
Other practitioners asked to see Wang Lei. They said they would go on a hunger strike and work strike if they could not see her. The forced labor camp was worried and began to have a so-called class to gather all the Falun Gong practitioners who did not give up their beliefs and take them to a workshop on the second floor. Then they ordered some male officers to torture those practitioners who were on hunger strike, such as beating them, shocking their breasts, genitals and faces. They also hung them up, among other forms of torture. Their cries were heartbreaking. Wang Lei was hung up spread-eagle, with her tiptoes hardly reaching the floor. Male police used electric baton to shock her stomach area. In just a few days, her arms almost became disabled due to being hung up.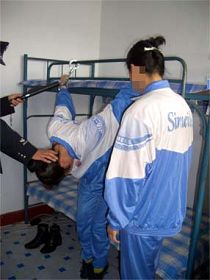 Torture reenactment: Hanging
One day, the police took Wang Lei to the third floor. It seemed like they were going to take her blood pressure, but in fact, they were locking her up in the warehouse to torture her. They pulled one of her arms under one leg and then handcuffed it to the other arm. With two male policemen on either side holding electric batons in their hands, they shocked her at the same time. They shocked her face until they could not do it anymore. Wang Lei began to become disordered mentally. Whenever she heard any strange sounds, she would think of the sound of the electric baton. Out of fear, she developed a mental disorder. The forced labor camp wanted to release her but Wang Lei had no money in her account and she did not do much labor, so they released her when her term expired.
V. Sentenced to Five and a Half Years of Forced Labor by Beijing Police Station and Persecuted in the Dispatch Department
In November 2004, eight months after Wang Lei came back from Hohhot Women's Forced Labor Camp, in order to survive, she worked at her younger brother's store. Officers from the Liangxiang Police Station came to arrest her again. Police took away her e-book left on the office desk. Then they ransacked the place where she was staying, as well as her younger brother's home. They did not find anything. They used the e-book as evidence, and once again arrested Wang Lei and sentenced her to two and half years of forced labor.
At the detention center, Wang Lei's mental instability repeatedly reappeared, and she had symptoms of anorexia and other problems. However, the of the Fangshan District Public Security Bureau ignored Wang Lei's health, ignored the Criminal Code provisions on mental patients and still insisted on sending her to the forced labor camp. They were afraid that the forced labor camp might not accept her. The day before they took her to the forced labor camp, they took her to a hospital and force fed her nutrients, gave her injections, and brought her up to the standard level so that the forced labor camp would accept her. Then they took her to the dispatch department of Beijing Daxing Forced Labor Camp.
In the dispatch department, after examining Ms. Wang, the doctor noticed all kinds of health indicators that were out of the norm. They gave her permission to eat a patient's meal in the long run. The department forced her to write the guarantee statement renouncing her beliefs and ordered six drug addicts to monitor her. Each day she had to sit on a small bench for 18 hours, from 4 a.m. until 10 p.m. She had to keep both hands on her knees and could not move a bit. They also insulted her. She had to ask permission if she wanted to drink water or use the bathroom. In fact they would not allow her to use the bathroom. She had to use the toilet inside the room. The drug addicts beat her, insulted her, and ordered her to pose in different positions. When they tortured her until her mental illness relapsed, they put a mop cloth in her mouth and violently hit her head.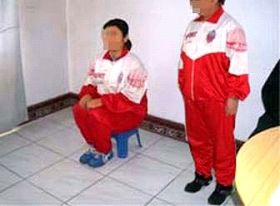 Torture reenactment: Sitting on a tiny bench
Forty days later, Wang Lei was skin and bones as a result of the torture. The department of dispatch saw that she was not "transformed." They secretly sent her to Hebei Gaoyang Women's Forced Labor Camp for intensified persecution. Because her mental illness kept recurring, her life was in danger. The forced labor camp kept her for three months and then released her for medical treatment.
VI. Deceived into Selling Her House, She Lost Over Four Million Yuan
At that time Ms. Wang lived in the Pingfang residential district of Yu'ergou, Liangxiang, Beijing. The village secretary and other staff members went to see her and persuaded her to sell her house. At that time Wang Lei was unclear mentally. Moreover she was suffering economic difficulty. They concealed the fact that they were going to develop that area and rebuild new buildings. Wang Lei sold the house for a low price of 450,000 yuan. Her 400-meter-square house was a detached house and was beautifully decorated. According to the compensation regulations set by the demolition of buildings, the market value of such a building was worth of 4 to 5 million yuan. The one bedroom that Wang Lei bought in the Zhengtong residential district offered her no discount at all. Therefore, she has no savings at present and lives a very difficult life.
On the afternoon of November 25, 2008, on her way home, Wang Lei was arrested by officers from the Fangshan Police Station and they took her to the Liangxiang Police Station. They told her, "Someone reported you and said you were posting Falun Gong banners." At that moment, Wang Lei's mental illness relapsed again. The Fangshan Police Station sent several police officers to her home and ransacked it, taking a laptop, Dafa books, and other items. Since her mental illness relapsed, she was sent back home at midnight. There were wounds on her forehead and body.
VII. Sentenced to Two and a Half Years of Forced Labor Despite a Relapse of Her Mental Illness
On the afternoon of October 26, 2010, when Ms. Wang Lei was at home, team lead Cui from the Fangshan National Security Team, led by the property manager, brought several male and female police officers and a doctor, as they knew her mental illness might relapse, and went to Wang Lei's home. According to insiders from the police station and other sources, the officers took her away by force. Ms. Wang's mental illness did indeed relapse. Several police officers were unable to handle her. Halfway through the attempted arrest, the secretary of the team and staff members worked together, but were not successful. For a long time, both sides stalled. Finally the National Security Team found a veteran who was a security guard and had suppressed protesters during the June 4th movement in 1989. He came and worked on her acupuncture point and immobilized her. Then at 2 in the morning the next day, without following any legal procedures, they took Wang Lei to the Fangshan Detention Center. They then ransacked her home and took her Dafa books, a laptop, and other personal property.
Twenty days later, Wang Lei was sentenced to over two and half years of forced labor and transferred to the detention center from the police station. During that time, she frequently had her mental illness relapse. She was then taken to the Beijing Women's Xin'an Forced Labor Camp, where they refused to accept her. She was then taken back to the detention center. Her illness relapsed, and they gave her an injection with a large amount of a lethal psychiatric drug that frightened even the on-site police officers. The detention center detained her for over a month. Later she was diagnosed with a mental disorder by the Ministry of Public Security and was removed from the list of those being sent to the forced labor camp. At that point, they sent her home.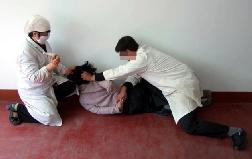 Torture reenactment: Lethal injection with an unknown drug
After Wang Lei returned home, the lethal injection started to take effect. She was in a lot of pain. She would knock about recklessly and wildly ran back and forth. She could not recognize anyone and would bite whoever she ran into. With the help of some fellow practitioners, her life was saved when she was on the edge of death.
Wang Lei was originally a successful businesswoman with a caring heart. She was a good citizen who knew how to bring benefits to the community and who should be supported and rewarded by the government. Just because she strives to be a good person by believing in Truth-Compassion-Forbearance, she was persecuted until she lost her ability to lead a normal life. In her mind, she cannot drive away the shadow of being brutally persecuted and she might lose her life at any time.
Related article:
"Falun Gong Practitioner Ms. Wang Lei from Beijing Suffers Nervous Breakdown As a Result of Persecution"