(Clearwisdom.net) Falun Gong practitioner Mr. Qin Yueming of Jinshantun District, Yichun City, Heilongjiang Province was tortured to death in Jiamusi Prison on February 26, 2011. After his family's persistent efforts, the Heilongjiang High Procuratorate finally accepted their appeal. Three months have passed, and the case still hasn't reached the court. In the meantime, Mr. Qin's wife Ms. Wang Xiuqing, and daughter, Ms. Qin Hailong, were arrested on November 13, 2011 and imprisoned at the Qianjing Forced Labor Camp in Harbin City, Heilongjiang Province.
Death of Mr. Qin Yueming
According to inside information, in February 2011, Jiamusi Prison set up a "strict management division," which violently coerced practitioners to give up their beliefs. From February 26 to March 8, three practitioners, Mr. Qin Yueming, Mr. Yun Gang, and Mr. Liu Chuanjiang, died as a direct result of torture.
On February 25, 2011, Mr. Qin was carried to a restroom on the first floor of the prison hospital. Four men each held one of his limbs. Another man held his head against the back of a chair and held his tongue using a pair of pliers, causing it to bleed. Two inmate nurses, one named Yin Hongliang, force-fed him with salted milk using a feeding tube. All of the guards in the division, including chief Yu Yifeng and prison doctor Zhao Wei, were at the scene. Mr. Qin screamed in pain during and after the force-feeding. The inmate who was assigned to monitor him could not sleep that night and called for prison doctor Zhao Wei. Zhao said, "The tube was inserted into his lung." However, no medical treatment was given to Mr. Qin and he died the next morning, February 26, 2011.
Ms. Wang Xiuqing, Mr. Qin's wife, was not informed of her husband's death until 8:00 p.m. The prison told her that Mr. Qin had "died of a heart attack."
Persecution of Mr. Qin Yueming
In October 1999, Mr. Qin was illegally imprisoned for three years in the Yichun Forced Labor Camp, where he was subjected to various torture methods.
In May 2002, Mr. Qin was arrested at home for the second time. Under orders of Cui Yuzhong, director of the Yichun Police Department, and Meng Xianhua, director of the Yichun 610 Office, officers beat Mr. Qin and subjected him to various tortures, such as "tiger bench" and "tied with ropes." As a result, Mr. Qin had multiple fractures of his legs and ribs. He was sentenced to ten years and taken to Jiamusi Prison.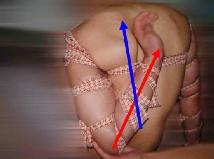 Torture re-enactment: Tied with ropes
Mr. Qin was repeatedly tortured in prison. On April 25, 2004, Liu Wei, head of the first section, fourth ward of Jiamusi Prison, and Jia Qiming, political instructor, ordered inmates to deprive him of sleep for five days and nights, and to strip off his clothes and pour cold water on him. On June 14, 2007, Cai Jinhai, the fourth ward prison officer, found a copy of Nine Commentaries on the Communist Party when he searched Mr. Qin. With the approval of Wang Jinbao, the fourth ward supervisor, Cai hung Mr. Qin on a gate. The guard of the first section, Li Zenan, kicked Mr. Qin.
Persecution of Mr. Qin's Family
In October 1999, Ms. Wang was arrested at the same time as her husband. She was subjected to two years of forced labor and imprisoned at the Harbin Women's Rehab Center. She was subjected to forced labor again in October 2007.
Their eldest daughter, Ms. Qin Rongqian, was fourteen when Mr. Qin was arrested at home. She would not let go of her father and held onto his clothes while the officers were taking him away. Officers Kang Kai and Qi You beat and kicked her. They held her in the police department, and made her stand the entire night without sleep. They took turns threatening and scolding her, tied her up with rope, and struck her head and face. Her face became swollen. Kan and Qi recorded her age as 18 instead of 14, so they could submit the detention document and put her into a detention center for thirty days.
Shortly After Mr. Qin's Death, His Wife and Daughter Were Taken to a Forced Labor Camp
After Mr. Qin died, Ms. Wang and their two daughters started their appeal for justice. Jiamusi Prison and the Jiamusi Procuratorate did not accept their case. Instead, they were tracked, secretly taped, and threatened. They finally filed the Application for State Compensation for Crime Victims with the Heilongjiang High Procuratorate in Harbin on September 1, 2011. The Heilongjiang High Court accepted the case on September 9, 2011, but they blocked the family and their lawyers from reviewing the case files. On November 13, 2011, Ms. Wang and their younger daughter Ms. Qin Hailong were arrested in Shuangchen City.
Ms. Wang was sentenced to 18 months of forced labor and is currently imprisoned at the Qianjing Forced Labor Camp in Harbin.
There was no news about Ms. Qin after she was arrested until her family received confirmation from the Qianjing Forced Labor Camp when they visited the center on December 22, 2011. However, guards repeatedly rejected the family visit requests, citing that they refused to defame Falun Gong and Teacher. The family asked for a legal letter stating that Ms. Qin was at the forced labor camp. The guard asked why. The family said, "It is the normal legal procedure so that we know she is detained here." The guard made a phone call and told the family, "The document is not in our hands. All the documents are stored in one place. It's not easy to get it at this time. I can give it to you on the next visitation day. Don't come back because we won't let you in. You can ask some other family to get it for you."
Related reports:
Mr. Qin Yueming Tortured to Death in Jiamusi Prison, His Wife and Daughter also Persecuted
http://www.clearwisdom.net/html/articles/2011/3/28/124089.html
Three Practitioners Die within Two Weeks While Persecution Continues at Jiamusi Prison (Photos)
http://www.clearwisdom.net/html/articles/2011/3/26/124058.html
Mr. Qin Yueming Died as a Result of Torture, Jiamusi Prison Officials Shirk Responsibility
http://www.clearwisdom.net/html/articles/2011/9/20/128224.html
Mr. Qin Yueming Persecuted to Death, His Wife and Daughter Arrested
http://www.clearwisdom.net/html/articles/2011/12/6/129887.html