Name: Jiang Jingping (姜静萍)
Gender: Female
Age: 62
Address: Fiftieth Community, Qianjin District, Jiamusi City, Heilongjiang Province
Occupation: Retired employee of Jiamusi Textile Factory
Date of Death: November 30, 2011
Date of Most Recent Arrest: November 4, 2010
Most Recent Place of Detention: Heilongjiang Province Women Drug Rehabilitation Center (黑龙江省女子戒毒劳教所)
City: Jiamusi
Province: Heilongjiang
Persecution Suffered: Torture, forced labor, brainwashing, solitary confinement, extortion, physical restraint, home ransacked, interrogation, detention and more.
(Clearwisdom.net) Ms. Jiang Jingping was tortured both mentally and physically for one year in the Heilongjiang Province Women Drug Rehabilitation Center, a labor camp in Harbin City. After returning and being at home for only one month, she died as a result of the torture she suffered in the forced labor camp on November 30, 2011.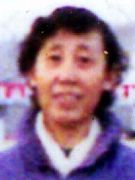 Ms. Jiang Jingping
Ms. Jiang used to have many diseases, such as arthritis, ulcers, and kidney disease. After she started cultivating Falun Gong in 1995, she experienced the joy of being illness free and very energetic. She always carried her CD player to teach others the exercises. But since the persecution began on July 1999, she has suffered from brutal mistreatment.
First Time Sent to Forced Labor Camp
On the evening of October 24, 2004, three police officers ransacked Ms. Jiang's home, arrested her and took her to the Jiamusi City Police Department Compound. The police took her Falun Dafa books and two of her family's cell phones. Ms. Jiang was tortured by being cuffed and tied to an Iron Chair (1) for over 36 hours. During that time, she was neither allowed to close her eyes nor sleep. On the evening of October 26, she was taken to be detained for 20 days, then on November 15, she was taken to serve three years of forced labor.
In the detention center and the labor camp, she ate corn buns and some weak vegetable soup (mostly water, salt and a few greens). She suffered from malnutrition, but still had to do hard labor, with no days off. She had to ask permission to use the toilet; if not allowed, she had to hold it. She had to use the toilet at a fixed time, and no other times were allowed. Ms. Jiang showed symptoms of a liver problem under such severe conditions. The labor camp released her after having extorted 30,000 yuan from her family.
Her family borrowed a big sum of money to pay the extortion fee, as they were not rich. They still owe 5000 yuan after she passed away.
Second Time in the Forced Labor Camp
At noon on November 4, 2010, Ms. Jiang was in a store near Jiadong Police Station, when the police arrested her without any reason and took her handbag. The police had her go through physical check ups at the Central Hospital. Her heart condition and blood pressure were not normal, but they still took her to a detention center in the evening. The center doctor Liu refused to accept her and said, "What if her life is in danger? Who would be responsible?" The police stared at him and openly put 100 yuan on his window. Doctor Liu did not say a word. Then the police put another 100 yuan bill on his window. The doctor then accepted Ms. Jiang. Then the officers dragged Ms. Jiang by her hand and made a fingerprint on a piece of paper. Ms. Jiang was detained in cell 208 for 20 days.
On the morning of November 24, 2010, guards handcuffed Ms. Jiang Jingping and some others in detention, then took them to Heilongjiang Province Women's Drug Rehabilitation Center, which did not detain any drug addicts, but was used as a forced labor camp. Ms. Jiang was still very sick, but the detention center guards had a secret talk with the labor camp guards, so she was taken to the "" ward.
The day after she entered the center, she was forced to sign her name on the five statements (similar to three statements) to slander Falun Gong under huge pressure. This betrayed her faith in Truth-Compassion-Forbearance and was an act against her will which caused anguish and regret. Ms. Jiang was put in solitary confinement for the first month. Sometimes she was forced to stand facing a wall for a long time. Prisoners were closely watching her by following her around. Brainwashing tried to force her to give up cultivation, and were reporting on her all the time.
Ms. Jiang had to get up at 5 a.m., use the toilet, and finish washing and brushing all within five minutes. She was then forced to sit on a small, sharp-edged stool (a device of torture) for a long time. This extremely simple but painful torture left her buttocks imprinted with two dark lines. She was forced to watch slanderous videos made by the CCP to attack Falun Dafa for four hours daily, from 9 am to 11 am and then again from 2 pm to 4 pm. She was also forced to write slanderous articles that attacked Falun Gong as homework. She went to bed at 9 pm, but the main light bulb had to stay on, as the guards monitored prisoners 24 hours per day.
Each meal time is around 15 minutes, including going up and down the stairs which takes two minutes, as well as reciting the center rules several minutes before eating, Ms. Jiang could not finish eating in the remaining few minutes, and was constantly hungry. Under huge pressure, Ms. Jiang was deprived of her right to study the Fa and do the exercises. Her illnesses worsened, and a tumor grew on her neck.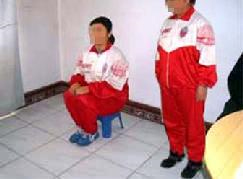 Torture re-enactment: Forced to sit on small stool
In June 2011, when Ms. Jiang did not write an article to slander Falun Gong, her term was extended for an additional four days as punishment. One evening, guard Liu Ming said someone in Ms. Jiang's cell were passing things around secretly. She forced the whole group to stand for a long time, until several could not take the pain any longer. She then forced Ms. Jiang to stand alone, until her face turned pale, and whole body shivered. She almost passed out. Guard Liu Ming ended her torture after forcing Ms. Jiang to write a .
Ms. Jiang wrote her guarantee statement like this: "I cultivate Falun Dafa. I cannot make false statements. I take responsibility for my words and actions." She was in so much pain that she could not sleep. The next day, warden Niu Xiaoyun came and said Ms. Jiang was the main trouble maker. She dared not say anything ever since, since her mental pressure would become even greater.
Right before July 1, the authorities suspected Ms. Jiang's cell contained Dafa materials, so they searched it once a week, and threatened to extend her term for another month if they found anything. Ms. Jiang was even more nervous with this escalated pressure.
During the twelve months of being in a forced labor camp, Ms. Jiang was forced to endure brainwashing for nine months. Each day she was forced to open her eyes wide to watch the slanderous videos. Once she leaned on the wall for one second due to the pain, guard Zhong Jingchuan shouted, "How come you closed your eyes? Why not watch? What are you thinking? Stand up if you feel sleepy."
Each morning, Ms Jiang had to do one hour of forced labor upon arriving in the brainwashing room. Sometimes she had to carry a box full of toothpicks up and down stairs. Guards never considered her age and physical condition. She had no days off to rest. Not only did a tumor grow on her neck, but also her feet were swollen, and she was incontinent. The center took her out to see a doctor twice, but never informed her of the result. hey still forced her to do manual labor, and even charged her 400 yuan.
Ms. Jiang was old, she had no energy due to being starved, her whole body was in pain. She could not bear the suffering any longer. Starting on August 30, 2011, Ms. Jiang and several other senior practitioners finished their brainwashing terms, and were assigned to do full labor in the shop. Ms. Jiang was assigned to seal boxes and had to carry the heavy boxes up and down the stairs. She did such heavy labor three months before being released.
Ms. Jiang was only allowed to take a shower three times in the entire year of forced labor--each limited to 15 minutes. Her meals were usually just a thin, watery, foul-smelling soup. Only when the upper level authorities came to inspect would they have regular meals provided.
Ms. Jiang survived until October 31, the last day of her term. She was emaciated, could not eat, her whole body was swollen and incontinent, and she had difficulty breathing. The severe abuse resulted in her death on the morning of November 30, 2011 at age 62.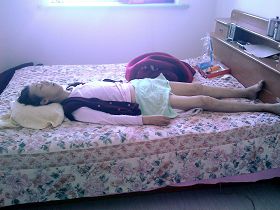 Ms. Jiang Jingping Died on November 20, 2011
Xu Yongli, Director of Dongfeng Police Department: +86-454-8347666, 86-13903682098 (Cell)
Feng Kaidong, formerly Jiadong Police Station Director: +86-13836669777 (Cell)