Her Only Daughter Dead as a Result of Torture, Ms. Xiang Huaixiang is Sentenced to Seven Years of Imprisonment (Photo)
September 08, 2011
|
By a Clearwisdom correspondent from the Human Province, China
Name: Xiang Huaixiang (向怀香)
Gender: Female
Age: 61
Address: 91 Beijie, Chenzhou City, Hunan Province
Occupation: Retired Cadre of Construction Bank, Chenzhou Branch, Hunan Province
Date of Most Recent Arrest: July 20, 2010
Most Recent Place of Detention: Nanta Police Station (南塔派出所)
City: Chenzhou
Province: Hunan
Persecution Suffered: Sleep deprivation, forced labor, brainwashing, illegal sentencing, extortion, dismissal from workplace, home ransacking, detention
(Clearwisdom.net) Ms. Xiang Huaixiang was detained by the police on July 19, 2010, and her home ransacked. She has appeared in court for trial four times between November 5, 2010 and April 7, 2011, and was finally sentenced to a seven-year jail term for the of "crime of sabotaging enforcement of the law." The authorities confiscated 17,000 yuan in cash, a computer, a disc burner, and Falun Dafa materials, as well as some personal belongings.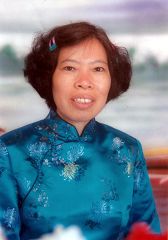 Ms. Xiang Huaixiang
Ms. Xiang Huaixiang was an employee of Construction Bank Chenzhou Branch, and was elected as an outstanding employee many times at both the city and provincial levels. She began practicing Falun Gong in April 1996. The miraculous effects of Falun Gong made it possible for her to bid farewell to all of her illnesses. She has since never been ill and has not needed any medication or injections.
When the Chinese Communist Party (CCP) began to persecute Falun Gong, Ms. Xiang Huaixiang and other practitioners began to clarify the truth about the persecution of Falun Gong, and they were repeatedly persecuted. Between October 15, 2004 and February 7, 2007, Ms. Xiang Huaixiang was detained twice by the Suxian District Police Sub-department for being steadfast in cultivating Falun Dafa and distributing the truth-clarification materials. She was detained for 15 days each time. She lost her job twice and was fined 12,000 yuan.
Police Detain a Group of Elderly Ladies
Ms. Xiang was detained on the afternoon of July 19, 2010. Officers from the Chenzhou 610 Office as well as Liao Binggang, the head of the Domestic Security Division of the Suxian District Police Sub-department, and his men rounded up Ms. Xiang and eleven other practitioners who were reading the Falun Gong literature together. Four of the women were over 80 years old. The evildoers also confiscated all the Falun Gong books and a carload of personal property including computers and other personal belongings. They stole 15 thousand yuan in cash.
The officers took these twelve of these practitioners to the Nanta Police Station and released the four who were over 80 at around 8:00 p.m. The rest of the women were locked up in a detention center.
Ms. Xiang Huaixiang has appeared in court for trial four times between November 5, 2010 and April 7, 2011.
Huang Jiangao, President of the Court, Sentenced Ms. Xiang Huaixiang to Seven Years
The second trial failed to proceed. At the time it was only a few days from the 2011 Chinese New Year. Ms. Xiang's husband, Mr. Chen Zhiqiang, asked the police department, the Procuratorate, the 610 Office, and the Court to release his wife so that she could spend the New Year with her family. Those in charge agreed to grant her bail.
Two days later however, on the eve of the Chinese New Year, Mr. Chen went to pick her up but was told that his wife would not be released on bail.
The old man contained his sorrow and went to the detention center all by himself. He bought some fruit and asked the guards to give it to his wife. As other families gathered together and firecrackers could be heard, the old man stood in the biting cold wind and looked in the direction of where his wife was detained. He stood there for a long time before returning home.
Pressured by Huang Jiangao, the president of the Suxian District Court brought Ms. Xiang to trial for the third time on the morning of March 7, 2011. The court-appointed lawyer, Liu Xiaorun, pleaded guilty for Ms. Xiang. When Ms. Xiang appeared in court for the fourth time, the court handed down a sentence of seven years in jail for the "crime of sabotaging enforcement of the law."
In 2000 Ms. Xiang Huaixiang's only daughter, Ms. Chen Lijuan, who was around 20 years old at the time, was studying at a university. She was detained for doing the Falun Gong exercises at Tiananmen Square in Beijing. Chen Bing, head of the Chenzhou Political and Security Section (now the Domestic Security Division), and other officers escorted her back to her hometown and locked her up at a detention center. She became mentally disordered as a result of torture and intense stress. She was released on bail and was eventually sent to a mental hospital in July 2000 for treatment. However, her condition worsened and she died on November 2004.