Gifted Computer Scientist Yao Yuan in Shanghai Sentenced to Eight Years of Imprisonment
September 08, 2011
|
By a Clearwisdom correspondent from Mainland , China
Name: Yao Yuan (姚远)
Gender: Male
Age: About 40
Address: Shanghai
Occupation: Computer scientist
Date of Most Recent Arrest: January 2011
Most recent place of detention: Changning District Detention Center (长宁区看守所)
City: Shanghai
Persecution Suffered: Detention, illegal sentencing, handcuffed and shackled, physical constraint.
(Clearwisdom.net) Shanghai police arrested Mr. Yao Yuan, a talented computer scientist, in January while he was distributing materials about Falun Gong. He was detained in the Changning District Detention Center. It was learned that approximately one month ago, the in the Changning District of Shanghai and the Shanghai People's Court framed Mr. Yao, and him to eight years of imprisonment. His wife was on bail pending trial with restricted mobility.
The judge had planned to sentence him to seven and a half years, but during the trial, the judge asked Mr. Yao if he would continue practicing Falun Gong. Mr. Yao replied without any hesitation, "Falun Dafa is good!" Hearing this, the judge added another half year, making it an eight year sentence.
Mr. Yao believes in Truthfulness-Compassion-Forbearance, which are the guiding principles of Falun Gong. Mr. Yao is originally from Hubei Province, and now lives in Shanghai, where he works as a computer scientist. Before moving to Shanghai, he worked in the Zhuhai Technology Research and Development Center of the Industrial and Commercial Bank of China. There, he was honored with being among the Computer Science Young Elite. He owns many patents and software copyrights. Suffering persecution for his belief, he was forced to leave his workplace in Zhuhai, and moved to Shanghai. Recognizing his talent, a Swiss bank hired him.
During his detention, Mr. Yao refused to sign any statements renouncing his belief. He persists in practicing the Falun Gong exercises. Thus, the prison guards have tortured him with different kinds of tactics, such as the "" and prolonged restraint of the hands and feet, so that one cannot straighten the body.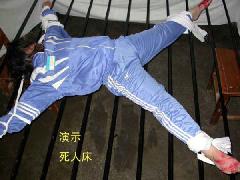 Torture re-enactment: Death bed
Mr. Yao has no relatives in Shanghai and he does not contact other Falun Gong practitioners very often.
Shanghai Changning District Detention Center
Office phone: 86-21-23030809 86-21-62394720
For a detailed list of personnel involved in the persecution, please see the original Chinese article.